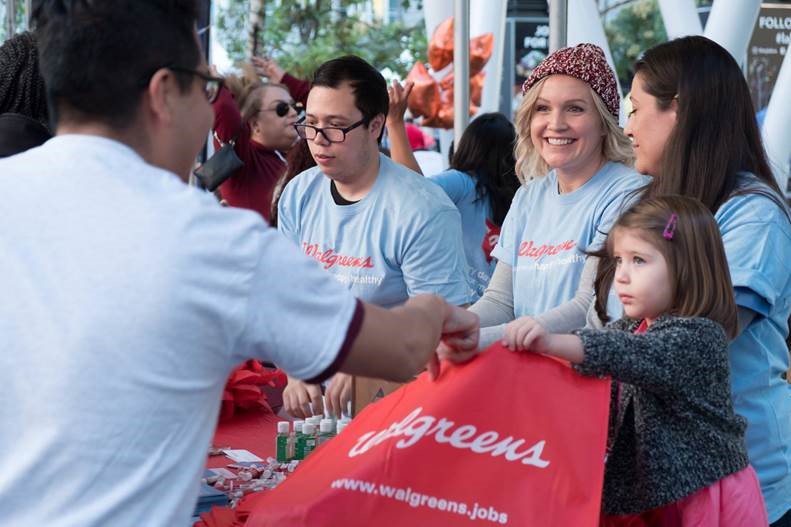 Since 2015, Walgreens and The Leukemia & Lymphoma Society have been partnering in Southern California and across the country to help families living with a blood cancer diagnosis.

To help people living with cancer access the information they need to make informed decisions on their care, LLS and Walgreens launched a specialized training course for Walgreens pharmacists so they can better understand cancer, gain confidence in speaking with people affected by cancer, and become a resource for patients. Here in the California Southland Chapter, four Walgreens Specialty Pharmacies have been certified as blood cancer pharmacies by LLS.

Walgreens is a leading partner of Light The Night both nationally and locally. Walgreens' two week retail campaign (September 4-17, 2018) inspires customers to donate at the register to support LLS. Last year alone, Walgreens stores in the California Southland Chapter raised a record-setting $87,848, while nationally Walgreens contributed over $2 Million in support of research and patient services.

Walgreens also supports the Blood Cancer Conference held annually in Southern California. LLS Blood Cancer Conferences are free education events for blood cancer patients, survivors, caregivers, family members, and healthcare professionals to learn more about treatment options, emerging therapies, management of survivorship issues, and LLS resources. The next conference will be held on March 2, 2019 at the Hilton Anaheim in Anaheim, California.

We are grateful to the entire Walgreens team for their continued support of LLS, and are proud to be partners with them in the fight against cancer.

About Walgreens:
Walgreens (walgreens.com), one of the nation's largest drugstore chains, is included in the Retail Pharmacy USA Division of Walgreens Boots Alliance, Inc. (NASDAQ: WBA), the first global pharmacy-led, health and wellbeing enterprise. Approximately 8 million customers interact with Walgreens in stores and online each day, using the most convenient, multichannel access to consumer goods and services and trusted, cost-effective pharmacy, health and wellness services and advice. As of June 28, 2018, Walgreens operates approximately 9,800 drugstores with a presence in all 50 states, the District of Columbia, Puerto Rico and the U.S. Virgin Islands, along with its omnichannel business, Walgreens.com. Approximately 400 Walgreens stores offer Healthcare Clinic or other provider retail clinic services.

To learn more about corporate partnership opportunities with The Leukemia & Lymphoma Society California Southland Chapter, please contact Executive Director, Shannon Sullivan, at 310-846-4738 or shannon.sullivan@lls.org.