A novel BAFF CAR-T for treatment of HCL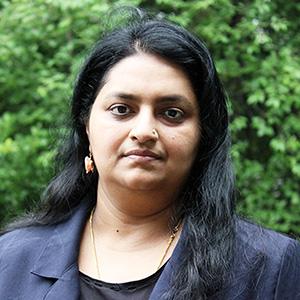 Reshmi Parameswaran
PhD
Case Western Reserve University School of Medicine
Project Term: October 1, 2021 - September 30, 2023
Despite the success of Chimeric antigen receptor T cell (CAR-T) immunotherapies, disease relapse occurs in a majority of patients. We have developed a novel ligand based BAFF-CAR, that utilizes B cell activating factor (BAFF) as a ligand, which can bind to all three receptors of BAFF, which are expressed by malignant B cells including Hairy Cell Leukemia (HCL). We hypothesize BAFF CAR-T will be an effective therapeutic strategy for HCL.
Lay Abstract
Hairy Cell Leukemia (HCL) is is an uncommon lymphoid neoplasm characterized by the accumulation of small mature B cell lymphoid cells with abundant cytoplasm and "hairy" projections within the peripheral blood, bone marrow, and splenic red pulp. Tremendous progress in the management of patients with this disease has resulted in high response rates and improved survival, yet relapse and an appropriate approach to re-treatment present continuing areas for research. Thus, there is an urgent need to develop new therapeutic routes to help treat these relapsed HCL patients. Under normal conditions, the bone marrow produces stem cells that become early B cells, a type of white cell, among others. As they mature, the B cells grow certain receptors on the cell surface and B cell activating factor receptor (BAFF-R) is one among them. BAFF is a protein which can bind to this receptor and helps the survival of mature B cells. HCL cells are reported to express all three receptors of BAFF. I developed BAFF-CAR-T cells, to target all three BAFF receptors consecutively. BAFF.CAR-T cells will bind to BAFF-receptors on HCL cells and activate T cells which finally kills the HCL cells. Since the receptors are not expressed by any normal cells in the bone marrow, this approach holds great promise to specifically kill HCL cells, without additional side effects. These types of treatment strategies can move quickly into a clinical trial without delay, to help treat these relapsed HCL patients, if we can prove efficacy using pre-clinical mouse models. Currently, a combination of chemotherapy and immunotherapy drugs are used for treating HCL patients and these intense therapies often end up with severe side effects. We anticipate that BAFF.CAR-T cells will target specifically HCL cells without affecting normal cells (except a subset of mature B cells) and with minimum side effects. Our preliminary data shows HCL cells express BAFF receptors and BAFF CAR-T cells can kill HCL cells effectively. But we need to extent the study and confirm this observation using more HCL patient samples as well as using mouse models.
The Hairy Cell Leukemia Foundation (HCLF) and The Leukemia & Lymphoma Society (LLS) have joined forces to create the HCL2025 program to support targeted research to build a more comprehensive foundational understanding of the molecular basis of hairy cell leukemia (HCL), develop additional therapies, and optimize outcomes for patients with this disease.
Grant Subprogram
Exploratory Awards
To All Projects