What it is.
The innovative SCOR program funds teams of researchers from one or several institutions to engage in collaborative efforts to develop a focused research program, foster new interactions and cooperation, and enhance interdisciplinary research among the participants in order to discover new approaches to treating patients with blood cancers.
---
What it does.
The SCOR program brings together distinguished investigators with a deep understanding of the complexity of blood cancers and their treatments. The teams are uniquely positioned to undertake groundbreaking research. The work seeks to to develop innovative approaches for the treatment, diagnosis or prevention of hematological malignancies.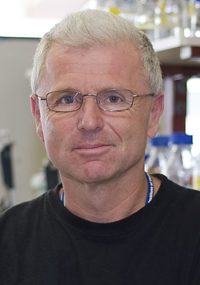 Andreas Strasser, PhD, MSc, FAA

"Our team of researchers and clinicians are grateful to The Leukemia & Lymphoma Society for their continued support. The generous and long-term funding from the LLS has permitted us to pursue broad-ranging research underpinning new therapies for cancer, in particular work to define the roles of pro-survival and pro-death BCL-2 family members in the development and treatment of leukemia and lymphoma. The funding aided the generation of a profound body of knowledge, which in turn allowed us to work with collaborators to develop and test the BCL-2 inhibitor venetoclax (ABT-199), which is revolutionizing the treatment of refractory chronic lymphocytic leukemia (CLL). The new grant support will allow us to examine the potential of targeting additional pro-survival BCL-2 family members in other blood cell cancers. This will aid in future development of novel BH3 mimetic drugs to improve the outcome of patients with these malignancies."
FY18 Grant Recipients
Stephen Nimer, MD
University of Miami
Interventional Epigenetics in Myeloid Malignancies
Robert Orlowski, PhD, MD
University of Texas MD Anderson Cancer Center
SCOR in High Risk Plasma Cell Dyscrasias
Andreas Strasser, PhD, MSc, FAA
Walter & Eliza Hall Institute of Medical Research
Directly targeting the Cell Death Machinery to Treat Hematopoietic Malignancies
Stephen Nimer, MD
University of Miami
Interventional Epigenetics in Myeloid Malignancies