The Leukemia & Lymphoma Society (LLS) is committed to curing leukemia, lymphoma, Hodgkin's disease and myeloma, and improve the quality of life of patients and their families. Your support is invested wisely.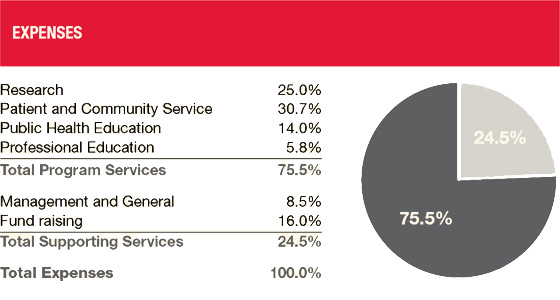 Our Investment
Because of the continued support of you and our partners and sponsors, in fiscal year 2014 we were able to:
invest $79.8 million in research, which includes funding for 106 new grants to researchers at academic institutions and $15.9 million spent for the LLS Therapy Acceleration Program
support more than 350 research projects (and 25 TAP partnerships) in the United States, Canada and 7 other countries
provide co-pay assistance to patients
sponsor scientific conferences around the country
produce educational materials and videos
run dozens of Family Support Groups nationwide
More Financial Information
You Can Help!
Learn how you can help improve the lives of people with blood cancer: See Ways To Help.