Diagnosis Cancer: Your Guide to the First Few Months of Healthy Survivorship, Expanded and Updated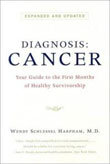 Diagnosis Cancer: Your Guide to the First Few Months of Healthy Survivorship, Expanded and Updated By Wendy Schlessel Harpham, M.D.
W.W. Norton, 2003, 262 pages
ISBN: 0393324605
The author, a physician and cancer survivor, guides patients through the first few frightening months after diagnosis. An easy-to-read format, up-to-date basic information and advice is presented on the physical, emotional and practical challenges of evaluation and treatment. This new edition includes Harpham's Decision Tool, a unique grid that helps people make informed treatment decisions in collaboration with their healthcare team.
Live Longer, Live Larger: A Holistic Approach for Cancer Patients and their Families

Live Longer, Live Larger: A Holistic Approach for Cancer Patients and their Families By William M. Buchholz, M.D., and Susan W. Buchholz, Ph.D.
O' Reilly & Associates, Inc., 2001, 389 pages
ISBN: 1565928458
Through years of practice as a hematologist/oncologist/psychologist team, the Buchholz's have helped people to construct strategies for dealing with life-threatening illness. Addressing medical and psychological issues, this book includes stories, exercises and tools to help patients live "longer" and more meaningfully, regardless of prognosis or stage of disease.
For more information: http://www.childhoodcancerguides.org/
Handbook for Mortals: Guidance for People Facing Serious Illness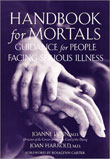 Handbook for Mortals: Guidance for People Facing Serious Illness By Joanne Lynn, M.D. and Joan Harrold, M.D.
Oxford University Press, 2001, 256 pages
ISBN: 0195146018
Designed for caregivers as well as patients, this book combines insight and inspiration with practical information and suggestions for coping with critical illness in all its physical and emotional complexity. Topics include accepting a new lifestyle, controlling pain, getting help and grieving. There is also a section that explores the question of when to let go of pursuing uncomfortable treatments in favor of making a positive choice about how to live near the end of life.
The Lovin' Ain't Over for Women With Cancer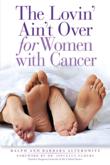 The Lovin' Ain't Over for Women with Cancer by Barbara Alterowitz & Ralph Alterowitz
CIACT, Inc.,2011
ISBN-10: 192916324X ISBN-13: 978-1929163243
Treatment for breast, gynecological and other cancer can have a devastating effect on sexuality. The Lovin' Ain't Over for Women with Cancer is a guide to overcoming the sexual difficulties, written by a husband-and wife team of certified sexuality counselors who has dealt with cancer in their own lives. They explain the effects of different cancer therapies on a woman's sexual function, lay out the 4-step AIDA system for regaining your sense of self, and provide a roadmap to rebuilding your sex life. Written in plain, frank language, this is a reader-friendly, proactive, practical and optimistic guide for women and couples struggling with sexual difficulties after cancer. The goal is to help readers cope and take the necessary action to make their sex lives as vibrant, vital, and fulfilling as they would like.
"Whoever you are and no matter what your situation may be, you will be able to find yourself in this book. The Lovin' Ain't Over For Women With Cancer can be viewed as a guide to better living through making informed choices regarding your relationships as well as by maneuvering some of the choices during treatment." -Dr. Joycelyn Elders. former U.S. Surgeon General.
And in Health: A Guide for Couples Facing Cancer Together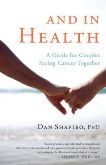 And in Health: A Guide for Couples Facing Cancer Together by Dan Shapiro
Trumpeter, 2013
ISBN-10: 161180017X ISBN-13: 978-1611800173
Engaging and digestible lessons for couples navigating the life changes brought about by a cancer diagnosis. Dan Shapiro draws on his more than twenty-five years of clinical work as a health psychologist who has researched and worked with couples facing cancer, and on his own experiences of being both the patient (having and beating Hodgkin's lymphoma in his twenties) and the supporter/advocate (when his wife was diagnosed with breast cancer) to weave together insights on facing cancer while maintaining a strong relationship. And in Health gives advice in short lessons on the main areas of concern or conflict that can come from life with cancer-from diagnosis to treatment and life post-treatment. Topics include: How to forge yourselves into a powerful team and avoid common conflict points Dealing with physicians and getting the best care possible, along with tips for navigating the medical world Strategies for coping with the emotions that can interfere with your relationship-anger, mood swings, spouse fears, and depression Distinguishing between supportive and draining people in your lives, and learning to invite and accept help Opening to new types of intimacy and making peace with dependence
The Human Side of Cancer: Living with Hope, Coping with Uncertainty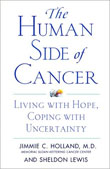 The Human Side of Cancer: Living with Hope, Coping with Uncertainty Jimmie C. Holland, M.D., and Sheldon Lewis
HarperCollins, 2000, 340 pages
ISBN 0060173718
Provides practical and compassionate guidance for dealing with the uncertainty of a cancer diagnosis. Dr. Holland, who chaired the Department Psychiatry at Sloan-Kettering, dispels societal myths and beliefs about coping with cancer, from diagnosis, through treatment and beyond.
Fighting Cancer with Knowledge and Hope: A Guide for Patients, Families, and Health Care Providers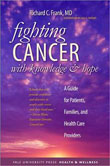 Fighting Cancer with Knowledge and Hope: A Guide for Patients, Families, and Health Care Providers by Richard C. Frank, M.D.
Yale University Press, 2009, 257 pages
ISBN-13: 978-0-300-15102-2
Anyone who is diagnosed with cancer receives a frightening blow, and in many cases the diagnosis is accompanied by a bewildering array of treatment choices. In this invaluable book, Dr. Richard C. Frank offers comfort and help to cancer patients, their families, and their caretakers. Dr. Frank empowers patients by unlocking the mysteries of the disease and explaining in plain language the ways to confront and combat it. An award-winning medical oncologist recognized for his humanitarian approach as well as his research accomplishments, Dr. Frank understands that cancer patients and their families need insight into the disease along with a sense of control. He therefore addresses these vital topics: what cancer is and how it spreads how cancer treatment strategies are chosen how cancer-fighting drugs work to shut down the growth of the disease which factors affect a patient's prognosis how patients can visualize cancer treatments at work in the body and why this is helpful how to deal with "uncurable" cancer and more. With a wealth of patient case histories, helpful coping strategies from cancer survivors, and up-to-date information on useful resources, Fighting Cancer is the book cancer patients and their loved ones can turn to with confidence and hope. Richard C. Frank, M.D., is director of cancer research, Whittingham Cancer Center, Norwalk Hospital, Norwalk, CT, and medical director, Mid-Fairfield Hospice, Wilton, CT. He lives in Fairfield, CT.
Author's website: http://richardfrankmd.com/frankpages/frank.html
Coping with the Emotional Impact of Cancer: Become an Active Patient and Take Charge of Your Treatment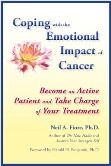 Coping with the Emotional Impact of Cancer: Become an Active Patient and Take Charge of Your Treatment By Neil Fiore
Bay Tree Publishing, 2009, 178 Pages
ISBN-10: 0980175836 ISBN-13: 978-0980175837
The author of this book is a 30-year survivor of a terminal cancer diagnosis, dramatically demonstrates how patients can maintain personal control of their lives while subject to sometimes harsh treatments. Offering hope and reassurance, Fiore provides practical tools for: managing the initial shock at receiving a cancer diagnosis, lessening stress and worry, combating depression, preparing your body for treatment, and living a rich full life with cancer despite the fear and possibility of recurrence. The author shares practical techniques for coping with the emotional and physical impact of this life-threatening disease. He shows how to establish team relationships with doctors and therapists, communicate with family and friends, and deal with feelings of helplessness. The book offers guidance in building emotional support systems with physicians, family and friends.
After Cancer: A Guide to Your New Life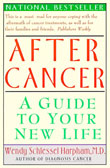 After Cancer: A Guide to Your New Life By Wendy Schlessel Harpham, M.D., and Robert Jones, Editor
HarperCollins Publishers, 1995, 299 pages
ISBN: 0060976780
The author, a cancer survivor herself, understands that surviving cancer is more than just killing cancer cells and getting through treatment. She explores the practical issues and the psychosocial elements of recovery after cancer treatment that includes the emotional, social, spiritual and financial fallout of a cancer diagnosis. By helping survivors understand that they can't go back to where they were before cancer, Dr. Harpham encourages people to move forward to a different, "new normal."
For more information: www.wendyharpham.com
How to Cope Better When You Have Cancer
How to Cope Better When You Have Cancer by William Penzer
Esperence Press, 2012
ISBN-10: 0983501718 ISBN-13: 978-0983501718
Dr. William Penzer's journey through what he came to call Cancerville began in 2005 when his 31-year-old daughter was diagnosed with breast cancer. Despite being a caring and seasoned psychologist for almost forty years who helped others navigate the choppy waters of life, he was emotionally drowning in that very sea. He searched for a book to help support him during this difficult time but found none. As he learned how to adapt and cope in Cancerville, he promised himself he would write a helpful book someday to support family and friends facing that same situation. In fact, he did and How to Cope Better When Someone You Love Has Cancer, for the people he calls heart and soul givers was published in January 2012. Cancer patients who read that one urged him to write this one.
Cancer Etiquette: What to Say, What to Do When Someone You Know or Love Has Cancer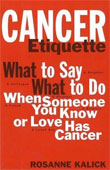 Cancer Etiquette: What to Say, What to Do When Someone You Know or Love Has Cancer By Rosanne Kalick
Lion Books Publisher, 2005, 146 pages
ISBN: 0874604508
Have you ever been at a loss for words when a friend or colleague or a loved one has been given a diagnosis of cancer? Have you ever wanted to do something "nice" for a person who is being treated for cancer and not known exactly what would be appropriate? This book contains myriad suggestions for saying and acting on the most helpful, compassionate and appropriate responses and explains why they are. Rosanne Kalick's valuable contributions are drawn from her personal experiences dealing with cancer not once, but twice. This unique position empowered her to conduct intense research, personal interviews and to use letters and emails from cancer patients all over the world. (Atlas Books) About the Author: Rosanne Kalick - Although cancer has changed the author's life, it has not changed who she is. While she no longer jogs (she had completed three New York City Marathons), she is an avid walker. She is particularly gifted in her ability to communicate, having been a professor and chairperson of the Library and Learning Resource Center at Westchester Community College in New York. She ultimately received the State University Chancellor's Award for Excellence in Librarianship. (Atlas Books)
Night Reflections

By Robert Thomas Winn (Author) and Timothy R. Pearson (Contributor)
Humanix Books, 2016 , 380 pages
ISBN-10: 1630060704
ISBN-13: 978-1630060701
Life was near perfect for Dr. Robert Winn, medical director of Deer Valley and The Canyons in Park City, and his beloved wife Nancy. But when, seemingly out of the blue, Nancy was diagnosed with the life threatening disease Acute Myeloid Leukemia, their world went tumbling and careening out of control. Because Dr. Winn could not speak of Nancy's illness without getting choked up or crying, he started the almost nightly ritual of sending letters to friends and family about Nancy. An elegant and introspective writer, and medical expert, these messages chronicle an inspirational story of courage, love, devotion, struggle, and ultimately triumph. Night Reflections will help anyone suffering from a devastating illness, their loved ones, caregivers, and the medical community alike find the strength to face even the darkest of days.
Into the Funhouse: An Unpredictable Story of a Relentless Leukemia

By Walter Harp
LS Publishing; First edition, 2016, 280 pages
ISBN-10: 0998206830
ISBN-13: 978-0998206837
Author begins his narrative with- "I should have died more than once. Yet I remain alive (at least for now), as can anyone with cancer, regardless of how dreadful the prognosis. People do beat the odds." What unfolds on the following pages is a story of life. Yes, Harp is diagnosed with a life-threatening and often debilitating disease, but ordinary daily life has a way of creeping in, and Harp relays it all beautifully. Between snippets about diagnostic tests, treatments, fear, and the challenges of acceptance, there is the wonderfully mundane. Passages about everyday living while your body is hurting make his story relatable.