Voices of Cancer: What We Really Want, What We Really Need - Insights for Patients and the People Supporting Them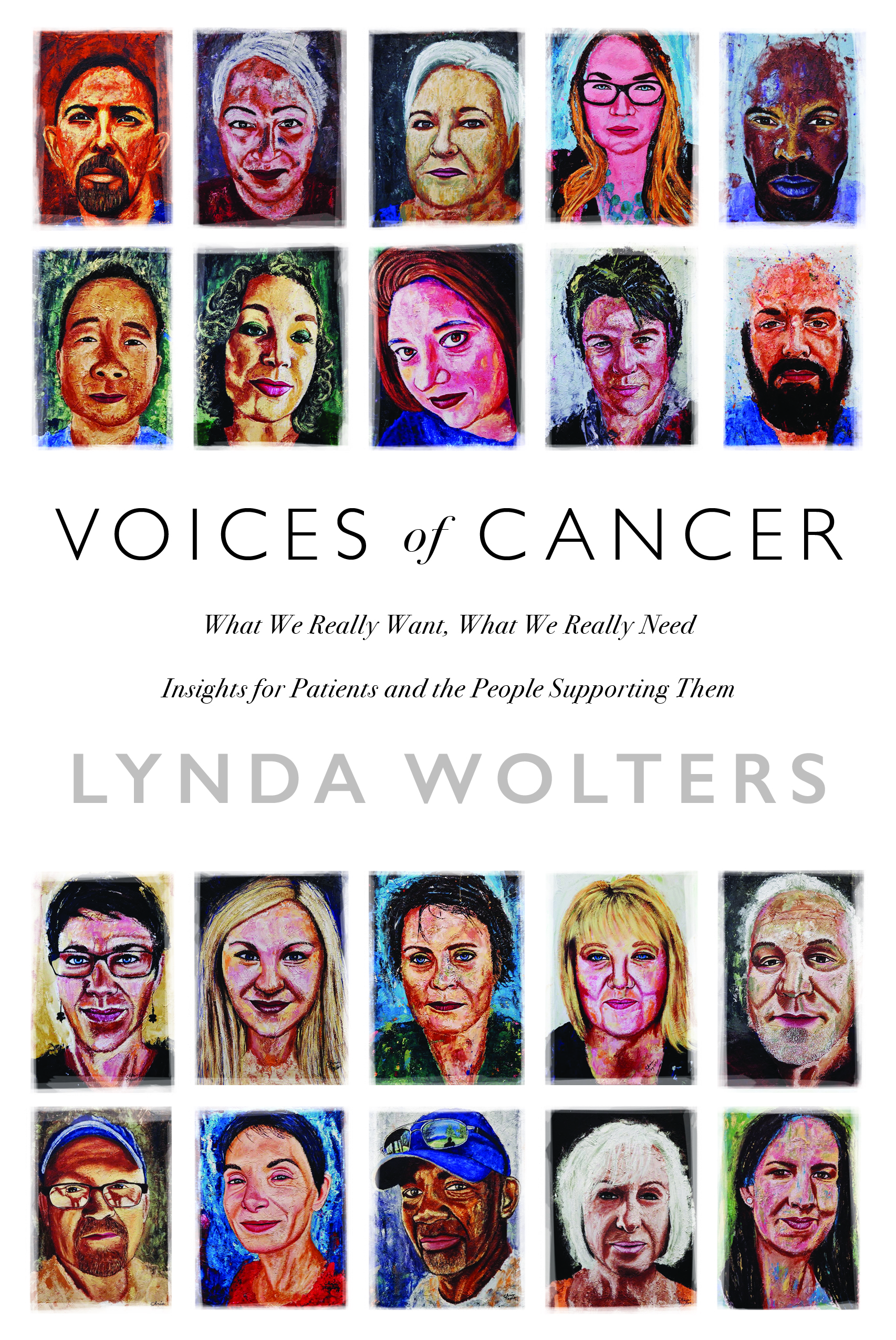 Voices of Cancer: What We Really Want, What We Really Need - Insights for Patients and the People Supporting Them by Lynda Wolters
Mascot Books, October 2019, Hardcover (160 pages) and Kindle
ISBN: 1645430391
Voices of Cancer offers a candid look into the world of a cancer patient, informed by Lynda's own story (as a Mantle Cell Lymphoma patient) and conversations she had with dozens of patients weighing in on their needs, wants, and dislikes as they navigate the complex world of diagnosis, treatment, and beyond. With comprehensive and accessible insight from people who've been there, Voices of Cancer helps educate, dispel fears, and start positive conversations about what a cancer diagnosis truly means, while shining a light on how best to support a loved one on their own terms.
Hundred Percent Chance: A Memoir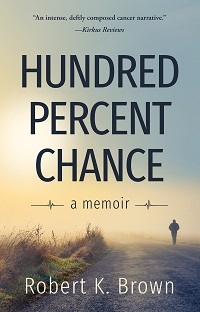 Hundred Percent Chance: A Memoir by Robert K. Brown
3/3 Press 2019, 273 Pages, Paperback or Kindle
ISBN: 9781733159005
Hundred Percent Chance: A Memoir is a raw and realistic memoir about a young college student who was diagnosed with Acute Myeloid Leukemia in 1990 while he was studying abroad in Lancaster, England – halfway across the world from his home in Seattle. From battling life-threatening symptoms during a rushed, emergency departure from England, through multiple rounds of chemotherapy and complications over the next eight months, this moving, page-turning story will remind you to make the most of every day.
For more information: www.hundredpercentchance.com
The Long Road Back to Boston: Running Marathons with Leukemia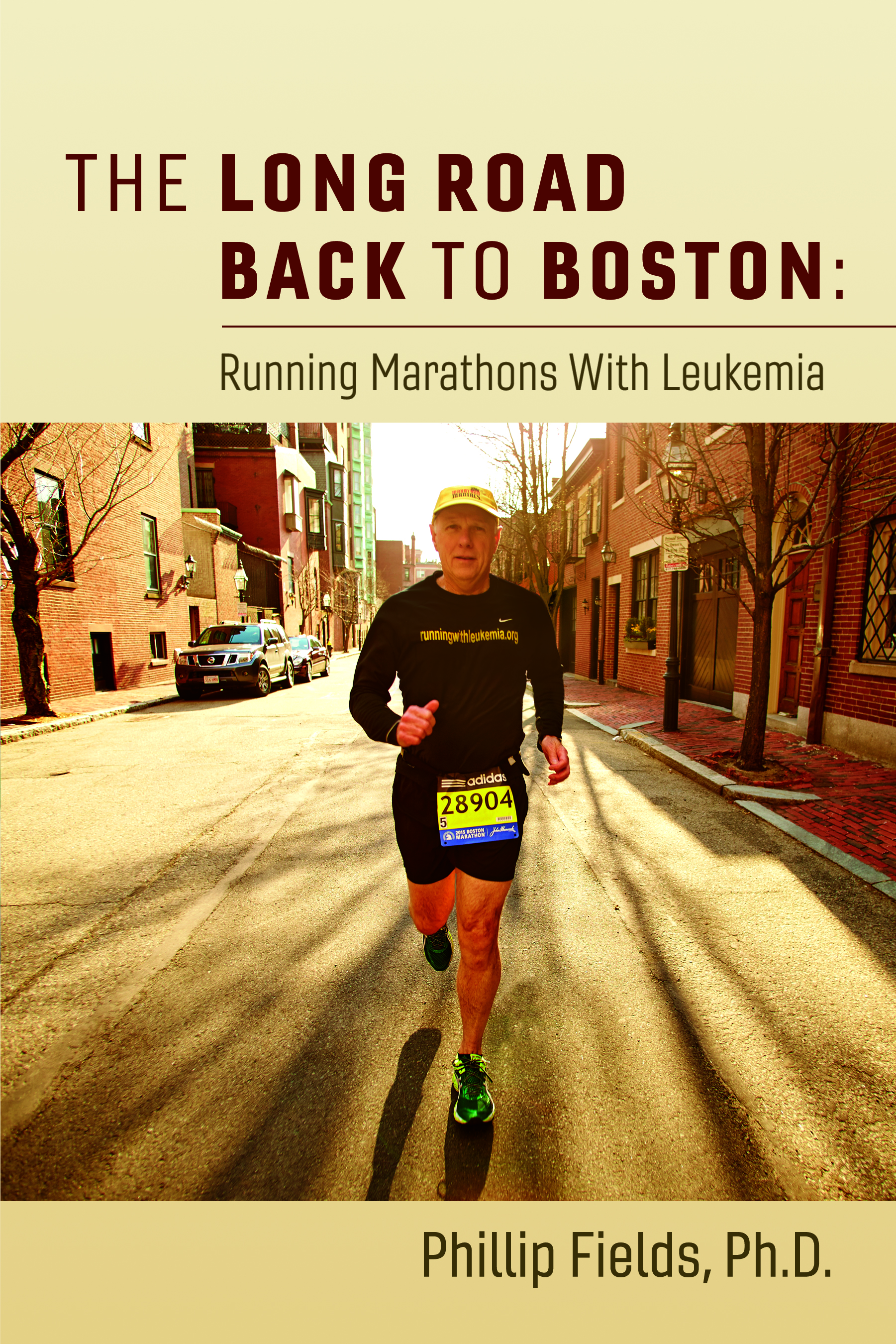 The Long Road Back to Boston: Running Marathons with Leukemia by Phillip Fields, PhD
Published by BookBaby, July 2019, Paperback, 322 pages (also available as e-book)
ISBN: 9781543958508
What we do when confronted with bad news defines who we are and what we will be from that moment forward. In 2008, an oncologist told Dr. Fields, "You have leukemia, a five-to-seven year life expectancy, and stop running marathons." What he did next made his diagnosis only life-changing and not life-shattering. Between February 2009 and December 2012, he ran a marathon in every state and DC (51 marathons/47 months). His accomplishment is a testament that a diagnosis is not the end of life; it is only the beginning. Interwoven with his story of running with leukemia are stories of his loves, losses, travel, and embarrassing childhood memories.
The Scars, Aligned (A Cancer Narrative)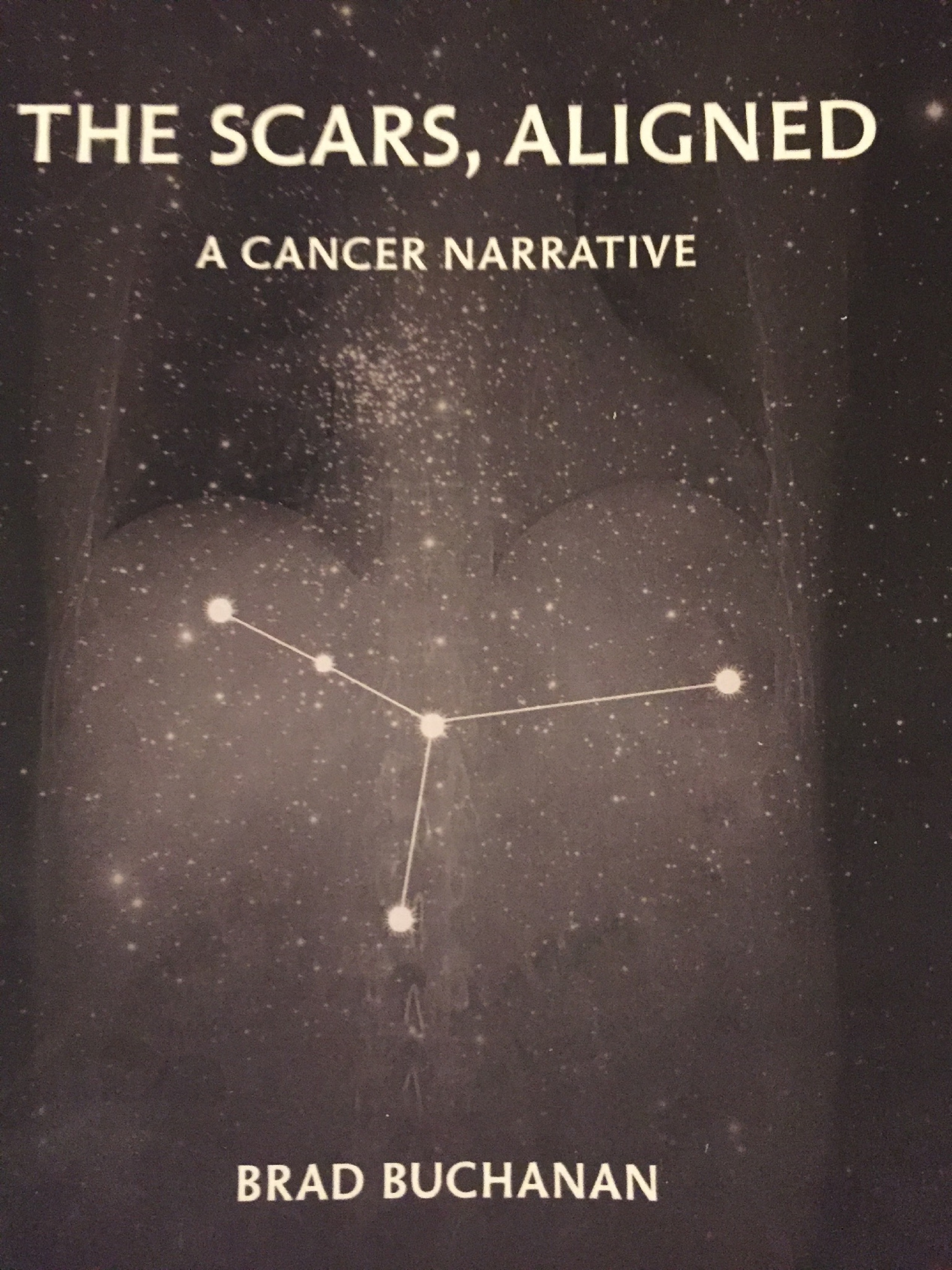 The Scars, Aligned (A Cancer Narrative) by Brad Buchanan
Finishing Line Press, 2019, Paperback 93 pages
ISBN: 9781635348514
The Scars, Aligned follows the author's journey through the many phases of a cancer patient's experience and interweaves lines of famous poetry. He covers feelings of uncertainty, paranoia, diagnosis, acceptance, expectancy, crisis, treatment, and finally recovery. The narrative working through these poems is a powerful and universal one, but the details of an intensely lived physical and emotional ordeal make this book far more than a mere succession of unfortunate events.
Consider It Pure Joy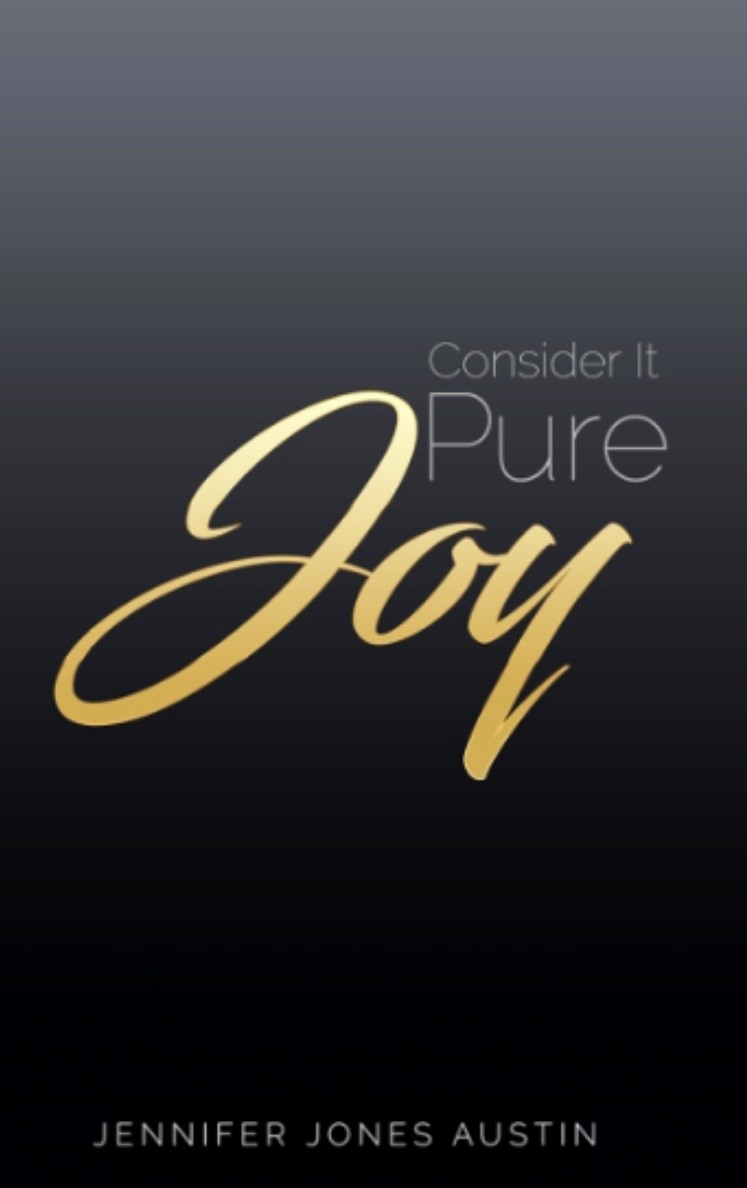 Consider It Pure Joy by Jennifer Jones Austin
Published by The Church Online LLC, February 2018, Paperback, 217 pages (also available as e-book)
ISBN: 9781940786612
Author Jennifer Jones Austin - wife, mother, lawyer, child advocate and the picture of good health - finds herself with an acute form of leukemia that requires a bone marrow transplant to increase her chances of survival. The story recounts how Jennifer, her family and friends, are in a race against time as she fights cancer and searches for a bone marrow donor to cure her and others of the deadly disease. With scripture and bible verses, Jennifer describes how her power of faith, and her power of community, help to transform desperation into joy.
Home Before Dark: A Family Portrait of Cancer and Healing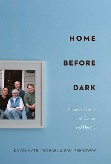 Home Before Dark: A Family Portrait of Cancer and Healing By David Treadway, Kate Treadway, Michael Treadway, Sam Treadway
Union Square Press, 2010, 243 Pages
ISBN-10: 140276071X ISBN-13: 978-1402760716
Moving, heartbreaking, morbidly wry and ultimately uplifting, this book captures the everyday struggles of living with and loving someone fighting for his life when as a successful psychologist, writer, husband, and father of two adult sons - was diagnosed with stage 4, non-Hodgkin lymphoma and given a 25 percent chance of survival. In the blink of an eye, his world shattered. Faced with the news, his family all had to cope with their own, unique challenges. Here, in beautifully crafted alternating chapters, all four family members tell the story of their first year with cancer, avoiding platitudes and easy answers in favor of the raw honesty of a family coping with disease.
Perseverance: True Voices of Cancer Survivors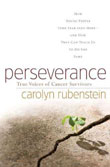 Perseverance: True Voices of Cancer Survivors by Carolyn Rubenstein
Tom Doherty Associates, 2009, 382 pages
ISBN: 978-0-7653-1778-0
Can you imagine being in high school or college and suddenly learning you have cancer? You thought you had a lifetime ahead of you and the whole world at your feet, but suddenly you?re told? maybe not. How would you cope? That?s the question the twenty young people in this book had to answer when they were diagnosed with childhood cancer. Perseverance shares life lessons learned through their stories and educates the reader on how to incorporate them into his/her life. It tells of their trials and tribulations, of their triumphs, and of the unique challenges that day-to-day life brings them. Perseverance also provides an intimate look at the lives and journeys of these young people and how their courage and strength have affected the lives of others.
Author's website: http://carolynrubenstein.com/
Kitchen Table Wisdom: Stories that Heal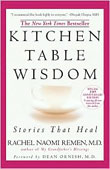 Kitchen Table Wisdom: Stories that Heal By Rachel Naomi Remen, M.D.
Berkeley Publishing Group, 1997, 368 pages
ISBN: 1573226106
From her experience as a physician, a professor of medicine, a therapist and a long-term survivor of chronic illness, Dr. Remen offers an intimate relationship with healing and the life force. Sitting around the table telling stories is not just a way of passing time. It is the way the wisdom gets passed along. Loneliness, the hidden wound of our time, is the price many have paid for overemphasizing the values of independence, self-reliance and competence. Remen's parables are an invitation to see below the surface and remember that we are connected and can become one another's healers.
Chicken Soup for the Surviving Soul: 101 Healing Stories About Those Who Have Survived Cancer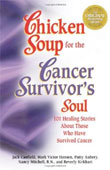 Chicken Soup for the Surviving Soul: 101 Healing Stories About Those Who Have Survived Cancer By Jack Canfield, Mark Victor Hansen, Patty Aubrey, Nancy Mitchell, R.N., Beverly Kirkhart
Health Communications, Inc., 1996, 341 pages
ISBN: 1558744029
More than 100 cancer survivors share their personal stories in this touching new collection of Chicken Soup. These heartwarming accounts of courageous people who found the power to battle cancer in their endless hope, unwavering faith and steadfast determination will inspire you to adopt a positive attitude, discover your faith and cherish every moment. Just what the doctor ordered for healing your body, mind and soul.