X4 Pharmaceuticals
Partnership since April 2019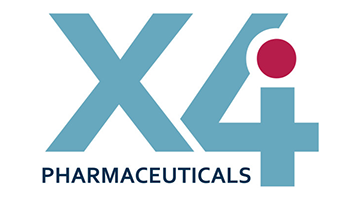 In April 2019, LLS entered into a partnership with X4 Pharmaceuticals to support "A Phase 1b Trial of Mavorixafor, an Oral CXCR4 Antagonist, in Combination With Ibrutinib in Patients With Waldenstrom's Macroglobulinemia (WM) Whose Tumors Express Mutations in MYD88 and CXCR4."
X4 Pharmaceuticals is a late-stage clinical biopharmaceutical company and a leader in the discovery and development of novel therapies for the treatment of diseases resulting from dysfunction of the CXCR4 pathway, with a focus on rare diseases and those with limited treatment options. The company's lead candidate, mavorixafor, is a first-in-class, small molecule antagonist of chemokine receptor CXCR4 being developed as a once-daily oral therapy. The efficacy and safety of mavorixafor, dosed once daily, is currently being evaluated in a global Phase 3 clinical trial in patients with WHIM syndrome, and in two Phase 1b clinical trials – in combination with ibrutinib in patients with Waldenström's macroglobulinemia (WM), and as monotherapy in patients with severe congenital neutropenia (SCN). 
Genetic mutations in CXCR4 create abnormal trafficking of white blood cells and play a role in disease development. By blocking the activity of CXCR4, mavorixafor addresses certain rare primary immunodeficiency diseases and certain cancers, including lymphoma. Approximately 30 to 40 percent of WM patients have a CXCR4 mutation, and, while many patients benefit from ibrutinib therapy, which is the standard of care, the response rate is lower and remission is not long-lasting in comparison with patients who do not have the mutation. This experimental therapy is a potentially significant new option—an oral therapy that could control the disease.
Under the collaboration, X4 will conduct a multinational phase 1/2 clinical trial to evaluate the safety and assess the preliminary antitumor activity of mavorixafor in combination with ibrutinib in WM patients. The trial is currently enrolling patients (NCT04274738). Mavorixafor was granted Orphan Drug Designation by the FDA for WM in July 2019.
For more information about X4, visit www.x4pharma.com.
Recent News
Aug. 03, 2021 - reported financial results for the second quarter and six months ended June 30, 2021. The company also announced key enrollment milestone achievements for its lead product candidate, mavorixafor, a novel, oral small molecule currently being evaluated in a Phase 3 clinical trial for patients with WHIM (warts, hypogammaglobulinemia, infections, and myelokathexis) syndrome and in two Phase 1b clinical trials for patients with Waldenström's macroglobulinemia and Severe Congenital Neutropenia (SCN) and chronic neutropenia disorders, respectively.
June 11, 2021 - announced positive preliminary efficacy and safety data from its ongoing Phase 1b clinical trial of its lead candidate mavorixafor, in combination with ibrutinib, in Waldenström's macroglobulinemia patients with both MYD88 and CXCR4 mutations. These data are included in a poster published at this year's European Hematology Association (EHA) Annual Congress.
Oct. 08, 2020 - announced that the U.S. Food and Drug Administration (FDA) has granted Fast Track Designation to its lead asset, mavorixafor, for the treatment of adult patients with WHIM (Warts, Hypogammaglobulinemia, Infections, and Myelokathexis) syndrome, a rare, inherited, primary immunodeficiency disease caused by genetic mutations in the CXCR4 receptor gene.