Verastem Oncology
Partnership began in October 2018 (Secura Bio acquired duvelisib in September 2020)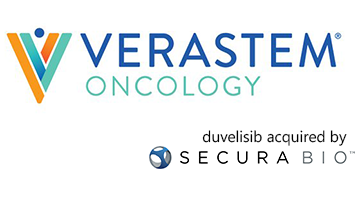 In October 2018, LLS began a partnership with Verastem to support two clinical trials, "A Multi-Center, Phase 2, Open-label, Parallel Cohort Study of Efficacy and Safety of Duvelisib in Patients With Relapsed or Refractory Peripheral T Cell Lymphoma (PTCL)" and "A Phase I Trial of Duvelisib in Combination With Either Romidepsin or Bortezomib in Relapsed/Refractory T-cell Lymphomas."
Verastem Oncology is a biopharmaceutical company committed to the development and commercialization of new medicines to improve the lives of patients diagnosed with cancer. Their pipeline is focused on novel small molecule drugs that inhibit critical signaling pathways in cancer that promote cancer cell survival and tumor growth. Verastem entered into a definitive agreement to sell its global commercial and development rights to COPIKTRA (duvelisib), its marketed oral inhibitor of phosphoinositide 3-kinase (PI3K), and the first FDA-approved dual inhibitor of PI3K-delta and PI3K-gamma, to Secura Bio, Inc., an integrated biopharmaceutical company dedicated to the worldwide commercialization of significant oncology therapies.
Secura Bio continues to develop duvelisib in PTCL as enrollment was recently completed in the Phase 2 PRIMO clinical trial evaluating the efficacy and safety of duvelisib in adult patients with histologically confirmed relapsed or refractory PTCL (NCT03372057). Interim results of the PRIMO study were published during a presentation at ASH in December 2021.
For the treatment of PTCL, duvelisib monotherapy has received Fast Track status and Orphan Drug Designation, and investigations are imminently planned in combination with other proven anti-cancer agents.
In December 2021, the National Comprehensive Cancer Network (NCCN) has added duvelisib to the Clinical Practice Guidelines in Oncology (NCCN Guidelines) for PTCL.
For more information about Secura Bio, visit www.securabio.com.
Recent News
February 9, 2022 - announced final patient was enrolled in PRIMO study and COPIKTRA® (duvelisib) was recently included in NCCN Guidelines for PTCL
December 14, 2021 - announced that new data for the treatment of relapsed or refractory(r/r) PTCL patients with COPIKTRA were presented at the 63rd annual meeting of the American Society of Hematology (ASH) in Atlanta, Georgia.
September 30, 2020 - announced that it has completed the sale of duvelisib, a marketed oral inhibitor of phosphoinositide 3-kinase (PI3K), and the first FDA-approved dual inhibitor of PI3K-delta and PI3K-gamma, to Secura Bio, Inc. In consideration for the COPIKTRA assets, Verastem received from Secura Bio $70 million in cash and is eligible to receive up to a total deal value of $311 million if certain regulatory and sales-based milestones are successfully met.  Secura Bio has assumed all operational and financial responsibility for COPIKTRA program activities, including commercialization efforts in the United States and Europe, ongoing clinical trials, development and commercialization partnerships and existing royalty obligations.