OncoPep
Partnership since August 2014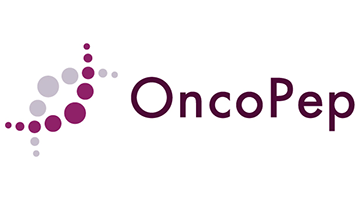 In August 2014, LLS made an equity investment in OncoPep which is currently supporting "A Phase 1b Study of PVX-410, a Multi-Peptide Cancer Vaccine, and Citarinostat (CC-96241), a Histone Deacetylase Inhibitor (HDAC) With and Without Lenalidomide for Patients With Smoldering Multiple Myeloma."
OncoPep is developing targeted immunotherapeutics to prevent the progression of cancer, prolong survival and restore the quality of life of patients. OncoPep's lead program is an investigational, multi-peptide therapeutic vaccine (PVX-410) being evaluated in treating smoldering multiple myeloma (SMM) and triple negative breast cancer.
Smoldering multiple myeloma is the asymptomatic stage of multiple myeloma that has a high risk of progressing to full-blown multiple myeloma. PVX-410 is made of multiple peptides to target the tumor cell heterogeneity observed in all cancers, particularly MM, and decrease the likelihood of tumor cells developing resistance by targeting multiple antigens found on the surface of MM cells simultaneously. Furthermore, targeting multiple antigens increases the probability of an immune response in the target patient population.
OncoPep is currently conducting a Phase 1 study to evaluate PVX-410 in patients with SMM. The study will test two different combinations of the study drugs; a combination of the vaccine (PVX-410) along with Citarinostat and triple combination of the vaccine, Citarinostat, and Lenalidomide. Citarinostat is an orally active, small-molecule Histone Deacetylase (HDAC) Inhibitor which is being combined here to further augment the immune activity of the vaccine. The FDA has approved Lenalidomide as a treatment option for SMM. Lenalidomide is being added to the combination of the vaccine and Citarinostat because it is hypothesized that co-administration would further enhance the T cell-mediated immune response induced by PVX-410.
The clinical trial is currently open and enrolling patients (NCT02886065). PVX-410 was granted Orphan Drug Designation by the FDA for multiple myeloma in 2013.
In addition, OncoPep is enrolling patients in a Phase 2 clinical trial (NCT04634747), investigating PVX-410 in combination with pembrolizumab and chemotherapy in patients with triple negative breast cancer.
For more information about OncoPep, visit www.oncopep.com.
Recent News
December 9, 2021 - announced $11 million in Series D funding to enable its clinical trials and advance preclinical development of novel pipeline agents.
October 15, 2020 – announced a licensing agreement with MANA Therapeutics for use of its EDIFY™ platform for the development of an autologous multitumor antigen adoptive T cell therapy for the treatment of multiple myeloma and solid tumors, as an additional T cell focused immunotherapeutic for its product pipeline.