NexImmune
Partnership since Oct 2017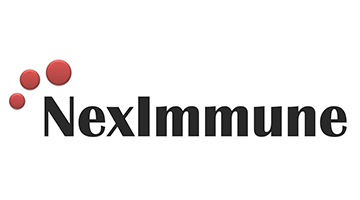 In October 2017, NexImmune benefitted from an initial TAP investment and now in 2021 received a second investment as part of the company's initial public offering to support "Phase 1 / 2 Studies to Evaluate the Safety, Tolerability and Initial Anti-Tumor Activity of Adoptively Transferred T Lymphocytes in AML or MDS Patients With Relapsed Disease After Matched Allogeneic HCT or Adoptively Transferred Autologous T Cells in Patients With Relapsed Refractory Multiple Myeloma."
NexImmune is a clinical-stage biotechnology company developing a novel approach to immunotherapy designed to employ the body's own T cells to generate a specific, potent, and durable immune response. The backbone of NexImmune's approach is a proprietary Artificial Immune Modulation (AIM™) nanoparticle technology platform. The AIM technology enables NexImmune to construct nanoparticles that function as synthetic dendritic cells capable of directing a specific T cell-mediated immune response. AIM constructed nanoparticles employ natural biology to engage, activate and expand endogenous T cells in ways that combine anti-tumor attributes of antigen-specific precision, potency and long-term persistence with reduced potential for off-target toxicities.
The antigen-specific T-cell immunotherapy from NexImmune is designed to target multiple tumor antigens associated with the disease, different for both AML and MM. Moreover, in AML patients, CAR-T therapies have yet to demonstrate significant antitumor activity and immunocheckpoint inhibitors have shown only marginal efficacy when given as a monotherapy in blood cancers outside of Hodgkin lymphoma. The initial goal of these early clinical trials is to demonstrate safety, T-cell persistence, and determine preliminary patient benefit.
NexImmune has two novel products in phase 1 clinical trials; NEXI-001 to treat advanced acute myeloid leukemia or myelodysplastic syndrome NCT04284228, and NEXI-002 for the treatment of advanced multiple myeloma NCT04505813. Recently, NEXI-003 received IND clearance by FDA to conduct a clinical trial in solid tumors (HPV-related cancers).
For more information about NexImmune, visit www.neximmune.com.
Recent News