NexImmune
Partnership since Oct 2017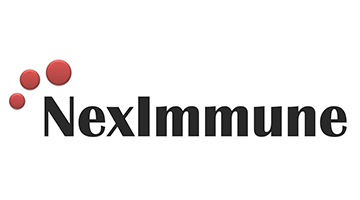 In October 2017, NexImmune benefitted from an initial TAP investment and now in 2021 received a second investment as part of the company's initial public offering to support "Phase 1 / 2 Studies to Evaluate the Safety, Tolerability and Initial Anti-Tumor Activity of Adoptively Transferred T Lymphocytes in AML or MDS Patients With Relapsed Disease After Matched Allogeneic HCT or Adoptively Transferred Autologous T Cells in Patients With Relapsed Refractory Multiple Myeloma."
NexImmune is a clinical-stage biotechnology company developing a novel approach to immunotherapy designed to employ the body's own T cells to generate a specific, potent, and durable immune response. The backbone of NexImmune's approach is a proprietary Artificial Immune Modulation (AIM™) nanoparticle technology platform. The AIM technology enables NexImmune to construct nanoparticles that function as synthetic dendritic cells capable of directing a specific T cell-mediated immune response. AIM constructed nanoparticles employ natural biology to engage, activate and expand endogenous T cells in ways that combine anti-tumor attributes of antigen-specific precision, potency and long-term persistence with reduced potential for off-target toxicities.
The antigen-specific T-cell immunotherapy from NexImmune is designed to target multiple tumor antigens associated with the disease, different for both AML and MM. Moreover, in AML patients, CAR-T therapies have yet to demonstrate significant antitumor activity and immunocheckpoint inhibitors have shown only marginal efficacy when given as a monotherapy in blood cancers outside of Hodgkin lymphoma. The initial goal of these early clinical trials is to demonstrate safety, T-cell persistence, and determine preliminary patient benefit.
NexImmune has two novel products in phase 1 clinical trials; NEXI-001 to treat advanced acute myeloid leukemia or myelodysplastic syndrome NCT04284228, and NEXI-002 for the treatment of advanced multiple myeloma NCT04505813.
For more information about NexImmune, visit www.neximmune.com.
Recent News
May 19, 2021 - announced that clinical data from its Phase 1/2 dose escalation study of NEXI-001 will be presented in a poster session at the American Society of Clinical Oncology (ASCO) 2021 Annual Meeting being held virtually from June 4 – June 8, 2021.
Feb. 17, 2021 - announced the closing of its previously announced upsized initial public offering of 7,441,650 shares of its common stock at a price to the public of $17.00 per share. The gross proceeds to NexImmune from the offering were approximately $126.5 million.
December 7, 2020 – announced that City of Hope's Monzr Al Malki, M.D., delivered an oral presentation at the 62nd American Society of Hematology (ASH) Annual Meeting and Exposition featuring initial data from the Phase 1/2 trial of NEXI-001 in AML. Entitled "Preliminary Results of the First-in-Human Study of NEXI-001, a Multi-Antigen Specific CD8+ T Cell Product, in Acute Myeloid Leukemia (AML) Patients with Relapsed Disease after Allogeneic Hematopoietic Cell Transplantation (Allo-HSCT) Demonstrate Early Signs of Safety, Tolerability and Robust Immune Responses," the presentation included responses following a single infusion of the experimental therapy.