Forty Seven
Partnership began in March 2017 (Acquired by Gilead in April 2020)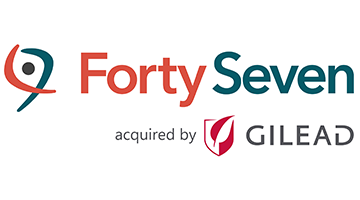 In March 2017, LLS began its partnership with Forty Seven to support "Clinical Development of Magrolimab in Patients With Relapsed/Refractory B-cell Non-Hodgkin's Lymphoma" and in July 2019, LLS expanded its partnership by making an equity investment to support additional magrolimab clinical development in MDS.
LLS funded Stanford University researchers and founders of Forty Seven, Irv Weissman, MD, and Ravi Majeti, MD, PhD, to study seminal work in macrophages. This is a type of immune cell that patrols the body and chews up damaged cells. If a macrophage latches onto a normal cell, a protein known as CD47 sends a "don't eat me" signal. But lymphoma and leukemia cells are clever and use CD47 to trick the macrophages into ignoring them and letting them grow as cancer. In preclinical mice models, Drs. Weissman and Majeti used an antibody to block the "don't eat me" signal and stimulate the immune system to recognize the cancer cells as invaders. When they added rituximab as an "eat me" signal, the therapy delivered a one-two punch.
Forty Seven was a clinical-stage immuno-oncology company that was developing therapies targeting cancer immune evasion pathways and specific cell targeting approaches based on technology licensed from Stanford University. Forty Seven's lead program was magrolimab, a monoclonal antibody against the CD47 receptor, a "don't eat me" signal that cancer cells commandeer to avoid being ingested by macrophages. Gilead Sciences acquired Forty Seven in April 2020 and Gilead continues to develop magrolimab in multiple clinical studies in patients with myelodysplastic syndrome, acute myeloid leukemia, myeloma, non-Hodgkin lymphoma, and solid tumors.
Gilead is exploring the role of magrolimab in the following Phase 3 registration-enabling clinical trial:
Study Evaluating the Safety and Efficacy of Magrolimab Versus Placebo in Combination With Venetoclax and Azacitidine in Newly Diagnosed, Previously Untreated Patients With Acute Myeloid Leukemia (ENHANCE-3) (NCT05079230) - actively enrolling
For more information about Gilead, visit www.gilead.com.
Recent News