Carisma Therapeutics
Partnership since February 2021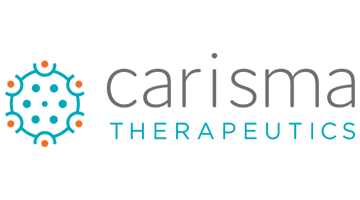 In February 2021, LLS made an equity investment in Carisma Therapeutics to support "CAR Macrophage Development for Blood Cancers."
Carisma is a biopharmaceutical company developing a differentiated and proprietary cell therapy platform focused on engineered macrophages. Carisma is looking at an innovative way to harness yet another part of the human immune system. Carisma Therapeutics is a spin out company from the University of Pennsylvania (Penn), founded by Saar Gill, M.D., Ph.D. and Michael Klichinsky, PharmD, Ph.D., SVP of Research. Early work at Penn was supported in part by LLS grants. CARISMA is developing CAR-engineered macrophages, white blood cells that exert broad effects on the immune system, to infiltrate solid tumors, eat away at cancer and activate the adaptive immune system. Based on preclinical studies, the company's highly differentiated CAR-macrophage (CAR-M) platform may have the potential to overcome challenges encountered by other cell therapies such as trafficking limitations to the tumor site, immunosuppressive tumor microenvironments and the heterogeneous expression of tumor-associated antigens.
The first applications of the platform, developed in collaboration with the University of Pennsylvania, are autologous chimeric antigen receptor (CAR)-macrophages for the treatment of solid tumors and a Phase 1 clinical trial of CT-0508, an anti-human epidermal growth factor receptor 2 (HER2) targeted chimeric antigen receptor macrophage, is actively enrolling patients (NCT04660929).
Carisma will further develop its proprietary engineered-macrophage platform with LLS to support the development of one or more CAR macrophage cell therapy programs for hematological malignancies.
For more information about Carisma, visit www.carismatx.com.
Recent News