argenx
Partnership began in June 2014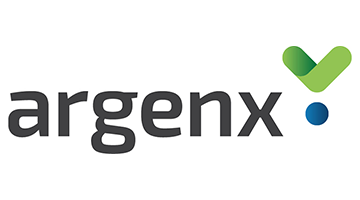 In June 2014, LLS began its partnership with argenx to support an expansion of an ongoing Phase 1 clinical trial to study ARGX-110 (Cusatuzumab) in waldenstrom macroglobulinemia patients. Expanding upon the initial work supported by LLS TAP, argenx enrolled patients in two additional trials: "A Study of Cusatuzumab Plus Azacitidine in Participants With Newly Diagnosed Acute Myeloid Leukemia Who Are Not Candidates for Intensive Chemotherapy" and "Cusatuzumab in Combination With Background Therapy for the Treatment of Participants With Acute Myeloid Leukemia."
argenx is a global immunology company committed to improving the lives of people suffering from severe autoimmune diseases and cancer. Partnering with leading academic researchers through its Immunology Innovation Program (IIP), argenx aims to translate immunology breakthroughs into a world-class portfolio of novel antibody-based medicines.
Cusatuzumab is designed as a first-in-class, high-affinity anti-CD70 monoclonal antibody with multiple intended mechanisms of action, including Fc-mediated cytotoxicity with enhanced ADCC and inhibition of CD70/CD27 signaling, resulting in killing of malignant cells such as leukemia blasts and stem cells.
Cusatuzumab is currently being investigated in acute myeloid leukemia (AML) and higher-risk myelodysplastic syndromes (MDS) in both ongoing CULMINATE (NCT04023526) and ELEVATE (NCT04150887) clinical trials. Data is expected from both trials later in 2021.
For more information about argenx, visit www.argenx.com.
Recent News
December 2021 - presented clinical data for cusatuzumab, an investigational SIMPLE Antibody™ targeting CD70, an immune checkpoint target, at the virtual 63rd American Society of Hematology (ASH) Annual Meeting taking place from December 11 – 14, 2021 in Atlanta, GA.