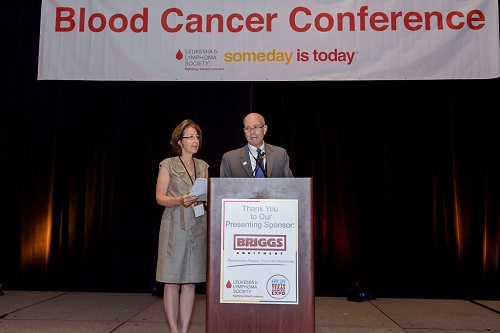 Living Your Best Life North Texas Cancer Expo
Saturday, September 16, 2017
Omin Hotel, Dallas, TX
8:00 a.m. - 3:00 p.m.

Hosted by: The Leukemia & Lymphoma Society
Free and open to the public.
Keynote Speaker - Lila Javan
Expo features over 30 vendors including nutritionists, palliative care experts, exercise tips, health care representatives, entertainment, and food demonstrations.
Information for patients and caregivers of ALL cancer.
Expo is FREE but participants must register.

GENERAL TRACK SESSIONS
8:00 AM - Expo & Registration Opens
9:00 AM - 9:30 AM - Opening Session
Patricia Thomson, Ph.D., Executive Director North Texas Chapter
Don Armstrong, Expo Chair and Survivor
9:45 AM - 10:15 AM - Concurrent Morning Breakout Sessions
Movement and Yoga
Start your day with an energizing easy yoga session with tips on how to stay fit.

The New Normal
Join keynote speaker Lila Javan as she discusses life after cancer and finding balance in survivorship.

10:30 AM - 11:00 AM - Concurrent Morning Breakout Sessions
Blood Cancer Research Updates
​Hear the latest in groundbreaking research updates from a panel of top oncologists in North Texas.
​
Finish Your Race
Author and AML Survivor Don Armstrong empowers your to find your true purpose and live with an unstoppable passion.
11:15 AM - 11:45 AM - Concurrent Morning Breakout Sessions
Cancer Prevention Through Nutrition
Enjoy an educational cooking demonstration (and tasting!) with Nutritional Coach and Culinary instructor, Patricia R. Thomson, Ph.D..

Let's Talk About Cancer
A diverse panel of caregivers and survivors discuss the lines of communication patients face during cancer diagnosis and treatment.
12:00 PM - 1:00 PM
Lunch Welcome
Dr. Brian Berryman, Texas Oncology

Keynote Speakers
Lila Javan, Survivor
Lila Javan shares her cancer journey, and the inspiring story of her summit of Mount Kilimanjaro after treatment.
1:15 PM - 1:45 PM - Concurrent Afternoon Breakout Sessions
Food Saved Me
Let Katherine Lawrence show you how you can cook faster, retain more nutrients, remove toxins, and reduce food costs.

Side Effects of Treatment - Managing Your Health
Join Walgreens Specialty Pharmacy, and LLS partner, as experts share the best ways to manage the effects of cancer treatment.
2:00 PM - 2:30 PM - Concurrent Afternoon Breakout Sessions
Mindfulness and Meditation
Research shows that meditation can improve everything from memory and mental acuity to anxiety. Join our meditation coach for tips to use every day.

Survivorship Panel
Survivors and parents of survivors share their experiences and answer questions about survivorship at all stages post-treatment.
3:00 PM Expo Closes
For more information, or for assistance for people with disabilities or grievances, please contact: Dawn Guerrero, Dawn.Guerrero@lls.org , 972-996-5905.