The Biotechnology Accelerator Division identifies companies developing novel anti-cancer therapies, supportive care or diagnostics and co-funds specific projects that will enable a company to partner or raise additional funding to complete the testing, registration and marketing of new therapies or diagnostics for blood cancer indications.
TAP funding is different from the traditional grant at LLS. The TAP review process is separate from the grant process and each approved project is closely monitored by TAP staff.
For information on how to apply to TAP, please click here.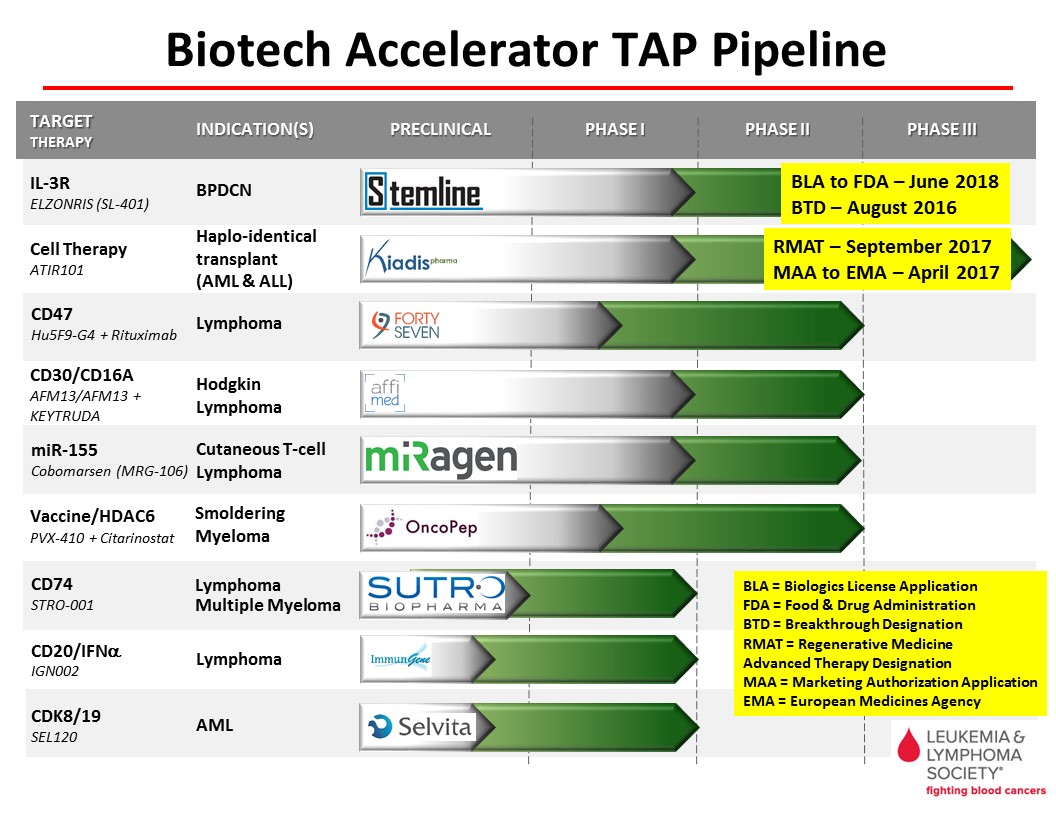 Clinical Studies Ongoing​
Stemline Therapeutics, Inc.
SL-401 in Patients With Acute Myeloid Leukemia (AML) and Blastic Plasmacytoid Dendritic Cell Neoplasm (BPDCN)
This is a non-randomized, open-label, multi center study. A cycle of therapy is 5 consecutive days every 21 days for 6 or more cycles. Stage 1 will consist of a brief run-in period in which patients with BPDCN (previously untreated and previously treated) and AML (persistent/recurrent and previously untreated) will be treated with SL-401 at 3 dose levels. During Stage 2, two cohorts of BPDCN and AML patients will be treated at the maximum tolerated dose or maximum tested dose in which multiple dose-limiting toxicities are not observed (identified in Stage 1).
ClinicalTrials.gov identifier: NCT02113982
For more information contact:
Shay Shemesh, MS
(646) 502-2310
Trials@stemline.com
Visit the Stemline Therapeutics website for additional information and view this informational video - SL-401: An Encouraging Option for Patients With Blastic Plasmacytoid Dendritic Cell Neoplasm.
Kiadis Pharma
A Phase III, Multicenter, Randomized Controlled Study to Compare Safety and Efficacy of a Haploidentical HSCT and Adjunctive Treatment With ATIR101, a T-lymphocyte Enriched Leukocyte Preparation Depleted ex Vivo of Host Alloreactive T-cells, Versus a Haploidentical HSCT With Post-transplant Cyclophosphamide in Patients With a Hematologic Malignancy
The primary objective of this study is to compare safety and efficacy of a haploidentical T-cell depleted HSCT and adjunctive treatment with ATIR101 versus a haploidentical T cell replete HSCT with post-transplant administration of high dose cyclophosphamide (PTCy) in patients with a hematologic malignancy. An additional objective of the study is to compare the effect of the two treatments on quality of life.
ClinicalTrials.gov identifier: NCT02999854
​For more information contact:
Jeroen Rovers, MD PhD
+31 20 3140 250
clinicaltrials@kiadis.com
For more information contact the recruiting sites:
Principal Investigator: Denis Claude Roy, MD PhD
​Maisonneuve-Rosemont Hospital (Montreal, Canada)
Principal Investigator: Stephan Mielke, MD PhD
​Julius Maximilian University of Würzburg (Würzburg, Germany)
Visit the Kiadis Pharma website for additional information.​
Forty Seven
A Phase 1b/2 Trial of Hu5F9-G4 in Combination With Rituximab in Patients With Relapsed/Refractory B-cell Non-Hodgkin's Lymphoma
This Phase 1b/2 trial will evaluate Hu5F9-G4 in combination with rituximab. Hu5F9-G4 is a monoclonal antibody which is designed to block a protein called CD47, which is widely expressed on human cancer cells. Blocking CD47 with Hu5F9-G4 may enable the body's immune system to find and destroy the cancer cells. Rituximab is a monoclonal antibody drug that is used for treatment of non-Hodgkin's lymphoma and other types of cancer.
The major aims of the trial are: (Phase 1b) to investigate the safety and tolerability of sequential dose cohorts and to determine a recommended Phase 2 dose for Hu5F9-G4 in combination with rituximab, and (Phase 2) to evaluate the efficacy of Hu5F9-G4 in combination with rituximab in patients with indolent lymphoma or diffuse large B-cell lymphoma as measured by the overall response rate.
ClinicalTrials.gov identifier: NCT02953509
For more information contact:
Mark Chao, MD PhD
650-352-4150
medical@fortyseveninc.com
For more information contact the recruiting sites:
City of Hope
Duarte, CA 91010
Brianna Phye
brbrophy@coh.org

Sarah Cannon Research Institute
Nashville, TN 37203
Ian Flinn, MD
(615) 329-7274
Visit the Forty Seven website for additional information.
Affimed
​GHSG-AFM13 An Open-label, Multicenter Phase II Trial With AFM13 in Patients With Relapsed or Refractory Hodgkin Lymphoma
The study is designed:
to demonstrate efficacy of AFM13 with an optimized treatment schedule

to decide whether AFM13 warrants further investigation in a phase III clinical trial
ClinicalTrials.gov identifier: NCT02321592
For more information contact:
Michael Fuchs
Department of Medicine, Cologne University Hospital
Cologne, Germany
ghsg@uk-koeln.de
Principal Investigator: Andreas Engert, MD
A Phase 1b Dose Escalation Study to Assess the Safety of AFM13 in Combination With Pembrolizumab in Patients With Relapsed or Refractory Classical Hodgkin Lymphoma (KEYNOTE- 206)
The purpose of this study is to establish a dosing regimen for the combination therapy of AFM13 and pembrolizumab (MK-3475) in patients with relapsed or refractory (R/R) Hodgkin Lymphoma (HL) and to assess the safety and tolerability of this combination therapy.
ClinicalTrials.gov identifier: NCT02665650
For more information contact:
Gudrun Beck
+49 6221 65307 ext 23
g.beck@affimed.com
Visit the Affimed website for additional information.​
miRagen
SOLAR: A Phase 2, Randomized, Open-label, Parallel-group, Active Comparator, Multi-center Study to Investigate the Efficacy and Safety of Cobomarsen (MRG-106) in Subjects With Cutaneous T-Cell Lymphoma (CTCL), Mycosis Fungoides (MF) Subtype
The main objective of this clinical trial is to study the efficacy and safety of cobomarsen (also known as MRG-106) for the treatment of cutaneous T-cell lymphoma (CTCL), mycosis fungoides (MF) subtype. Cobomarsen is designed to inhibit the activity of a molecule called miR-155 that may be important to the growth and survival of MF cancer cells. The study will compare the effects of cobomarsen to vorinostat, a drug that has been approved for the treatment of CTCL in the United States, Canada, and Australia.
Participants will be randomly assigned to receive either weekly doses of cobomarsen or daily doses of vorinostat. Participants will continue on their assigned treatment as long as their disease does not get worse or as long as they do not have unacceptable side effects. The effects of treatment will be measured based on changes in skin lesion severity, disease-associated symptoms, and quality of life, as well as the length of time that the subject's disease remains stable or improved, without evidence of disease progression. The safety and tolerability of cobomarsen will be assessed based on the frequency and severity of observed side effects. Participants assigned to receive vorinostat who experience progression of their disease during their participation in this study may have the option to be treated with cobomarsen in a separate clinical trial, if they meet the entry criteria for that study.
ClinicalTrials.gov identifier: NCT03713320
For more information contact the recruiting sites:
Washington University School of Medicine
Saint Louis, Missouri, 63108
Contact: Mary Tabacchi, CCRC
(314) 362-8171
mtabacch@wustl.edu
Principal Investigator: Amy Musiek, MD
Visit the miRagen website for additional information.
OncoPep
A Study of PVX-410, a Cancer Vaccine, and Citarinostat +/- Lenalidomide for Smoldering MM (Active, not recruiting)
This research study is a Phase I clinical trial, which tests the safety of an investigational intervention and also tries to define the appropriate dose of the investigational intervention to use for further studies. "Investigational" means that the intervention is being studied.
In this research study, the investigators are studying Smoldering Multiple Myeloma. Smoldering Multiple Myeloma is an early precursor to a rare blood cancer known as Multiple Myeloma, which affects plasma cells. The study will test two different combinations of the study drugs; a combination of the vaccine (PVX-410) along with Citarinostat (CC-96241) and triple combination of the vaccine, Citarinostat, and Lenalidomide.
The vaccine (PVX-410) is a multi-peptide vaccine that contains four synthetic peptides that together are intended to induce a T cell-mediated immune response against the myeloma. The FDA (the U.S. Food and Drug Administration) has not approved PVX-410 as a treatment for any disease.
Citarinostat is an orally active, small-molecule Histone Deacetylase (HDAC) Inhibitor which is being combined here to further augment the immune activity of the vaccine. Citarinostat has not been approved by the FDA as a treatment for any disease.
Lenalidomide is commercially available analogue of thalidomide with immunomodulatory, antiangiogenic, and antineoplastic properties that has demonstrated an increase in immune activity in previous trials. The FDA has approved Lenalidomide as a treatment option for Smoldering Multiple Myeloma. Lenalidomide is being added to the combination of the vaccine and Citarinostat because it is hypothesized that co-administration of lenalidomide along with Citarinostat would further enhance the T cell-mediated immune response induced by PVX-410.
ClinicalTrials.gov identifier: NCT02886065
For more information contact the recruiting sites:
Massachusetts General Hospital
Boston, MA 02115
(617) 726-0711
Principal Investigator: Noopur Raje, MD
Visit the OncoPep website for additional information.
Sutro
​Study of STRO-001, an Anti-CD74 Antibody Drug Conjugate, in Patients With Advanced B-Cell Malignancies
This study is a first-in-human Phase 1, open-label, multicenter, dose escalation study with dose expansion to identify the maximum tolerated dose (MTD), the recommended phase 2 doses (RP2D) and to evaluate the safety, tolerability, and preliminary anti-tumor activity of STRO-001 in adult subjects with B-cell malignancies (MM and NHL) who are refractory to, or intolerant of, all established therapy known to provide clinical benefit for their condition (i.e., trial subjects must not be candidates for any regimens known to provide clinical benefit). The study will consist of two parts: Part 1, dose escalation, and Part 2, dose expansion.
During Part 1 (dose escalation), an accelerated dose titration design will be applied to cohorts A (MM) and B (NHL). Doses will be escalated using an N-of-1 until the first instance of a treatment-related, clinically relevant Grade 2 non-hematologic toxicity or a Grade 3 hematologic toxicity of any type is observed during Cycle 1 (first 28 days). Any event meeting these criteria will be reviewed and confirmed by the Safety Evaluation Team (SET). Each dose escalation cohort will be assessed independently. When these criteria are met then the dose is expanded with 2 additional subjects and the standard 3+3 trial design is used for all further dosing cohorts. The dose escalation (Part 1) phase of the study will be complete when the MTD is determined and the recommended dose for Part 2 (dose expansion) is identified. The RP2D will be selected based on the safety, tolerability and exposure of STRO-001, and will be the end of Part 1 of the study. After determination of the RP2D, subjects with MM or NHL will be enrolled into indication specific dose expansion cohorts (Part 2). The accelerated dose titration (N-of-1) design with seamless transformation into a traditional 3+3 design allows for very low starting doses to be evaluated in fewer patients.
ClinicalTrials.gov identifier: NCT03424603
For more information contact Sutro or the recruiting sites:
Shannon Matheny, PhD
1-650-676-4610
STRO-001ClinDev@sutrobio.com

Julee Cheung
1-650-676-4642
STRO-001ClinDev@sutrobio.com

City of Hope Medical Center
Duarte, California, United States, 91010
Contact: Amrita Krishnan, M.D.
626-256-4673
akrishnan@coh.org

Rocky Mountain Cancer Center
Aurora, Colorado, United States, 80012
Contact: Mary Catherine Jerome
281-541-9285
MaryCatherine.Jerome@McKesson.com
Principal Investigator: John Burke, MD

Texas Oncology
Austin, Texas, United States, 78705
Contact: Mary Catherine Jerome
281-541-9285
MaryCatherine.Jerome@McKesson.com
Principal Investigator: Jason Melear, MD

Virginia Cancer Specialists
Fairfax, Virginia, United States, 22031
Contact: Karin Choquette, MSN/RN
571-389-0873
Karin.Choquette@USOncology.com
Principal Investigator: Alexander Spira, MD, PhD

Medical College of Wisconsin
Milwaukee, Wisconsin, United States, 53226
Contact: General Cancer Center Info
866-680-0505 ext 8900
cccto@mcw.edu
Principal Investigator: Nirav Shah, MD
Visit the Sutro website for additional information.
ImmunGene, Inc.
A Phase 1, Open-Label, Dose-Escalation Study to Evaluate the Safety, Tolerability, and Pharmacokinetics of Multiple Intravenous Doses of IGN002 Administered Weekly to Subjects with Refractory Non-Hodgkin Lymphoma (NHL)
The purpose of this study is to investigate the open-label, sequential dose escalation and expansion study of IGN002 in patients with refractory Non-Hodgkin lymphoma. IGN002, comprises an anti-CD20 monoclonal antibody attached to interferon (IFN) through a stable peptide linker system. CD20 is expressed on Non-Hodgkin lymphoma and other B cell driven hematologic malignancies.
ClinicalTrials.gov identifier: NCT02519270
For more information contact the recruiting sites:
UCLA
Santa Monica, California, 90404
Contact: Doris Quintanilla
310-582-4060
dquintanilla@mednet.ucla.edu
Principal Investigator: John Timmerman, MD
University of Florida
Gainesville, Florida, 32610
Contact: Cathy Spears
352-265-0680 ext 87658
cdspears@ufl.edu
Principal Investigator: Nam Dang, MD
UT MD Anderson Cancer Center
Houston, Texas, 77030
Contact: Chizobam "Chi Chi" Obi
713-794-3074
CIObi@mdanderson.org
Principal Investigator: Loretta Nastoupil, MD
Visit the ImmunGene website for additional information.
Other Active Programs
Selvita S.A.
SEL120 is an ATP-competitive and selective inhibitor of CDK8 and a closely related serine kinase, CDK19. CDK8 is a part of a multi-protein complex that regulates gene expression and is distinct from CDK4 or CDK6, which play a role in cell cycle progression. In laboratory experiments, treatment with SEL120 has been shown to result in the death of AML cells especially with elevated phosphorylation of STAT5 and stem cell characteristics, which is significant because AML stem cells are typically resistant to conventional therapies and thereby mediate relapsed disease. Moreover, the status of phosphorylation of STAT5 may provide a useful biomarker for action of the drug. The molecular mechanism of action involves modulation of various oncogenic transcriptional programs that are critical to the survival of AML cells. This unique mechanism, which does not overlap with existing therapies, may allow the development of highly effective combination therapies that may be required to provide long term control of AML in patients.
SEL120 has shown efficacy in treating AML cells both in vitro and in vivo (mouse models). SEL120 has successfully passed a series of non-GLP toxicity studies in mice and monkeys. Selvita initiated Investigational New Drug (IND)-enabling studies for SEL120 in June 2017, a critical step in getting the U.S. Food and Drug Administration's permission to begin in human clinical trials.
Visit the Selvita website for additional information.
Criteria/How to Apply
When a company seeks funding, it needs to demonstrate the compounds, biologics or diagnostics in development:
Are highly innovative

Have therapeutic potential in blood cancer field with near-term probability of providing benefits to patients
A company also needs to demonstrate:
Competency of its management and scientific staff

Financial strength

Freedom to operate, including intellectual property protection

Well-designed regulatory and commercialization strategies
TAP builds business alliances and collaborations with companies. The funding TAP provides is not a grant, nor for building the company's infrastructure. It is designed to complement the company resources to accelerate the development of a therapeutic asset, supportive care or diagnostic.
The TAP team reviews all companies that make an inquiry but will only invite those deemed to meet diligence criteria to complete a proposal template and be considered for TAP funding.
To submit an inquiry for initial non-confidential review, please click here to download the form.
Send a completed inquiry form and non-confidential presentation to Dr. Jun Xu, Executive Director, Therapy Acceleration Program®, The Leukemia & Lymphoma Society, 3 International Drive, Suite 200, Rye Brook, NY 10573; jun.xu@lls.org.