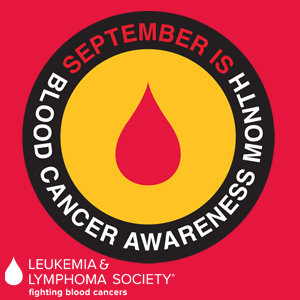 This Blood Cancer Awareness Month there are a variety of ways to support our mission of finding cures and improving the lives of patients and their families. To make a donation and help us reach our goal of $400,000 in 30 days, visit www.lls.org/donate. See below for a list of ways to get involved and support the mission in the DC Metropolitan Area. Check back often for new and updated events!
On-Going Events
IHOP Round-up Campaign - From August 28th through October 17th, customers at area IHOP restaurants may round up their bill or include an additional donation in support of LLS.
Burlington Icon Sales - From September 9th through December 2nd, make a donation in support of LLS at the register. Find your local Burlington store and get shopping!
Light It Up! September 1st through 7th Union Market will turn red in support of LLS! Take a photo and tag us in it!
Shop at Potomac River Running Stores September 1-30 and mention "LLS" at check-out, A $1 donation will be made in support of LLS's mission for transactions of at least $25. 8 locations in Virginia and Washington, D.C.
Catch a Washington Nationals game & support LLS while you cheer the home team to victory! Use code "LLS" at nationals.com/tickets and $5 of your purchase will benefit LLS's mission
Shop, Save, Support! Sign up with Tribute at https://lls.tribute.support and earn money for LLS when you shop online with hundreds of retailers. Download the browser extension and you will be prompted automatically to activate a donation when you visit a site that is a partner. Shop clothes, travel, accessories, sporting goods and more!
Download the Charity Miles app for iPhone or Android, and earn money for LLS while you walk, run or bike around town! Free to download and use.
Lord & Taylor Charity Day - Make a minimum donation of $5, and receive a card good for a 20%-off (or 10% on cosmetics & fragrances) savings pass, and two 30%-off coupons that are good on one item only. Cards will be available at LLS events throughout the fall, or by stopping by our offices at 3601 Eisenhower Avenue, Suite 450, between 9:00 a.m. and 5:00 p.m., Monday - Friday. **Some exclusions apply**
Special Blood Cancer Awareness Month Events
Fridays, 9/11, 9/18, 9/25 – Blood Drives at INOVA Blood Donor Services
LLS is partnering with INOVA Blood Donor Services for three blood drives to help save lives in the National Capital Area. Our patients often need transfusions at some point throughout their treatment, and we aim to help INOVA serve all patients in need. Donors will have the opportunity to learn more about LLS and sign up for Light The Night on-site.
Blood Donor Center Hours:
CentreMed, 10:00 a.m. - 6:00 p.m., 6201 Centreville Road (Route 28), Centreville, VA 20121
Woodburn Medical Park, 10:00 a.m. - 6:00 p.m., 3289 Woodburn Road, #010, Annandale, VA 22003
Dulles Town Center, 6:00 a.m. - 4:00 p.m., 45745 Nokes Boulevard, #160, Sterling, VA 20166
Wednesday, 9/30, 6:00 p.m. – 8:00 p.m. – Kendra Scott Gives Back Party
20% of proceeds from the night's shopping party at Kendra Scott's Bethesda Row location at 4835 Bethesda Avenue will benefit the mission of LLS. Sips & sweets will be provided while you shop. Phone orders placed during the event also apply. (240) 743-2428.
Signature Events
Sign up for Light The Night or Team in Training and raise funds for LLS this fall.
Light The Night in Northern Virginia, on Saturday, October 3; Montgomery County on Saturday, October 10, or Washington, D.C. on Saturday, October 17. Become a Champion For Cures when you raise at least $100 and receive a Light The Night t-shirt and lantern, and access to walk night festivities!
Train with the Team for the Across The Bay 10K! Run across the Bay Bridge on Saturday, November 8 with TNT and help fund cancer cures! First training, Saturday, August 29th.