Patients Would Face New Financial Barriers to Life-Saving Treatment
Rye Brook, N.Y. (June 23, 2017) – The Senate's Better Care Reconciliation Act would exacerbate the financial and bureaucratic barriers that stand between cancer patients and life-saving treatments, based on an analysis by The Leukemia & Lymphoma Society (LLS).
Below is a statement from Louis J. DeGennaro, Ph.D., LLS's president and chief executive officer: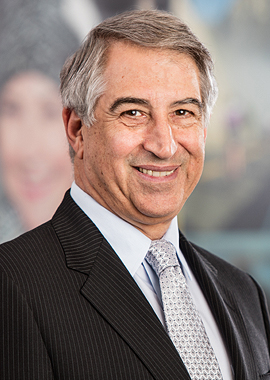 "Cancer patients need Congress to advance solutions that break down the financial barriers that too often stand between patients and life-saving treatments. Unfortunately, the Senate bill represents a step backward for cancer patients—making it harder for patients to afford the often-costly treatments they need to combat their cancer. LLS urges Senators to oppose this bill."
"If passed into law, cancer patients covered by private health insurance or Medicaid would face new barriers created by the Senate bill. For cancer patients with any type of private insurance, the Senate bill's waiver provisions would eliminate the guarantee of protection against lifetime limits and the existing annual cap on out-of-pocket costs. For patients with individual market insurance, the Senate bill allows insurance plans to shift even more costs onto cancer patients through higher deductibles and copays, while simultaneously eliminating the cost-sharing assistance on which many cancer patients rely. Allowing insurance companies to hike premiums for older Americans who are more likely to receive a cancer diagnosis will only add to these costs. For patients on Medicaid, the Senate bill would slash funding that supports life-saving treatments for low-income cancer patients, while potentially allowing states to kick Medicaid patients off their insurance due to the loss of their job during treatment."
"Last year, we outlined to Congress our core principles for meaningful coverage: guarantee access, promote affordability, ensure quality, and encourage stability. Unfortunately, the Senate bill fails the test of advancing these principles. In fact, the Senate bill would make cancer care significantly less accessible and less affordable for many blood cancer patients."
"We are unapologetically a 'patients first' organization, and we know that it is time for policy changes that address the many obstacles patients face today. LLS and the patients we serve are committed to working with Congress to advance policies that address the many significant obstacles to care that remain today, even with the existing protections provided by the ACA. There are bipartisan, proven solutions that will break down barriers for cancer patients, and we urge policymakers to work with us to advance them."
About The Leukemia & Lymphoma Society
The Leukemia & Lymphoma Society® (LLS) is the world's largest voluntary health agency dedicated to blood cancer. The LLS mission: Cure leukemia, lymphoma, Hodgkin's disease and myeloma, and improve the quality of life of patients and their families. LLS funds lifesaving blood cancer research around the world, provides free information and support services, and is the voice for all blood cancer patients seeking access to quality, affordable, coordinated care.
Founded in 1949 and headquartered in Rye Brook, NY, LLS has chapters throughout the United States and Canada. To learn more, visit www.LLS.org. Patients should contact the Information Resource Center at (800) 955-4572, Monday through Friday, 9 a.m. to 9 p.m. ET.