In spring 2016, The Leukemia & Lymphoma Society (LLS) launched a survey focused on understanding what patients diagnosed with acute myeloid leukemia (AML) and their caregivers want from their treatments.
On April 30, 2018, LLS presented the results of the survey to leadership and staff at the Oncology Center of Excellence at the U.S. Food and Drug Administration in Washington, D.C.
Why?
The study's purpose is to guide the FDA, pharmaceutical and biotechnology companies and academic researchers as they pursue drug development for AML based on what really matters to patients.
As the treatment of cancer becomes more personalized, understanding which elements of a potential treatment are most important to patients is becoming increasingly vital to researchers and the FDA.
How?
LLS partnered with a team of researchers at Johns Hopkins University led by John Bridges, Ph.D., a national leader in the field of patient preferences, to develop, implement, and disseminate this national survey of patients with AML and their caregivers. LLS convened a large community of AML patients and caregivers who participated in an advisory committee to guide the development of this survey and engage with the FDA in its efforts to achieve a patient-centered approach to drug development and regulatory review.
Representing the Voice of AML Patients
The results of a pilot study with 26 respondents were shared with the FDA during a one-day workshop on April 6, 2016. Led by LLS President and CEO Louis J. DeGennaro, Ph.D., and LLS's Office of Public Policy, a group of AML patients, caregivers, and other study stakeholders had the unprecedented opportunity to engage in open and frank conversations with FDA researchers about their personal treatment experiences. Click here for a recap of that meeting.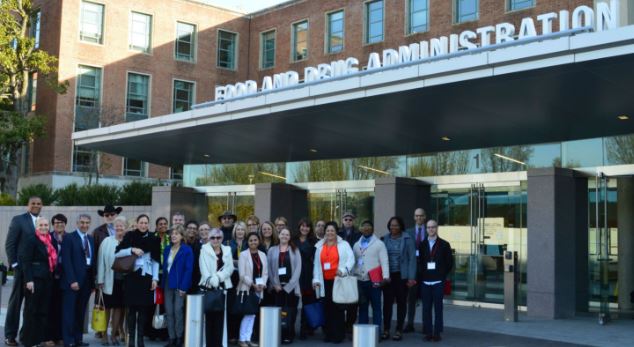 Acute Myeloid Leukemia Patients and Caregivers join LLS Staff to Discuss LLS's Patient Preference Study with Officials at the U.S. Food and Drug Administration
Subsequently, two national surveys of patients and caregivers were implemented:
Survey 1 addressed patients' primary worries when undergoing treatment for AML. More than 1,000 patients responded with the following results:
The possibility of dying ranked as the number one concern of patients
Worries over long-term side effects followed closely behind, driving home the need for newer and better (less toxic) treatments.
Being a burden to others, desire to return to daily activities, and spending too much time in the hospital were additional concern.
Click here to access to the published study on the worries of AML patients
Survey 2 measured patient and caregiver preferences for the benefits and risks of treatment.
Respondents were asked to choose between treatment scenarios that varied with respect to factors such as complete remission, event-free survival, and potential short and long-term side effects.
Survey results demonstrated that patients' preferences fall fairly equally across the three following groups:

39% of patients were motivated by increasing the chance of remission and decreasing long term side effects;
33% were focused only on remission;
and 28% focused on increasing event-free survival and minimizing short-term side effects.
John Bridges, Ph.D., Johns Hopkins Bloomberg School of Public Health
Outcome
Discussion with the FDA on April 30, 2018 focused largely on the broader implications of this research, including how future treatments may be selected for patients based not only on the biological markers of their disease, but on individual patient preferences as well. To further this effort, LLS will continue to share these important results with drug manufacturers, academic researchers and the broader AML community.
As the FDA advances their work in incorporating the patient perspective in the drug development and review process, LLS will ensure that the voice of blood cancer patients continues to be heard.