(Rye Brook, NY, Jan. 15 2019) – Groundbreaking advances that harness the body's immune system to attack cancer cells are set to continue, as well as significant focus on new therapies for children with cancer. And expect the revolution to gain steam in cancer treatments moving away from toxic chemotherapy toward genetics-driven targeted therapies, the foundation of precision medicine.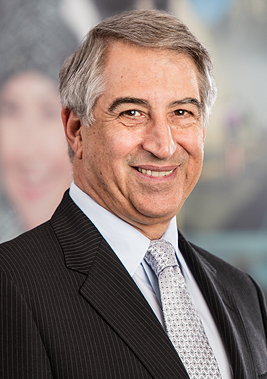 This according to Louis J. DeGennaro, Ph.D., president and CEO of The Leukemia & Lymphoma Society (LLS), the world's largest nonprofit dedicated to fighting blood cancers, which has invested more than $1.2 billion in pioneering cancer research over its 70-year history, driving breakthroughs in precision medicine, genomics and immunotherapy. In the past two years alone, the FDA approved 39 blood cancer medications; LLS supported 34 of these. This trend is poised to continue into 2019.
New vision and leadership from the U.S. Food and Drug Administration (FDA) is helping to fuel this progress. Just last fall, the FDA reinforced its efforts to adapt regulatory processes to modernize and accelerate new treatments to patients, including approaches to clinical trials and ways to detect minimal levels of disease in cancer patients.
"Under the leadership of Scott Gottlieb, M.D., the FDA is reducing the barriers to bringing new science forward and enabling innovation in the clinical trial process to speed the review and approval of novel cancer therapies so patients can benefit sooner," said DeGennaro. "Curing cancer takes a whole team – great scientific minds, forward-looking investors, compassionate philanthropists and visionary regulators, all working together. As an organization that puts patients at the forefront of everything we do, LLS has the ability to bring all of these stakeholders together. As we say at LLS, 'Beating cancer is in our blood.'"
Dr. DeGennaro's predictions for 2019:
New models for clinical trials
The FDA's effort to streamline evaluation and development of novel therapies is bearing fruit and will continue to do so in 2019, as more adaptive and efficient clinical trials will bring breakthrough therapies to patients in urgent need, faster.
LLS's own Beat AML® Master Clinical Trial, a multi-drug, multi-site precision medicine trial launched in 2016 to go on the offensive against the deadly acute myeloid leukemia (AML), is a case in point. The FDA issued guidance recognizing the benefits of master protocols – a trial structure that allows testing of more than one therapy under an "umbrella" protocol, or testing drugs for multiple cancer types in one study.
The FDA recognizes that novel therapies are not easily evaluated using traditional models, particularly for rare forms of cancer where accruing large numbers of patients is increasingly difficult, and these models, such as LLS's Beat AML Master Clinical Trial, allow for improved flexibility and cost-effective drug development.
The FDA also is working with drug developers to determine quicker which patients will respond to treatments and which ones will relapse after treatment. The FDA suggests using sensitive technology to detect minimal levels of disease – known as minimal residual disease or MRD – as a marker to help assess a patient's future risk.
LLS is doing its part to enroll more patients in clinical trials. Nurses in its unique Clinical Trial Support Center (CTSC) provided 562 patients with in-depth clinical trial navigation and support in 2018 – up 65 percent from 2017. Even more promising: three out of five patients who were assisted by the CTSC and medically eligible enrolled in an appropriate clinical trial. LLS plans to add a genomics nurse in 2019 to help patients and healthcare providers understand their complicated genetic readouts so they can easily find clinical trials better suited to their disease subtype.
Helping Children
Bolstered by the success of its adult Beat AML Master Clinical Trial, LLS has set its sights on changing the paradigm for drug development for children with acute leukemia. LLS has set a goal to launch a new precision medicine clinical trial for children modeled on our Beat AML trial for adults and has convened a collaboration to lay the groundwork for a study for children with acute leukemia in 2019. LLS also has committed to doubling its investment in academic research to find new treatments for children, particularly those who don't respond to standard treatment and to alleviate the risk of long-term side effects.
Along with research, LLS is adding more services to help children and their families, including financial assistance programs and family support.
Less chemo, more precision medicine and immunotherapy
The past two years brought historic immunotherapy treatments and targeted agents to patients. After a 40-year-drought, nine therapies were approved to treat patients with AML. And there has been progress on very rare diseases. A therapy supported through LLS's Therapy Acceleration Program, a venture philanthropy model through which LLS partners directly with biotech and academic institutions, received FDA approval last month for patients with a very rare blood disorder called blastic plasmacytoid dendritic cell neoplasm (BPDCN).
With so many powerful tools now approved or in clinical trials, researchers are exploring the reasons why some patients respond to these treatments while others don't. And the trend away from chemotherapy will continue in 2019. Multiple studies show the promise of chemo-free combinations of targeted therapies and immunotherapies for different types of blood cancers. Researchers will also push for new immunotherapies that are even more powerful and useful for more patients with more types of cancers.
Going Beyond Blood Cancer
Many of the therapies and approaches to treatment first approved for blood cancers are now approved or are being tested to treat other cancers and diseases. A drug called imatinib (Gleevec®), first approved in 2001 to treat chronic myeloid leukemia, now treats multiple conditions including stomach and skin cancers, and rituximab (Rituxan®), first approved in 1997 to treat lymphoma is now approved to treat various autoimmune diseases. Three newer therapies, all considered game changers for a multitude of blood cancers – ibrutinib (Imbruvica®) and venetoclax (Venclexta®), and CAR T-cell immunotherapy, are now being tested in clinical trials for an assortment of solid tumors.
Prevention
Unlike cancers of the breast or prostate, there has been no way to prevent blood cancers, or to screen for them early. There are signs this could change. LLS-supported research has expanded our understanding of the biological causes of cancer and researchers are working to prevent early-stage disease from developing into more serious types of blood cancers. For example, discoveries made by one research team led by Benjamin Ebert, M.D., Ph.D., professor of medicine at Harvard Medical School, and chair of Medical Oncology at the Dana-Farber Cancer Institute, showed how the presence of a constellation of genetic mutations not only can predict a patient's propensity to develop leukemia later in life, but also increases the risk of cardiovascular disease. Having this kind of important information can help doctors develop prevention strategies for patients in the future.
About The Leukemia & Lymphoma Society
The Leukemia & Lymphoma Society® (LLS) is the world's largest voluntary health agency dedicated to fighting blood cancer. The LLS mission: Cure leukemia, lymphoma, Hodgkin's disease and myeloma, and improve the quality of life of patients and their families. LLS funds lifesaving blood cancer research around the world, provides free information and support services, and is the voice for all blood cancer patients seeking access to quality, affordable, coordinated care.
Founded in 1949 and headquartered in Rye Brook, NY, LLS has chapters throughout the United States and Canada. To learn more, visit www.LLS.org. Patients should contact the Information Resource Center at (800) 955-4572, Monday through Friday, 9 a.m. to 9 p.m. ET. For additional information visit lls.org/lls-newsnetwork. Follow us on Facebook, Twitter, and Instagram.
Media Contact: Andrea Greif
andrea.greif@lls.org
914-821-8958