(Rye Brook, NY, June 12, 2018) – Despite the many advances in cancer treatments and survival rates, many patients still are living with cancer and experiencing the darkness that can come with it. That's why The Leukemia & Lymphoma Society (LLS) conceived Random Acts of Light Day, in conjunction with its flagship fundraising campaign – Light The Night (LTN) (www.LightTheNight.org) – a series of 140 inspiring evening walks across the country each fall. LTN is the perfect platform to showcase the progress being made in cancer arena along with the importance of supporting patients, one at a time.
"LLS launched the Random Acts of Light initiative in 2016 and, to date, more than 40 patients and survivors across the country have been surprised with special moments, including some with favorite athletes and celebrities. We encourage everyone to get involved this year, with a personal random act for a friend or loved one with cancer, and share the experience with their social media networks on June 13 using #RandomActsofLight," explained Andrew Coccari, LLS executive vice president and chief marketing officer. "Random Acts of Light Day gives us the opportunity to create awareness and educate the public about the critical need to fund research to find cures for blood cancer patients, and ensure they have access to lifesaving treatments."
To kick off Random Acts of Light Day this year, New York City Football Club (NYCFC) and its partnership with local Ford stores, surprised Juan Ospina of Bethel, CT, with a special day with the players. Ospina, a Technical Sergeant in the United States Air Force who served in Iraq and Afghanistan, was diagnosed at age four with acute lymphoblastic leukemia (ALL). He underwent countless tests, numerous bone marrow transplants and a rigorous chemotherapy program before being cured when he was eight years old.
When LLS heard of Opsina's perseverance, and that he was a passionate soccer fan, it planned a memorable experience for late May, when NYCFC and local Ford stores hosted him at the team's training facility. Ospina met with NYCFC first team players including Jeff Caldwell and Sebastien Ibeagha. And on June 9, at NYCFC's Military Appreciation Day at Yankee Stadium presented by local Ford stores, Ospina was the Club's honored guest and was recognized during the match.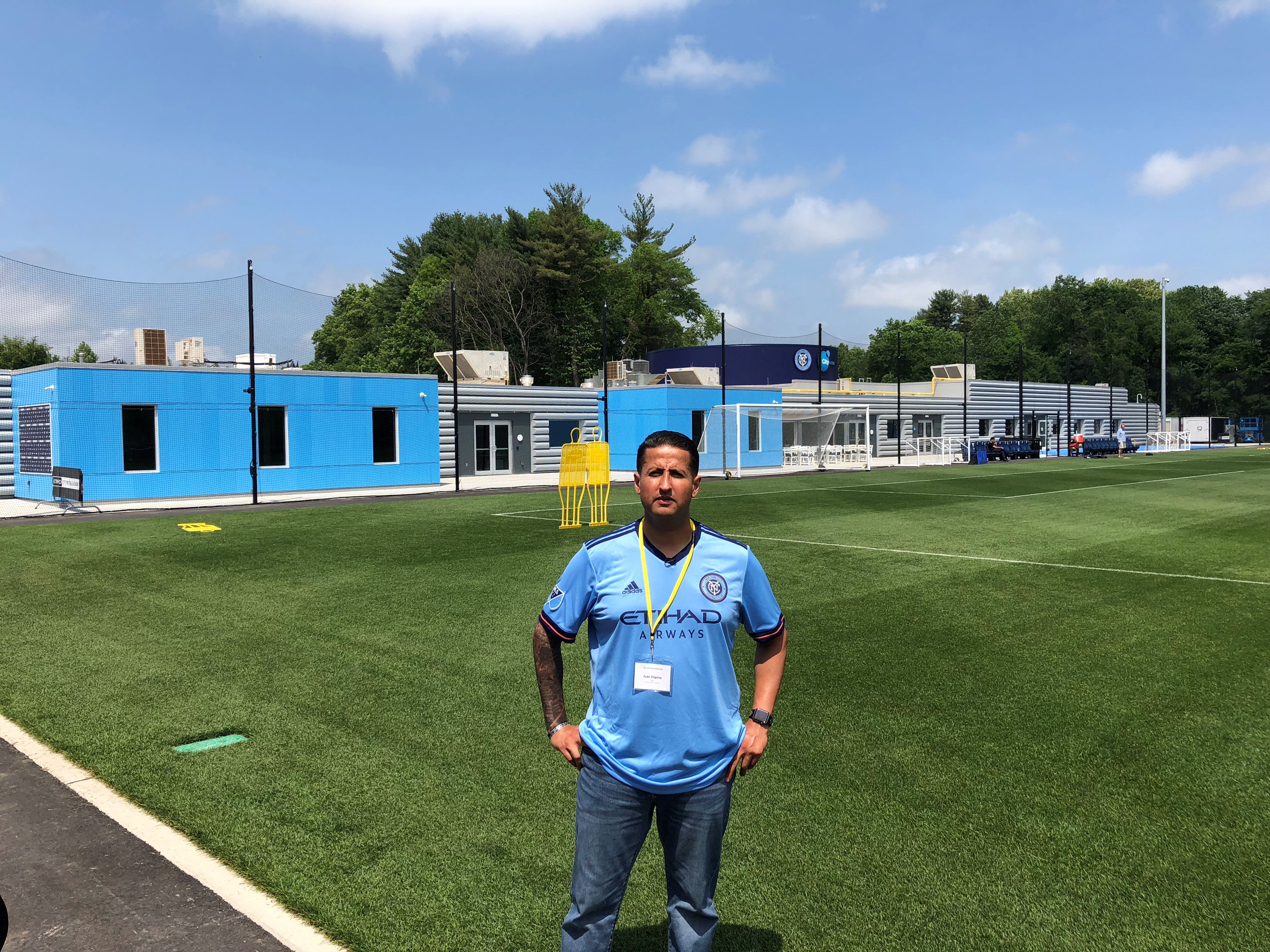 Blood cancer survivor Juan Ospina at the New York City Football Club training facility where he was surprised and honored as part of The Leukemia & Lymphoma Society's Random Acts of Light initiative.
"I am grateful for organizations like The Leukemia & Lymphoma Society, who are helping to end cancer and to organizations that support its mission, like New York City Football Club," said Juan Ospina. "I am still in shock. I still can't believe I was able to walk down the hallways shared by greats like Patrick Vieira, Claudio Reyna, David Villa and so many more!"
How to get involved
Bring light to someone you know who has been touched by cancer on National Random Acts of Light Day. This can be any random act, big or small:
Surprise someone at the hospital with a meal, gift certificate or kind gesture
Gift a cancer patient or survivor with tickets to a sporting event, or gear from a favorite team
Treat a local survivor or patient to a manicure, pedicure or massage
Take a cancer patient or survivor out for coffee, ice cream, breakfast, lunch or dinner
Post about National Random Acts of Light Day on June 13, and throughout the year, and tag #RandomActsofLight on either Facebook, Twitter or Instagram. Ideas for posts:
Pictures of recipients as they're being surprised by the random act
Candid or posed group pictures of everyone enjoying the random act
Images of features that make the random act special
Captions that describe the scene, tagging the location, other people involved, as well as Light The Night on Facebook, Twitter and Instagram
Ask others to join in to perform their own Random Act of Light, and tag #RandomActsofLight on their social channels
"I am hopeful that my story will help serve as an example of perseverance and motivation for those suffering from cancer and anyone facing hardships in their lives, to keep fighting," said Ospina. "This experience motivates me to continue to serve this nation and its values."
140 Light The Night Walks take place across North America each fall; approximately one million walk participants carry illuminated lanterns – white in honor of survivors and the power of research, red in support of patients and finding cures, and gold in remembrance of those who have been lost.
For more information on Random Acts of Light visit http://www.lightthenight.org/ways/random-acts-light.
About The Leukemia & Lymphoma Society
The Leukemia & Lymphoma Society® (LLS) is the world's largest voluntary health agency dedicated to blood cancer. The LLS mission: Cure leukemia, lymphoma, multiple myeloma, and improve the quality of life of patients and their families. LLS funds lifesaving blood cancer research around the world, provides free information and support services, and is the voice for all blood cancer patients seeking access to quality, affordable, coordinated care.
Founded in 1949 and headquartered in Rye Brook, NY, LLS has chapters throughout the United States and Canada. To learn more, visit www.LLS.org. Patients should contact the Information Resource Center at (800) 955-4572, Monday through Friday, 9 a.m. to 9 p.m. ET.
For additional information visit lls.org/lls-newsnetwork. Follow us on Facebook, Twitter, and Instagram.
Contact:
Linda Heaney
Linda.Heaney@lls.org
914-821-8208