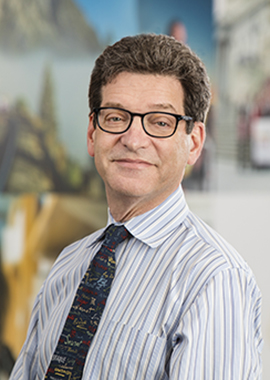 Lee Greenberger, Ph.D.
Chief Scientific Officer
Dr. Lee Greenberger is the Chief Scientific Officer of the Leukemia and Lymphoma Society. His responsibilities focus on planning and executing the strategy for all LLS research programs. This effort includes a current grant portfolio with over 275 active projects worldwide, as well as the Therapy Acceleration Program, a venture philanthropy initiative, with over 15 assets – three of which have earned FDA-approval in the past 2 years. Dr. Greenberger guides LLS's mission to translate innovative research that ultimately will pave the way for new therapies to treat blood cancers. The total annual budget for these activities is approximately $50 M. Lee has directed over $300 M of research support during the past 6 years with LLS.
Immediately prior to LLS, Dr. Greenberger was global head of search and diligence for oncology and immunology at Bristol-Myers Squibb where he examined opportunities for over 200 oncology companies and helped set the business strategy for oncology and immunology. Prior to that, he served for six years as vice president for research at Enzon Pharmaceuticals where he was responsible for pre-clinical pharmacology, toxicology, process development, and analytical chemistry efforts associated with the discovery and development of oncology assets. Prior to Enzon, Lee held positions of increasing responsibility in the research organizations of Johnson & Johnson and Wyeth Pharmaceuticals, where he began his industry career in 1990 at American Cyanamid/Lederle Laboratories, which was later acquired by Wyeth. He was given the President's Award for his work at Wyeth. Dr. Greenberger holds a bachelor's degree from the University of Rochester and a Ph.D. from Emory University. He has done post-doctoral work at Columbia University and was on faculty at the Albert Einstein College of Medicine. Dr. Greenberger has produced more than 85 publications, mostly focused on oncology, during his research career.