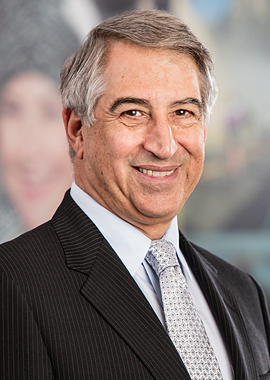 Louis J. DeGennaro, Ph.D.
President and Chief Executive Officer
Louis J. DeGennaro, Ph.D., was named president and chief executive officer of the The Leukemia & Lymphoma Society (LLS) in September 2014. LLS is the world's largest voluntary health agency dedicated to blood cancer. The LLS mission is to cure leukemia, lymphoma, Hodgkin's disease and myeloma, and improve the quality of life of patients and their families.
DeGennaro leads the operations of this $300 million cancer patient advocacy agency with headquarters in Rye Brook, New York.
DeGennaro has been a critical member of the LLS executive leadership team since he joined LLS in 2005. He is recognized as the key architect of LLS's cures and access agenda to help save the lives of blood cancer patients and the LLS Therapy Acceleration Program® -- a venture philanthropy endeavor that defined the role of nonprofit organizations in supporting drug discovery and development with the biotechnology industry. He was named LLS chief mission officer in 2009, with responsibility for leadership of LLS's mission functions of research, patient access, education, public policy and advocacy.
DeGennaro has more than 25 years of research, drug development and executive management experience in academic and private sector settings. He received his doctorate in biochemistry from the University of California at San Francisco and did his post-doctoral research at the Yale University School of Medicine. His previous academic appointments include research group leader, Max Planck Institute in Munich, Germany, where his laboratory was among the first to clone genes expressed exclusively in the nervous system; and associate professor of neurology and cell biology, University of Massachusetts Medical School.
DeGennaro's private-sector positions include senior director of molecular genetics at Wyeth Pharmaceuticals, Princeton, N.J., where his department contributed to the development of pantoprazole (Protonix®) to treat acid reflux disease, venlafaxine (Effexor®) for anxiety and depression, and gentuzumab ozogamicin (Mylotarg®) for leukemia; executive vice president for research and development, SynX Pharma, Inc., in Toronto, Canada, where he was responsible for the development of a point-of-care diagnostic test for congestive heart failure; and research manager at Streck, Inc., Omaha, Neb., where he helped develop an FDA-cleared diagnostic test for AIDS/HIV.
DeGennaro was appointed by the U.S. Secretary of Health and Human Services in 2012 to serve as a member of the National Center for Advancing Translational Sciences Advisory Council, and the Cures Acceleration Network Review Board at the National Institutes of Health (NIH). He also serves on the boards of BioTheryX, Inc., an early-stage biotechnology company, and the Health Research Alliance, an alliance of non-profit funders of research.