What is Light The Night Walk?
Light The Night raises money for The Leukemia & Lymphoma Society to fund breakthrough research for blood cancer treatment and cures. Walks take place in the fall in nearly 200 communities around the US. This event brings together friends, family and co-workers to achieve one common goal: end cancer. Communities unite, holding illuminated lanterns, taking the steps to end blood cancer, once and for all. Be part of a something bigger! Celebrates our survivors and remembers those we have lost all while fighting for a cure.
To learn more about Light The Night visit our website.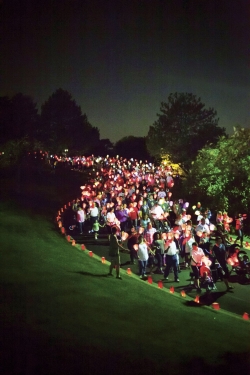 Why Walk?
The Leukemia & Lymphoma Society possess the hope of finding a cure in the near future, while also ensuring that every patient has easy access to all forms of treatments. The Leukemia & Lymphoma Society's Light The Night Walk has supported advances in many life saving treatments to date. Click here to read inspirational stories of those lives changed by support from the Light The Night Walk.
Reasons To Participate
In addition to the one mile walk, the evening event includes a live band, free food, and a kids area with fun games, face painters, and balloon artists for everyone to enjoy! We also have a VIP tent with hot appetizers, drinks, specialty desserts, and Light The Night branded gifts for our top fundraisers and sponsors. For more about event night activities, click on our website link for walk day information!
The Walk is inspirational and fun for those that attend! Help us make an impact on those living with blood cancer.
Click here to register for the walk today!
When Does The Walk Take Place?
Zanesville: Thursday, September 21, 2017 at Ohio University-Zanesville & Zane State College Campus
Columbus: Friday, October 27, 2017 at McFerson Commons (Arch Park) ​
More Questions?
Contact your local staff members with questions:
Chelsea Dropik, Campaign Director, Chelsea.Dropik@lls.org or 614-498-0422
Paige Briggs, Campaign Manager, Light The Night, Paige.Briggs@lls.org or 614-498-0432