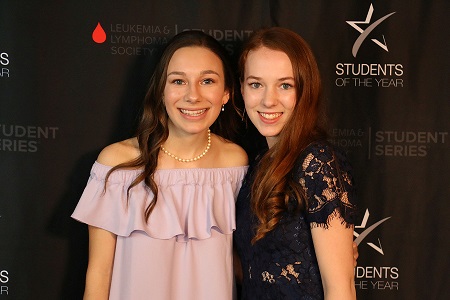 Central Ohio Students of the Year 2018 Winners, Isabel Sweet & Maggie Ryan!
GET INVOLVED FOR 2019
Interested in participating in Students of the Year or know a candidate who would be a great fit? We are looking for local area high school students enrolled in private or public schools who are enthusiastic about volunteerism, philanthropy, community outreach, and leadership! For more information, visit our new and improved website. You can also contact Katie.Peck@lls.org or 614.498.0425 to apply. Applications for the 2019 Student of the Year Campaign are now being accepted.
ABOUT STUDENT OF THE YEAR
The Students of the Year Campaign is a seven-week initiative in which a high school student, or teams of 2 students, participate in a fundraising competition to benefit LLS's Central Ohio Chapter. Candidates raise money in honor of a local patient hero who are currently battling a blood cancer. The candidate who raises the most money at the end of the seven weeks is named Students of the Year. In addition, there are Citizenship Awards for the student candidates who excel in Volunteerism, Community Involvement, and Mission Focus.
Why participate in Student of the Year?
To join the fight against cancer and improve the quality of life for our patients and their families. Leukemia is the number one cancer killer of our children under the age of 20; therefore kids are helping kids battling these devastating cancers.
To boost college applications with a leadership and philanthropic adventure. Candidates have the opportunity to build their college resume, fulfill service learning requirements and learn valuable leadership and life skills.
To earn college scholarships. The Student of the Year will receive a $2,500 scholarship toward the college or university of his/her choice.
2018 Students of the Year Campaign
The Students of the Year campaign in Central Ohio celebrated an exciting second year. Exceeding all expectations, the 2018 Students of the Year campaign, raised over $56,000 for The Leukemia & Lymphoma Society's (LLS) mission, a world without blood cancers. The seven-week competition comprised of 7 teams of 10 student candidates from local high schools, culminated in a Grand Finale Celebration on April 13th. Bringing together the students and their families to celebrate the inspiring amount of life-saving funds raised by these dedicated and outstanding students
Congratulations to our 2018 Student of the Year Winners!
STUDENTS OF THE YEAR

Isabel Sweet & Maggie Ryan
Bears Against Blood Cancer
For more information, please contact Katie Peck at Katie.Peck@lls.org or 614.498.0425