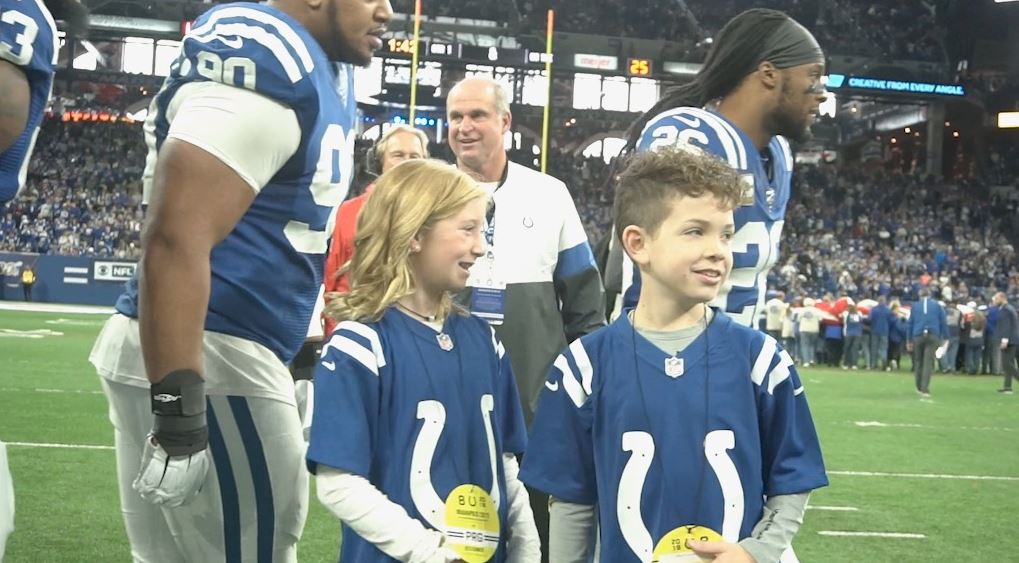 When 10-year-old Ty was leaving the Indiana Colts game at the Lucas Oil Stadium on Sunday night, his eyes sparkled as he cheerfully yelled to his mom, "That was the best Colts game ever! I got to do so many cool things and even got to play on the field and be a team captain!"
After arriving at the game with VIP transportation, taking selfies with the Colts players, and enjoying the game from exclusive seats with his entire family, Ty's level of excitement was not surprising, but certainly not reflective of his feelings over the past couple years. He's had to endure countless days at the Riley Hospital for Children fighting for his life.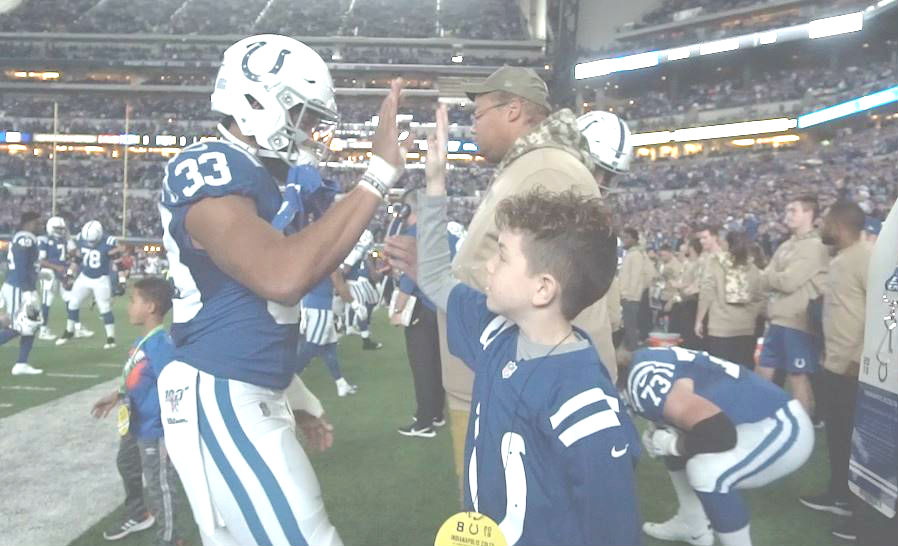 In December 2017, Ty's parents, Mike and Rachel, received news that every parent dreads – their son had cancer. Ty was diagnosed with B-cell acute lymphoblastic leukemia (ALL) and began intense treatment right away, including two rounds of immunotherapy, full body radiation and a bone marrow transplant. He is currently taking oral therapy to keep his cancer in remission.
Rachel says its Ty's positive attitude and spirit that has kept her strong enough to get through it all. "He never stops smiling, and his bravery continues to inspire us every day."
Ty never complained about the grueling side effects of his treatment, but when asked about the worst part of cancer, his response was, "missing school and not playing sports anymore."
Today, Ty is back on the field with his own teammates and playing quarterback in his new flag football league. "Hanging out with professional football players on a professional football field, was truly a full circle experience for him," said Rachel.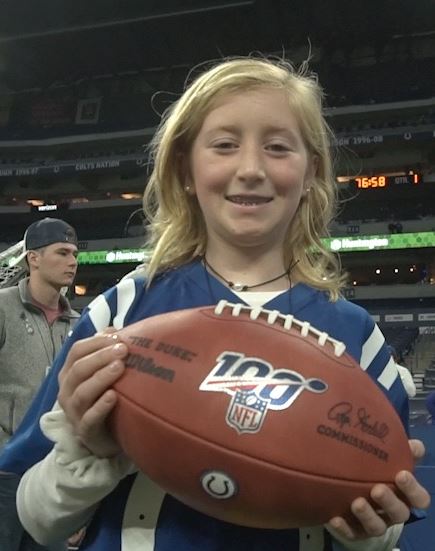 Ty's fellow survivor and friend, 11-year-old Audrey, also got to experience the excitement and could very much relate to Ty's journey to get there. She too, was diagnosed with B-cell ALL in May 2017 and has endured numerous trips to the hospital and time spent away from school and other important activities.
The aspiring fashion designer and lover of math, choir and cheerleading, says she's "so thankful for everyone who's helping kids like me."
For more than 20 years, the NFL's Indianapolis Colts and Indiana University Health have partnered for the Riley Coin Toss Kids program, providing pediatric patients with a "once in a lifetime" opportunity to see their home team up close and personal at a local game.
Every season, the program honors two pediatric patients from Riley Hospital for Children at each Indianapolis Colts home game to be the Coin Toss Kids. The Leukemia & Lymphoma Society's (LLS) Random Acts of Light program teamed up with Riley's Hospital to surprise Ty and Audrey, who were both selected as the 2019 Honored Heroes at their local LLS Indiana Chapter.
Random Acts of Light is a movement to bring light to people who are dealing with a blood cancer and feeling overwhelmed in the darkness that can come with a cancer diagnosis. Celebrities and local heroes surprise people touched by blood cancers with special meetings – Random Acts of Light – to help brighten their lives during a dark time and create awareness for the critical need to find new treatments and cures for blood cancer patients. Random Acts of Light aims to create awareness and educate the public about the critical need to fund research to find cures for blood cancer patients and ensure they have access to lifesaving treatments. To learn more, click here.