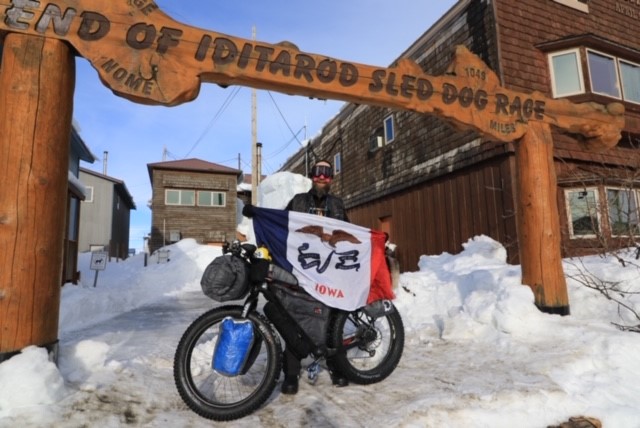 52-year-old Steve Cannon from Iowa refers to himself as an adventurer, but when you look at his track record of accomplishments, media, spectators and fans across the country refer to him as a beast. He was the first-ever athlete to run around Lake Michigan and averaged a marathon a day for 40 straight days totaling 1,037 miles. He's also completed a 350-mile bike ride and took on the world's longest Kayak race – just to list a few.
Amazingly, Steve recently set his limits to new heights to fundraise for The Leukemia & Lymphoma Society (LLS) and help fight cancer.
On March 22, 2019, 26 days after the starting line in Anchorage, AK, Steve completed the world's longest winter ultra-adventure, the 1000-mile Iditarod Trail Invitational across Alaska. This race is frequently given the title of "world's most difficult endurance race." Steve was on his fat bike and fully self-supported the entire ride.
Steve is a longtime LLS supporter and volunteers at his local LLS Iowa Chapter, "Cancer survivors have taught me much about the value of every moment, friend and family member," says Steve. "To them, I owe so much, and this is how I repay it. There are many fantastic organizations out there, and LLS is one of the very best. I'm thankful for LLS and all they do for those fighting cancer."
Steve has already surpassed his fundraising goal of $10,000 and is currently working on a documentary of his adventures, which he plans on leveraging nationwide to raise awareness for blood cancer and the urgent need for cures. To date, he has raised over $700,000 for cancer charities.