This is the third in a series of blogs covering the 58th ASH Annual Meeting and Exposition (#ASH16).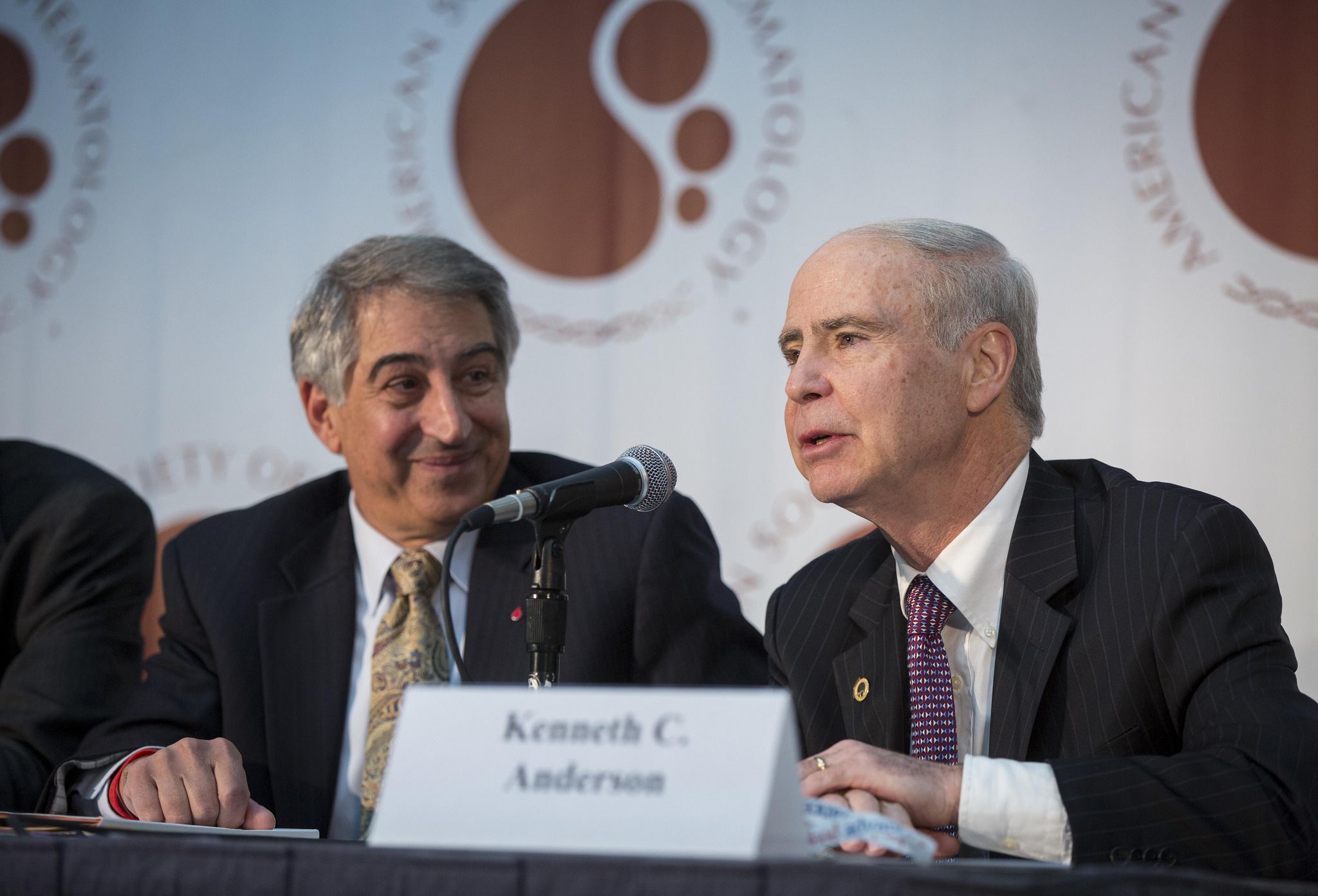 LLS's groundbreaking precision medicine clinical trial in acute myeloid leukemia (AML), "has the potential to change the paradigm of AML and other hematologic malignancies," said Kenneth Anderson, M.D., Dana-Farber Cancer Institute, during a press briefing today at the 58th ASH Annual Meeting and Exhibition in San Diego.
Dr. Anderson, president-elect of ASH (the American Society of Hematology) was the moderator of the press briefing about LLS's Beat AML Master Trial, launched in October.
The three lead investigators of the trial, Brian Druker, M.D., OHSU Knight Cancer Institute, John Byrd, M.D., The Ohio State University Cancer Center and Ross Levine, M.D., Memorial Sloan Kettering Cancer Center, joined LLS CEO Louis J. DeGennaro, Ph.D., and LLS information specialist Gail Sperling, to discuss the rationale for a new approach to treating AML patients. Later in the day, Dr. Druker presented more details about the trial in a scientific spotlight session on precision medicine.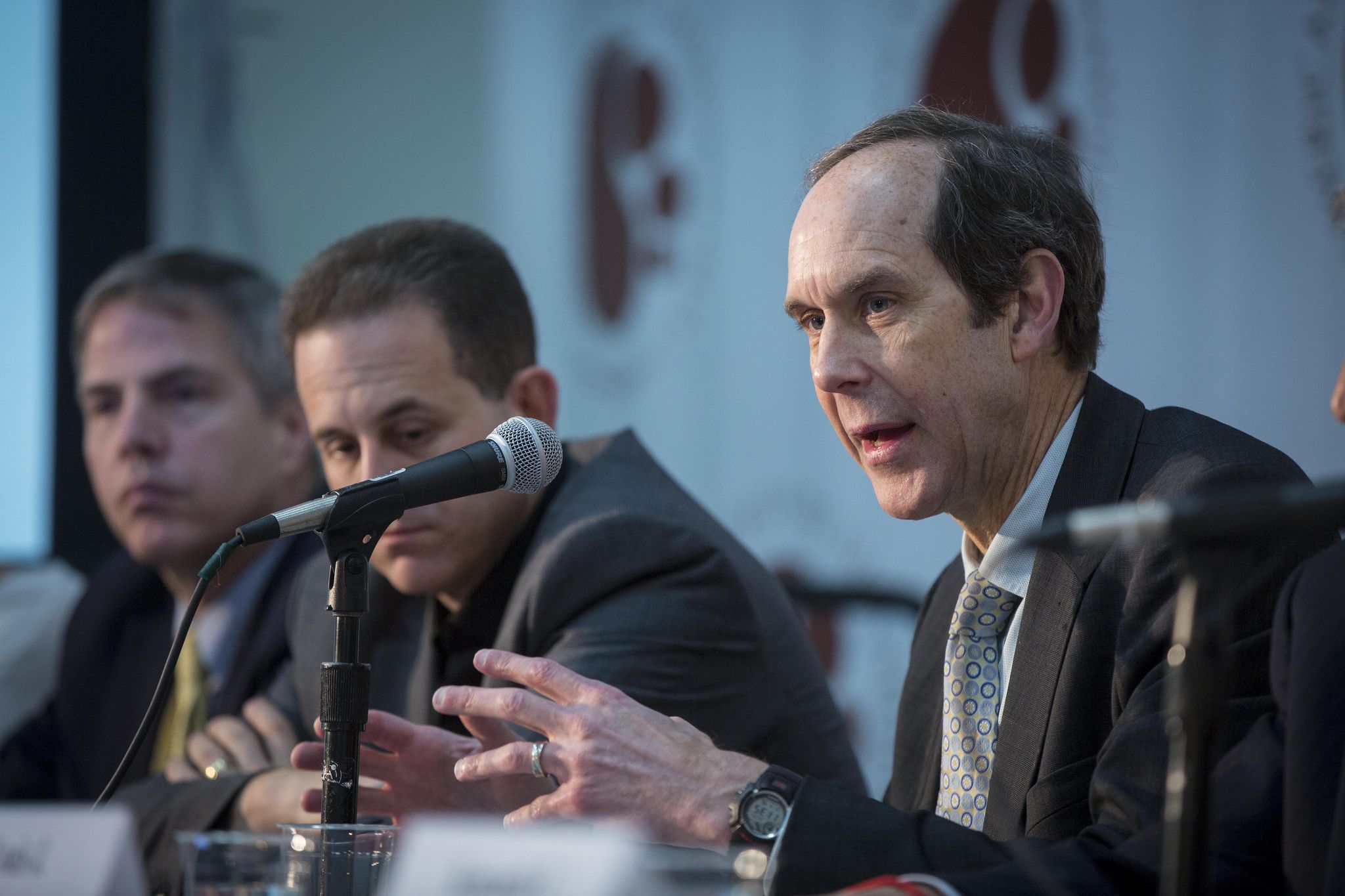 AML is among the most deadly blood cancers, the standard of care has remained virtually unchanged in more than four decades and the survival rate, especially for patients over 60 years of age, is dismal.
Dr. Druker said it was time to stop treating AML like one disease, as it's really multiple blood cancers, each driven by different genetic mutations.
"This trial really is about matching the right patients with right drug," he said.
The trial is designed to stratify newly diagnosed AML patients based on their genetic mutations so they can be directed to an appropriate novel targeted therapy for their subtype of AML. The trial will consist of multiple treatment arms at multiple cancer centers.
Newly diagnosed patients will have a bone marrow sample analyzed for genomics in order to direct them to the appropriate targeted therapy for their specific genetic mutation. Typically, AML patients are sent immediately to standard treatment consisting of a combination of chemotherapy that hasn't changed in more than 40 years and is very toxic. Most older adults cannot tolerate the treatment and do not respond well to it.
The Beat AML Master Trial will provide the genetic analysis within seven days, an unprecedented timeline, so a more precise treatment decision can be made quickly.
Dr. Anderson also noted that LLS and ASH are working together to raise awareness about the trial among ASH's membership of hematologists.
"What an honor it is for ASH to be partnering with The leukemia & Lymphoma Society. No organization has done more than LLS to advance awareness and education on behalf of both patients and caregivers," Dr Anderson said.
The panelists also pointed out LLS's unique position as the sponsor of the trial.
"LLS's has the ability to convene all the stakeholders in the ecosystem to drive this forward," Dr. DeGennaro said.
The collaboration includes five clinical sites with six to be added by spring, and eventually up to 15 – 20; four pharmaceutical companies are on board with more to join soon. It will eventually expand to between 7 – 10 individual study arms.
Dr. Byrd pointed out another novel aspect of the trial is that every eligible patient – any newly diagnosed AML patient aged 60 years or older – will be able to get treated with a novel agent. Even patients who don't have one of the genetic subtypes of the study arms will be treated with a more broadly acting investigational therapy.
Dr. Levine said the trial protocol is designed to be "nimble" so that drugs that are not working can be quickly removed from the trial, and new therapies can easily be added in.
During his presentation later in the day, Dr. Druker said that with all the knowledge we've gained about the genomics of AML it's time to try something different.
"What we're doing isn't good enough," he said.
The Beat AML Master Trial aims to change the trajectory of the disease.
In other news from the ASH meeting:
Ibrutinib (Imbruvica ®) is a therapy that targets the BTK protein on cancer cells. It is approved for chronic lymphocytic leukemia (CLL) and some types of non-Hodgkin lymphoma, and Waldenstrom's macroglobulinema, and is being tested for other cancers. There are many interesting studies being presented on ibrutinib during the ASH meeting. Here are two:
A study from a team including LLS-funded researcher Thomas Kipps, M.D. Ph.D., of the University of California, San Diego, showed that at a median treatment time of 28.6 months ibrutinib continued to show superiority over standard chemotherapy, with an 88 percent reduction in risk of progression of the cancer or death from the disease. The FDA approved ibrutinib in March 2016 as a first-line therapy for CLL.
Adding palbociclib, a therapy that targets the protein CDK4, to a treatment regimen with ibrutinib helps extend response for patients with mantle cell lymphoma according to a research team including John Leonard, M.D. and Selina Chen-Kiang, Ph.D., of Weill-Cornell Medical College, who are both members of LLS's New York City board. Patients in the trial treated with ibrutinib alone had a 77 percent response and only 19 percent had a complete response. Nearly half experienced failure during the first year. But 44 percent of the patients who had palbociclib added to the regimen had a complete response at three months. More study is warranted and a Phase 2 study is planned.
CAR-T Immunotherapy continues to be a focus of intense interest. Presentations during the ASH meeting were in such high demand that organizers were scrambling to find overflow rooms to accommodate the crowds. Two programs that have benefited from LLS support were among the presentations.
Stephan Grupp, M.D., Children's Hospital of Philadelphia, and a member of a team LLS has supported for 20 years, presented a global study in which 82 percent (41 of 50) of children and young adults with relapsed or refractory acute lymphoblastic leukemia (ALL) who were treated with CAR-T therapy, CTL019, were disease-free after three months. At the six-month mark, 60 percent were relapse-free. Novartis has licensed the therapy and plans to apply for approval in 2017.
KITE Pharma, a partner with LLS through our Therapy Acceleration Program ® (TAP), has a late-breaking abstract to be presented Tuesday for its CAR-T therapy for patients with relapsed or refractory diffuse large B-Cell lymphoma. According to the study, supported by LLS, of 101 patients treated with Kite's CAR-T therapy, KTE-C19, 56 percent were progression-free at three months. Kite announced Sunday it has begun the process of seeking FDA approval for its therapy, by submitting a rolling submission to the agency, making it the first company to make a move seeking approval for a CAR-T therapy.