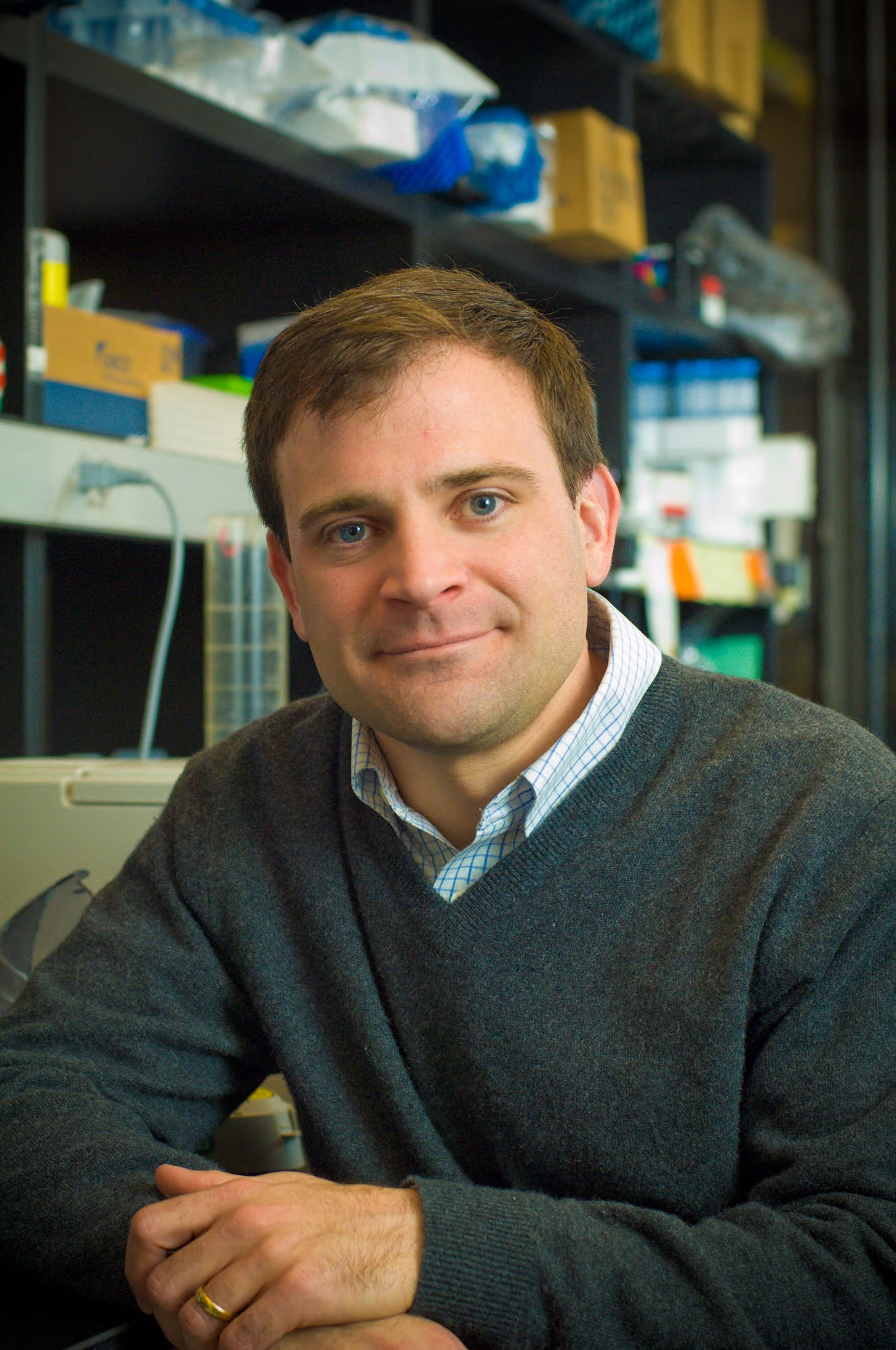 David Weinstock, M.D., Dana-Farber Cancer Institute and Harvard Medical School, is looking to identify new targets for therapies for patients with leukemia and lymphoma. His latest research, funded through a Specialized Center of Research grant from The Leukemia & Lymphoma Society, focuses on T-cell lymphomas.
David Weinstock has focused his entire career around discovering new approaches to treating patients with leukemia and lymphoma – and credits The Leukemia & Lymphoma Society (LLS) with giving him several boosts along the way.
An associate professor at Dana-Farber Cancer Institute and Harvard Medical School, Weinstock received a grant in 2002 through LLS's Career Development Program designed to help young scientists. That early work explored abnormal cell growth and chromosome translocations that can progress to blood cancer. Then last year he received a scholar award to study how gene mutations promote the growth of follicular lymphoma.
"That support has played a significant role in my career development," Weinstock said. "LLS funding gives researchers the flexibility to expand their research into innovative areas for which there might otherwise be limited financial resources."
He's since moved on to lead a prestigious $5 million Specialized Center of Research (SCOR) grant, LLS's most ambitious funding program. The five-year project will enable he and his colleagues from Memorial Sloan Kettering Cancer Center, Weill Cornell Medical Center and Brigham and Women's Hospital to test different targeted approaches for treating patients with T-cell lymphomas, for which there are currently very few good options.
Recently, Weinstock took some time to answer a few questions about his current research.
In the simplest of terms, what type of research do you do?
I study cancers of blood cells called leukemias and lymphomas. I figure out why some people get these cancers and not others and then I develop new treatments that can help people with these cancers. I do this by working with patients, other doctors and talented scientists at Dana-Farber Cancer Institute and Harvard Medical School who are all committed to curing these diseases.
What is the significance of this latest SCOR-funded project and how will it be carried out?
Recent studies have shown that certain targeted drugs can shrink some T-cell lymphomas. This created a unique opportunity to build new approaches for treating people with T-cell lymphomas by understanding why some people respond to the targeted drugs and others don't. To do this, we organized a team of physicians and scientists at centers in New York and Boston, along with colleagues at other centers across the US, to link scientific discovery in the laboratory with new clinical trials in patients.
There currently aren't too many options for patients with T-cell lymphomas. What approach are you taking to find better treatments?
Currently, the standard treatment for someone who develops the most common types of T-cell lymphoma is a chemotherapy regimen that works well in people with B-cell lymphomas but it doesn't work very well for T-cell lymphomas. We're using a different approach, where we start with a targeted drug, rather than chemotherapy, and then we try to understand why certain people have a good response, a bad response, or become resistant to the drug. Those discoveries will then lead to a second set of clinical trials that combine the targeted drug with one or more other drugs to specifically block the mechanisms that cause resistance. This kind of discovery requires a dedicated team of scientists and clinicians who can work closely to select the right drugs, to get samples from tumors and to develop new approaches for these deadly diseases.
How do you hope this research will change the outlook or treatment for people with lymphoma 10 or 20 years from now?
Ten years from now, we will be treating every patient with the right drug or drug combination for their T-cell lymphoma, rather than simply a combination of chemotherapy that might work in some people. Twenty years from now, we will have built on these discoveries and we'll be curing essentially everyone with these diseases.
You recently had some success with a new approach to treating B-cell acute lymphoblastic leukemia (ALL). What is the status of that research?
Yes, we did. In fact, we showed that a new type of targeted drug, called a type 2 JAK2 inhibitor, is amazingly effective in a particular subset of B-cell ALLs, either when the cells are grown in a Petri dish or when we inject them into mice and treat the mice with the drug. The next step is to try type 2 JAK2 inhibitors in children and adults with this type of B-cell ALL. I can't wait to see the results.
Listen to Weinstock talk about his work in a video.
Weinstock has authored more than 80 peer-reviewed manuscripts and book chapters. He has also performed field work with refugees in the Republic of Georgia and after Hurricane Katrina and now directs a program establishing translational research capacity for patients with blood cancers in Malawi. In 2009, he became the Medical Advisor for the Radiation Injury Treatment Network, a consortium of academic medical centers across the US focused on the management of irradiated casualties.
Read Q&A's with other LLS-funded researchers here.