As researchers gain greater understanding of how cancer works, they are becoming more adept at developing precisely targeted therapies that go after the tumor cells while sparing the healthy cells.
Today The Leukemia & Lymphoma Society (LLS) kicked off the 57th American Society of Hematology (ASH) Annual Meeting in Orlando with a satellite symposium entitled, "Molecularly Targeted Therapies for Hematologic Malignancies."
The program featured five renowned blood cancer experts: A. Thomas Look, M.D., Dana-Farber Cancer Institute; Adolfo Ferrando, M.D., Ph.D., Columbia University; Thomas J. Kipps, M.D., Ph.D., University of California at San Diego; Pier Paolo Pandolfi, M.D., Ph.D., Harvard Medical School, and Constantine S. Mitsiades, M.D., Ph.D., of Dana-Farber Cancer Institute. Larry Kwak, M.D., Ph.D., of City of Hope, moderated.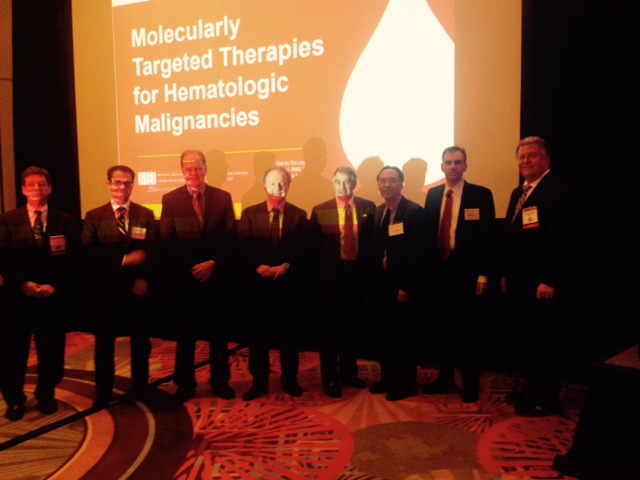 Nearly 600 attendees filled the hall at the Hyatt Regency Orlando, to learn the latest on advances in targeted therapies for acute myeloid leukemia (AML),T-cell acute lymphoblastic leukemia (T-ALL), chronic lymphocytic leukemia (CLL), and multiple myeloma (MM).
Look, whose focus is AML, said there are currently 45 targeted therapies in the development pipeline for AML. Some of these are immunotherapies, some are inhibitors of proteins, such as FLT3 and IDH, known to play a role in the proliferation of AML cells, and some are so-called epigenetic targeting therapies that either switch on or off the genes that control cell behavior. Many of the clinical trials under way are also investigating combinations of therapies. One of the therapies that Look is focused on in his lab is selinexor, which inhibits XPO1, a protein responsible for the control of several cellular processes and is showing promise for AML patients, particularly when combined with other therapies.
Ferrando discussed the significance of targeting the Notch1 pathway that is mutated in the vast majority of cases of T-cell ALL, a lethal form of ALL with a very poor prognosis, and one that particularly impacts children. Targeting Notch1 appears to be a promising approach for T-ALL, but Dr. Ferrando's work is focused on trying to understand why many T-ALL patients do not respond to this therapy.
Kipps is an expert in CLL, and discussed many new advances to treat this blood cancer, including FDA-approved ibrutinib and venetoclax, formerly known as ABT-199, which is still in clinical trials but showing encouraging preliminary data. His lab is currently focused on another investigational therapy for CLL – a monoclonal antibody that targets ROR1, a protein expressed in CLL cells and showing promise as yet another new targeted therapy for CLL.
Pandolfini is focused on the abnormal metabolism of cancer cells. Cancer cells rely on glucose for energy, and targeting the metabolic enzymes may be a way to take out the cancer. He is studying investigational therapies that target IDH1 and IDH2, enzymes that play a role in cell metabolism and trying to understand why some patients are resistant to IDH1 and 2 inhibitors.
Finally Mitsiades talked about the major advances in multiple myeloma. New therapies for myeloma have come on line with stunning speed, with three new drugs approved in just the last few weeks. And while these new options have dramatically improved outcomes for patients with myeloma, the disease remains largely incurable. Mitsiades said that most of the therapies available directly target the myeloma cells, but that there are still opportunities to develop drugs that target the genetic mutations that cause myeloma. To date not many therapies have been developed to target those mutations and that is an area worthy of further study and focus, as is the development of immunotherapies for myeloma, he said.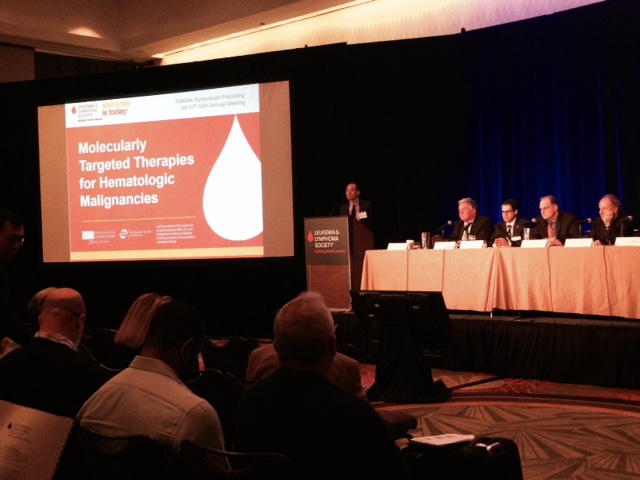 Tomorrow is the official start of the ASH meeting and more than 120 LLS-funded researchers will be among the thousands presenting their latest findings. Visit this blog to get daily updates from ASH.