Just the thought of chemotherapy can be enough to make one feel sick. Toxic drugs powerful enough to kill or damage cancer cells also take their toll on healthy cells. While everyone tends to respond differently, most agree the treatments come with unpleasant side effects.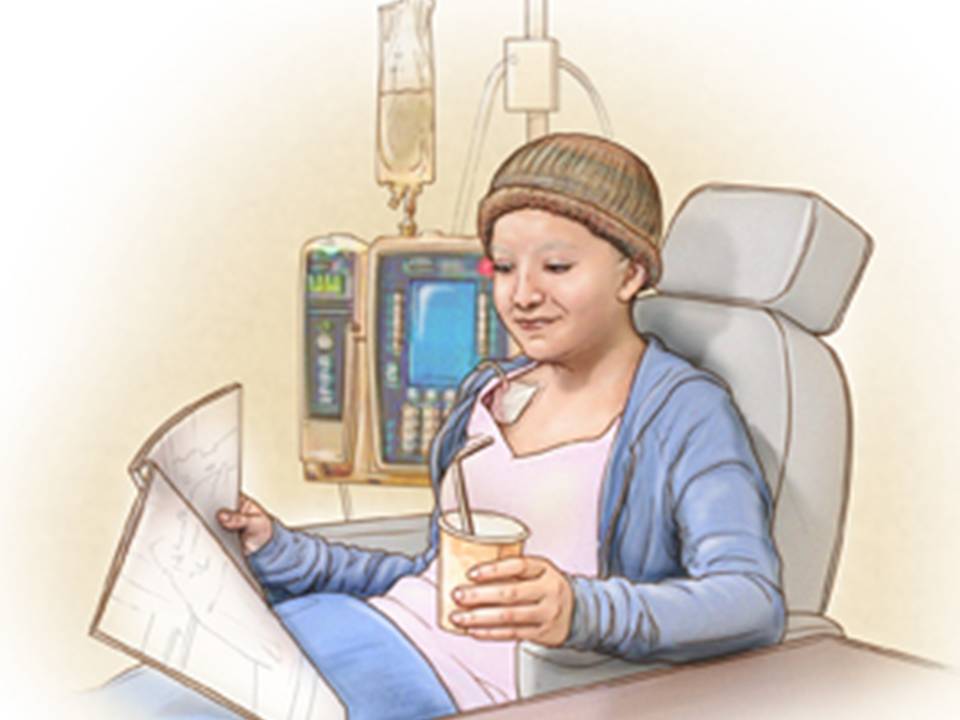 Check out these 14 tips from The Leukemia & Lymphoma Society that should help make the experience a little less uncomfortable:
Get some "chemowear." Treat yourself to something that is comfortable and makes you feel good about yourself. You want to be able to just reach in your closet and grab something soft and loose-fitting. No thinking required.

Pack a ready-to-go travel bag and keep it near the door. Be sure to include books and magazines; a laptop or e-reader; some ginger chews and ginger pills (for nausea); lip balm and lotion (the air in treatment centers can get very dry); cozy socks; a bottle of water; and some healthy snacks. And don't forget a fleece blanket! It can get cold in those chemo rooms. Change up the items as needed.

Prepare to stay awhile. Chemo sessions can take several hours. Plan out something to do. Set up a playlist for your iPhone, get a new book series, or grab a pillow for a nap.
Make sure you have good food to come home to. Gingersnaps, ginger ale, crackers, bananas, peanut butter, popsicles and angel food cake are easy to digest. Whipping up a smoothie can be a good idea also.
Drink plenty of fluids each day—about 8 cups of water or juice. Fill up a pitcher with the goal for that day to drink the entire pitcher. Especially stock up the day before and the day after treatment.
Prepare for constipation and/or diarrhea. Your doctor can prescribe medications for both to keep on hand.
Get help for nausea. If you start to feel sick, tell your oncology nurse. Chewing on crystallized ginger, or sipping on peppermint or ginger tea can help discourage nausea, and medications can be prescribed.
Avoid mouth sores, which can be caused by chemotherapy. Avoid spicy and hot foods, drink plenty of fluids and brushing your teeth several times a day. Ask your doctor about a medicated mouthwash.
Maintain good nutrition. Consider six small meals instead of three "big ones." Eat a half sandwich for lunch and the other half two hours later. Supplements have excellent nutrients. But if you drink one can, you have satisfied your appetite. Always eat first, then try half-can supplements after the meal. The best nutrition is eaten. Supplements are meant for those who can't eat!
Fight fatigue, which can be common. Keep your body on a schedule. Go to bed and wake up at the same time every day, even on weekends.

Plan time to rest. You may feel better when you rest or take a short nap during the day. Many people say that it helps to rest for just 10 to 15 minutes rather than nap for a long time. Keeping naps short will help you sleep better at night.

Reach out to loved ones with specific requests. You are not alone and many people want to help but don't know what to do. Tell them what you need, such as help with laundry, taking out the garbage or a ride to the store.

Listen to your body. Be sensitive to what you feel and make changes accordingly. If you feel tired, rest. If you have a spurt of energy, get out, take a short walk. Remember moderation is the key.

Try to be normal. Easier said than done. But, surviving the cancer journey is a whirlwind. Rely on your usual routine whenever possible. It can help you stay grounded and secure.

If all else fails, focus on how you're ridding your body of disease. That's a thought that should make you feel better!
Tips courtesy of LLS's Information Resource Center and Lynn Rich, MS, NP, Lymphoma Program, James P Wilmot Cancer Center.
LLS information specialists are always available to answer your questions. Call (800) 955-4572.
If you've learned something that would be helpful to others, please share in the comments below.