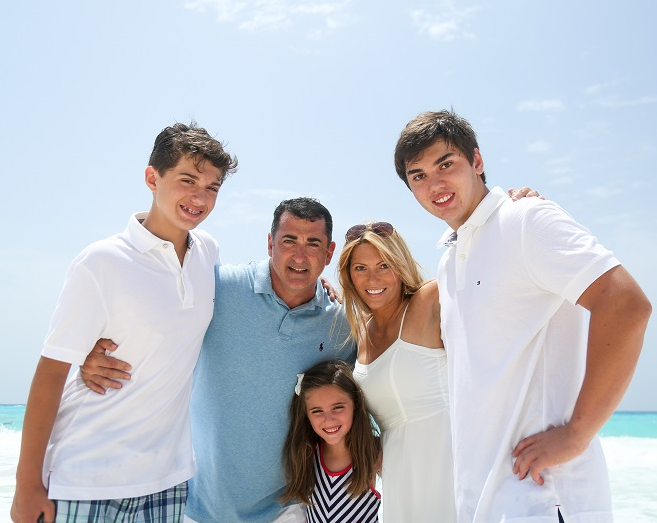 What does a mother of three small children do when she hears the words, "You have cancer?" For Sonia Dolinger, her first reaction was to hide in her closet, crying into a pillow so her children couldn't hear. "It was the scariest moment in my life," said Sonia. "I mourned the high school graduations and weddings I'd miss, and the chance to have grey hair and one day be called grandma." She was diagnosed with chronic lymphocytic leukemia (CLL).
Soon, Sonia realized that if she was going to beat this disease, she needed to stop her wallowing and be her own best advocate. She embarked on an educational journey of self-discovery and cancer research and began reading through patient stories on The Leukemia & Lymphoma Society's (LLS) online forums.
"I read of new treatments that were being tested in clinical trials, and I followed these patients' remarkable journeys," said Sonia. "I learned about clinical trials for CLL, and I gained something paramount to any survival story, hope!"
So when Sonia heard of a clinical trial looking for patients needing new treatment options, she enrolled without hesitation.
Today, Sonia is in remission. She currently works with LLS as a fundraising campaign manager and continues to give back.
This fall, 1 million friends, families and co-workers nationwide will gather together to celebrate, honor and remember those touched by cancer at LLS's Light The Night Walks. Survivors, like Sonia, celebrate within the survivor circle while the white beam of hope reaches up to the sky, illuminating the darkness. Supporters participate in honor of survivors and the strides LLS is making to find cures. Those we have lost are commemorated at the Remembrance Pavilion. The light and warmth generated delivers hope in time of despair, community in place of loneliness and lifesaving research & support for cancer patients and their families.
"Thanks to the support from the LLS, many of these drugs have gone from a twinkle in a scientist's eye to saving lives!" said Sonia. "As an employee of LLS I'm thrilled to see and hear from patients frequently, many of whom have renewed hope in their fight against cancer."
As LLS's National Presenting Sponsor of Survivorship and Hope, Pharmacyclics and Janssen are committed to working with LLS through its Light The Night fundraising campaign to shine a spotlight on what it means to be a cancer survivor.
Learn more here.