Six years ago, Chris Sena never would have imagined he could have taken part in 100-mile bike rides or triathlons. But losing a great friend has motivated him to do incredible things.
The Rocklin, California man now has ten Team In Training events under his belt and has set a goal to raise $1 million to help The Leukemia & Lymphoma Society (LLS) find cures and ensure access to treatments for blood cancer patients.
When he first started his journey in 2010, he didn't have any connection with leukemia or lymphoma. He signed up for his first Team In Training event when a good friend and fellow dive instructor, Steve, was diagnosed with throat cancer and he decided to ride in his honor. In the early 1990s, they had developed a strong bond while stationed at Navy Dive School in Pearl Harbor working on ships and submarines. Along with a mutual friend Ron, they had many fond memories of their years together and Sena could go on for hours with all the sea stories.
Sena had no idea that Ron had been diagnosed with leukemia in 2009, and four days after signing up for that first event, he heard that Ron had passed away. Determined to use his passing to make a difference, he took to social media and raised $2,800 in four days.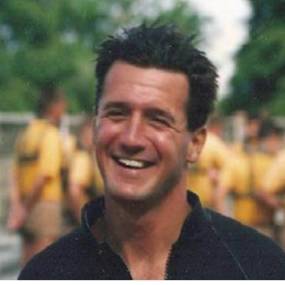 Motivated to beat the disease that took his friend, Sena has been riding, running and swimming in his memory ever since. He's completed America's Most Beautiful Bike Ride six times (also a mentor and captain), done the Vegas Bike team twice (also a coach), and finished the Pacific Grove and Wildflower triathlons. He wears a picture of Ron on his back for every event.
"I knew immediately that this was something I wanted to accomplish so that I could honor my lifetime friend and diver brother Ron," he said. "It's been anything but easy but I want to make a difference for those others who still are fighting and feeling the effects of these illnesses."
The journey has had many challenges and yes, many times he's wanted to take a break.
"If I need to get reinvigorated I just think about all that Ron must have gone through in his last few months and how fortunate I am to be healthy enough to be riding my bike and enjoying my day-to-day life with my family," he said.
He also finds it rewarding to mentor and coach various bike teams and seeing first-hand how individuals who have barely ridden before are able to ride 100 miles in 12 to 14 weeks.
Since 2011, he's also been doing fund raisers (barbecues, car washing, community yard sales, selling candy bars at work and pressure washing) to help many of the survivors that he meets pay for their travel to annual Inspiration dinners, held before each event. He says he couldn't do it without the support of his wife Chrissy and LLS Sacramento campaign manager Katie Kreps.
This year, he started team "Ride-4-Ron" and completed his 10th Team In Training event with BiketheWest at America's Most Beautiful Bike Ride. They raised more than $165,000, which was enough to have an LLS research grant put in Ron's name. He hopes to do the same this year and pass the grant on to someone else on his team.
"I totally believe in passing it forward and good things will come to you," he said.
Sena's fundraising efforts and those of thousands of other Team In Training participants are helping LLS continue to support cures and access to treatments for blood cancer patients. The advancement of breakthrough therapies has already saved and continues to save thousands of lives every year.