Staying on track while you train for a walk or run event can be challenging at times. This is especially true for busy moms who barely have enough time to work out, let alone track their fitness progress.
For the second time this year, The Leukemia & Lymphoma Society's (LLS) Moms In Training program has teamed up with Fitbit to help Moms In Training participants track their progress and achieve their goals. Fitbit activity trackers automatically track daily steps, calories burned, distance traveled and active minutes. Most also track floors climbed, sleep duration and quality, and the more advanced products track heart rate and GPS-based information, and incorporate smartphone integration like text and call notifications.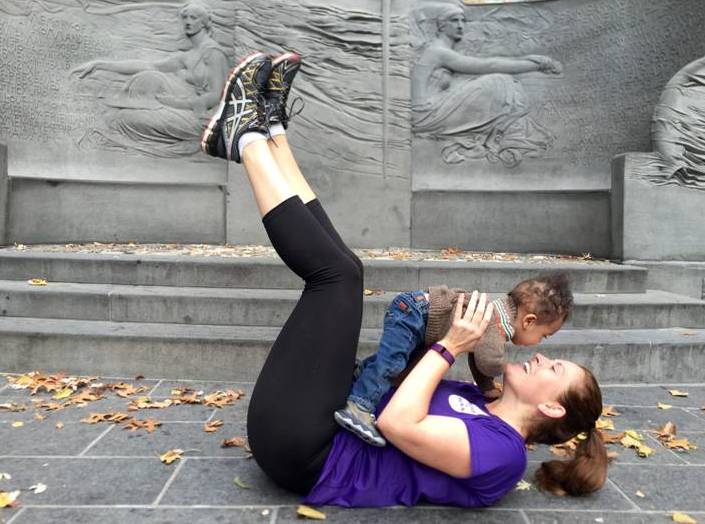 Jessica Lavoie, a Moms In Training participant is using her Fitbit ChargeHR™ activity tracker to check her heart rate while she trains.
"Our coaches always talk about being in the fat burning zone or upping it to the cardio zone while running, and it was really hard to know where that was while training. My Fitbit activity tracker made it easy now that all I have to do is check my heart rate, and it even tells me which zone I'm in at the moment! It's also nice to be able to look back on my Fitbit app later to see what my whole workout looked like. I can separate my workouts from the rest of the time I wear it, and I can see the total of where my heart rate was and for how long."
Participant Lauren Antonucci is a dietitian who has been recommending Fitbit activity trackers to her clients for several years. She recently started training with the Fitbit ChargeHR to get real-time fitness stats as well as Caller ID. Lauren's first day of using her Fitbit ChargeHR already motivated her to continue her workout, especially when she realized she had accumulated close to 2,000 steps by 9 a.m. By scrolling through her Fitbit data throughout the day, she was able to check in on her progress.
Antonucci also used her Fitbit ChargeHR activity tracker to motivate other moms during training. "I ran over to meet my "mom's" and then started the exercise function in my ChargeHR activity tracker before we took off. I was able to easily look at my Fitbit activity tracker on my wrist to check the time, then my steps, and then my heart rate, even while running. I discussed the benefits of this training with the other mom's as we ran. We did a series of "pick-ups" or intervals on this day, so we discussed how each of our heart rate's should go up during the harder efforts, and how we would expect it to come back down between these intervals."
"I had run over a mile to practice, then 3.7 miles with my team, and was excited when my Fitbit ChargeHR vibrated 'happily" to indicate I had already reached 10,000 steps. Feeling Good!"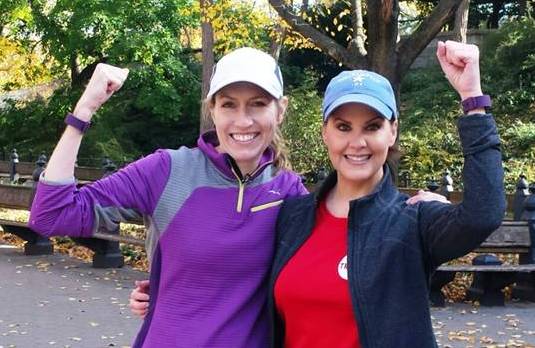 Participant Michelle Richards noted that the Fitbit ChargeHR comes with many great functions and is easy to use. She gets a much better idea of how hard her heart is working, which also gives her a clearer picture of her caloric burn during her workouts. The wrist-based heart rate tracker and data gives her that extra push to work harder to reach her goals.
"I am really enjoying the new Fitbit ChargeHR to enhance my Moms In Training with LLS and to help me stay motivated while I work toward my goals and race day! I like that the Fitbit activity tracker was easy to setup for busy moms and it is a definite step in the right direction to keep your health as a priority! I love how it actively measures my general fitness throughout the day, allowing me to input all the calories that I eat through its food database, measuring my sleep quality, as well as how many steps I have taken and shows me my progress on my smartphone through the Fitbit app so I can always see it, throughout the day."
Moms In Training is a program geared towards moms with kids of all ages looking to get in shape and save lives along the way. The flexible 8-10 week training is designed with the needs of busy mothers in mind. Once the training is complete, moms can compete in a five-mile to ten-mile walk or run that raises funds for LLS, giving them the chance to showcase their hard work to their friends, family and community.
To Learn more about joining a Moms In Training event and training with a Fitbit activity tracker, click here.