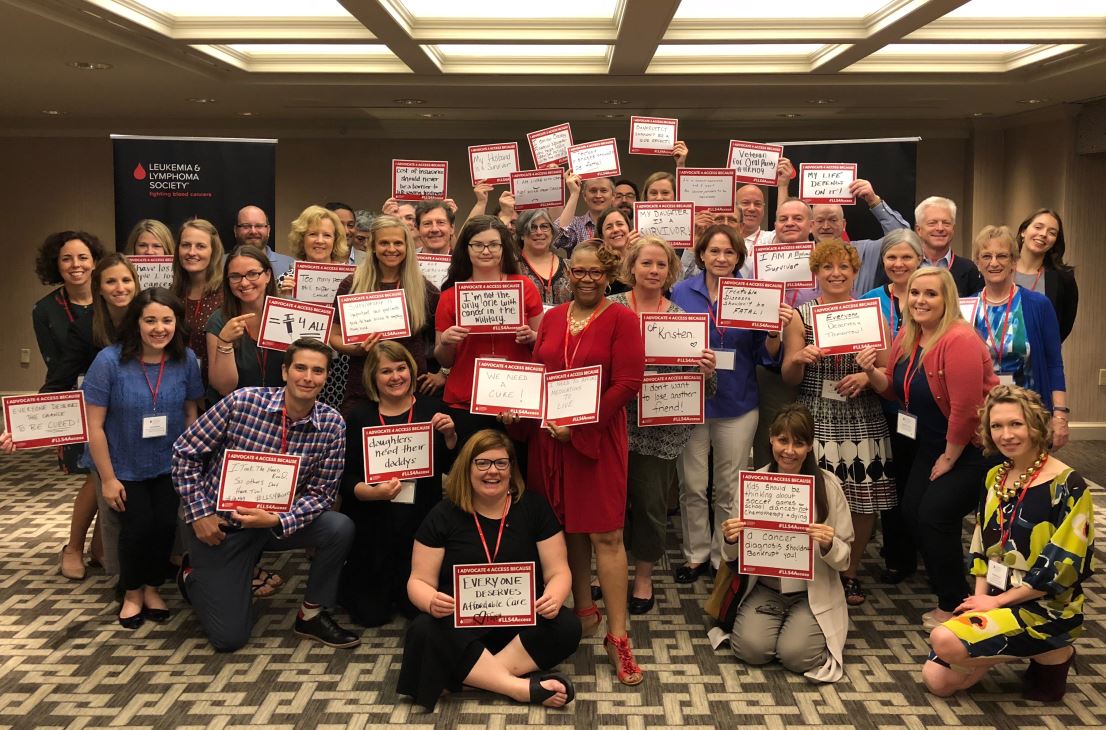 Senior Manager, Federal Affairs, Sarah Millberg (far left, blue shirt) and LLS Federal Affairs team.
Sarah Milberg is a member of the Federal Affairs team in LLS's Office of Public Policy, working to advance LLS's policy agenda. We asked Sarah to talk about our most recent big win—a $2 billion funding increase for the National Institutes of Health (NIH), plus a $10 million increase in the program in the Department of Defense's (DoD) cancer research budget that prioritizes blood cancer research—and its significance for LLS and the patients to whom we dedicate our work.
Q: Would you tell us a bit about your background and your role with LLS?
A: I graduated with a double major in political science and psychology, and went on to get a Master's degree in public policy. As a member of LLS's Federal Affairs team, my main job is to translate LLS's mission into federal policies that speed cures for blood cancer and improve access to care. I work on aspects of our policy goals that increase research funding at the federal level. I also head up the legislative work for policies affecting pediatric cancer research and survivorship issues, and oral parity legislation.
Q: What brought you to LLS? Where were you before this?
A: After my sophomore year of college, I interned and later worked for a member of Congress who was particularly passionate about healthcare policy. I loved helping with people's lives, working to make healthcare more accessible, affordable, and easier to understand. After working on Capitol Hill, I worked for another patient advocacy organization. My grandfather had multiple myeloma, so work for LLS gave me an opportunity to blend what I'd learned as a professional patient advocate and apply it to what was close to home.
Q: How will LLS's latest big win help us advance our mission of curing blood cancer?
A: The more investments that are made in blood cancer research, the more researchers are attracted to the field, and the more research dollars there are to fund grant applications. For example, increased funding for the DoD's medical research program will allow it to continue exploring and finding cures for blood cancers that have a connection to military service.
Q: How will blood cancer patients benefit from this win?
A: These wins will lead to more research, which ultimately will lead to more innovative treatments.
Q: What kind of lobbying strategies make big wins happen?
A: We stay in constant communication with other members of the cancer community, pound the pavement on Capitol Hill, and bring congressional offices face to face with cancer advocates. Patients, survivors, and caregivers are the best messengers for making the case for increases in research funding. Their stories help lawmakers understand why research is so important. LLS staff and our advocates are very persistent!
Q: What is the Childhood Cancer STAR Act (H.R. 820/S. 292)?
A: The STAR Act is the most comprehensive childhood cancer bill ever passed by Congress, designed to advance pediatric cancer research and treatments, and provide enhanced resources for survivors.
Q: How will our win serve the STAR Act? What kind of research will it support?
A: By allowing NIH to fully implement the STAR Act, this win will create new funding opportunities for pediatric cancer research. It will also support the creation of centralized research resources, including a central biorepository for pediatric cancer that will give researchers access to tissue samples and data for their studies. And, it will support efforts to understand how cancer survivors interact with the healthcare system, and how their psychosocial needs are met during and after treatment.
Q: What is your roll with the Alliance for Childhood Cancer, and what do you hope accomplish in this role? What's already been accomplished?
A: LLS co-chairs the Policy Committee of the Alliance for Childhood Cancer, and I serve as LLS's representative in fulfilling that role. The Policy Committee sets the Alliance's legislative agenda. We succeeded in getting the STAR Act passed and funded this past year, and we will continue to focus on ensuring that STAR is fully implemented and funded in the years to come. With this big win, we can now explore other policy changes that will help accelerate pediatric cancer research, improve access to care, and address the needs of childhood cancer survivors.
Q: What about this work inspires you?
A: Every year we have the opportunity to make our case for increased research funding. Research funding is incredibly bipartisan – everyone can appreciate the need for curing cancer. It's a great unifier. Also, the research that comes out of NIH and DoD is really interesting! It's wonderful to see breakthroughs happen even if they're small. One grant could lead to the next big thing. Patients inspire me too. Their stories are the strongest tools in our arsenal. I wouldn't be able to push for these wins if I didn't have the backing of over 100,000 LLS advocate volunteers behind me.
Q: What are LLS's insurance coverage principles, and what are you and the LLS Office of Public Policy doing to advance them?
A: The LLS Coverage Principles define the core tenets of meaningful insurance coverage—essentially, the policy protections that must be in place to ensure that cancer patients can use their insurance to access their care when they need it. The Coverage Principles are: access to care, quality of insurance, affordability of care, and stability of coverage. We use the principles as a rubric for assessing healthcare proposals coming out of Congress, the Administration, and state capitals, to ensure that healthcare policies will serve the best interests of cancer patients.
Q: What's next on your LLS policy to-do list?
A: We're planning for a busy end to this Congress and a just-as-busy beginning for the new Congress that will be sworn-in in January. Changes in Congress and any new proposals from the Administration will play a big role in what we focus on at the end of this year and the start of next calendar year. We're refining our strategies to advance all our policy priorities, including reducing patients' out-of-pocket costs, lowering the cost of quality health insurance, protecting access to vital programs like Medicaid, making the healthcare system more sustainable, and increasing federal investments in research.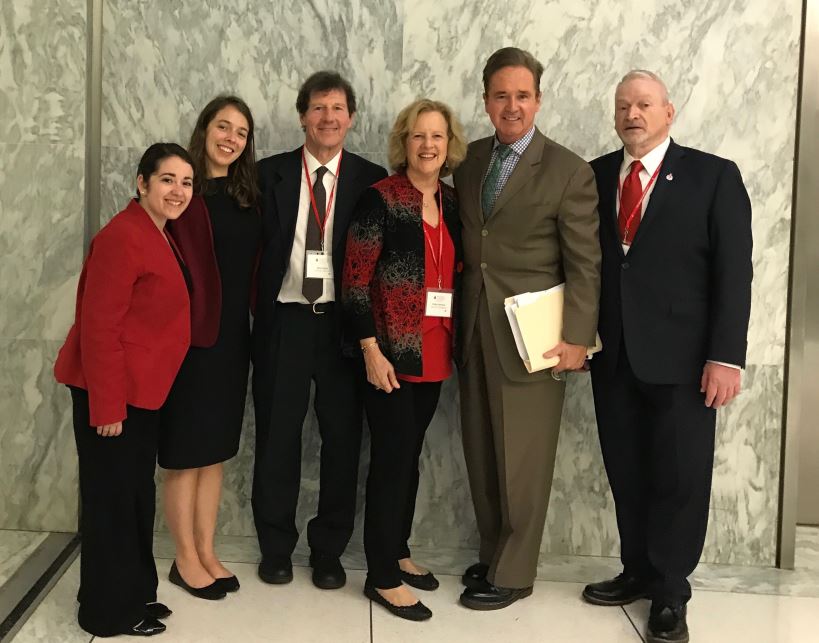 Left to right; Sarah Milberg, LLS Senior Manager, Federal Affairs, Corinne Alberts, LLS Office of Public Policy, Mark Rubin, LLS Advocate, Phyllis Osterman, LLS Advocate, Rep. Brian Higgins (D-NY-26) and Daniel Robertson, LLS Advocate.
Learn more about The Leukemia & Lymphoma Society's Office of Public Policy here.