This year, LLS received a three-year grant to fund a new intervention study by Carma Bylund, PhD, University of Florida, and her research team that aims to improve family and healthcare communication among adults who care for a parent with blood cancer. This work builds upon in-depth qualitative research completed by Dr. Bylund and LLS in 2018, which identified unique communication challenges faced by these caregivers. Both research studies were funded by the Carolan Research Institute. We sat down with Dr. Bylund to ask her about her work…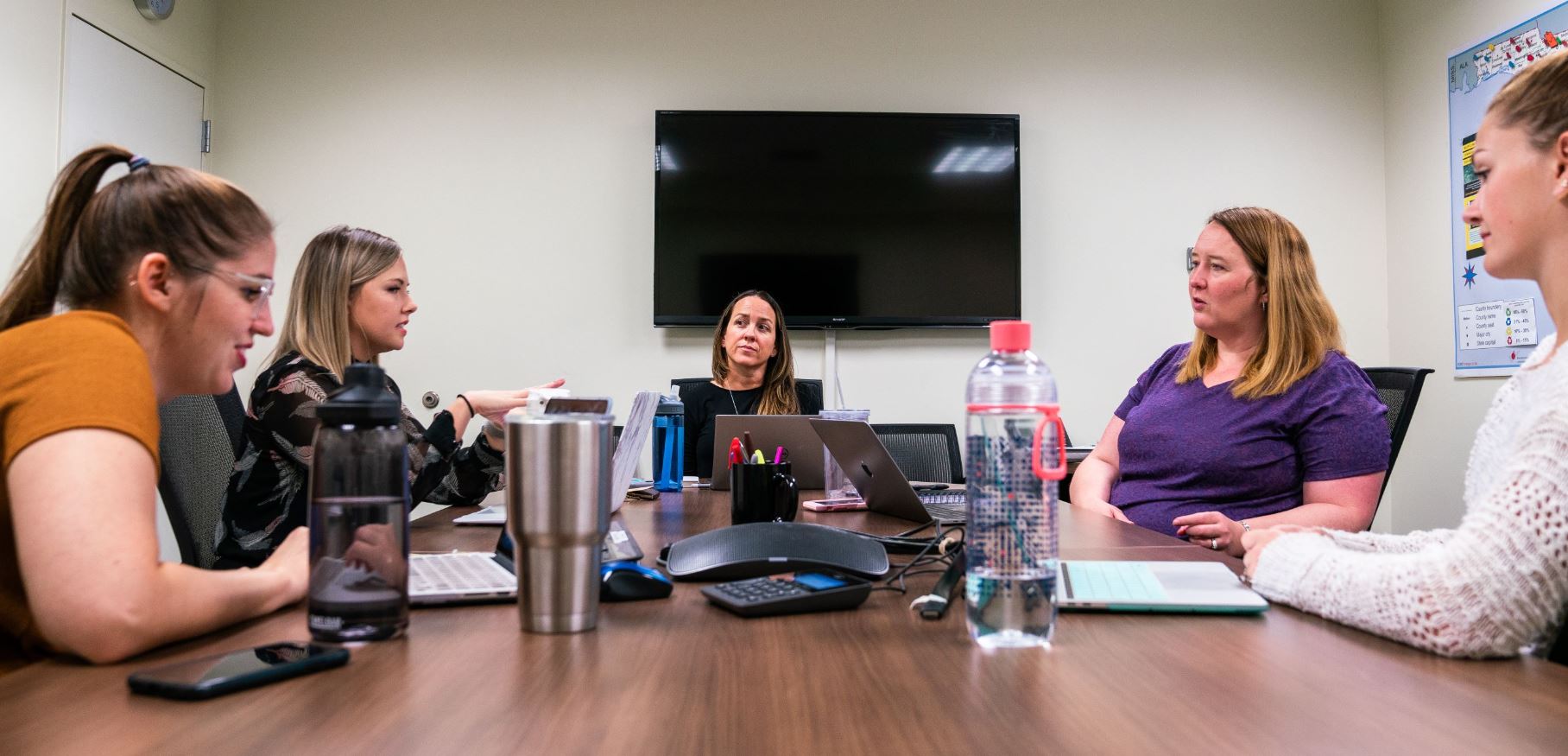 Dr. Carma Bylund (purple shirt) and her research team at the University of Florida.
Q. In 2018, you conducted qualitative interviews by phone with individuals who cared for either a child or parent with blood cancer. What were some interesting findings?
It was interesting that most of the respondents were around the same age – an average age of 43. We uncovered many differences and similarities among the groups. Both spoke about the personal rewards of caregiving, including gaining more perspective, feeling empowered, and developing more compassion. They also shared challenges including the impact of caregiving on their work, career and finances.
Many caregivers reported challenges of finding appropriate information online, and feeling overwhelmed or confused. Caregivers of parents reported calling LLS, but caregivers of children relied more heavily on information from their healthcare team.
Caregivers of children emphasized how their child's cancer affected their personal well-being and some of the difficulties of interacting with their sick child. It seemed harder for them to discuss and accept the cancer diagnosis and prognosis. Caregivers of parents focused on "role reversal" and the ability to give back to their parents who cared for them. While caregivers of children are already living in the same home, caregivers of parents often had to relocate. The caregivers of parents expressed greater impact on the structure of their lives, and reported conflict with siblings in negotiating caregiver roles.
Q. You plan to conduct an LLS-funded intervention study to uncover ways to improve family and healthcare communication for caregivers of parents. What are your goals?
In the intervention study, caregivers of parents will receive an online training hosted on www.LLS.org. Our goal is to address some of the issues within families when adults care for their parents, including the impact on their family system and conflicts with siblings. We also aim to improve information seeking by enhancing online literacy and focusing on teaching caregivers how to look up information online and speak to the patient's doctor about it.
Want to learn more about how LLS supports caregivers? Click here!