By definition a survivor is a person who copes with difficulties in their life. In 2006, my 80-year-old father was diagnosed with multiple myeloma. Like most people, I had no idea what that meant. After doing some research, I discovered it to be a cancer of the plasma cells in the bone marrow, which can be treated but not cured. He was diabetic and had heart disease, there weren't many treatments, so options were limited. He passed within ten months. I didn't realize it then but he showed me how to be strong and positive when faced with adversity.
In 2008, I retired from teaching art, mostly because I was feeling tired all the time and didn't want the program I was running to suffer because I couldn't keep up. I chalked it up to old age. I was enjoying my first full year of retirement when I woke up with a backache, and after two months of tests, I was diagnosed with multiple myeloma myself.
Since that day in July 2010, I've gone through many treatments, including induction therapy, two kyphoplasty surgeries repairing four vertebrae, and two tandem autologous stem cell transplants. I relapsed in 2012 and have been in treatment since then, getting close to our favorite word…remission!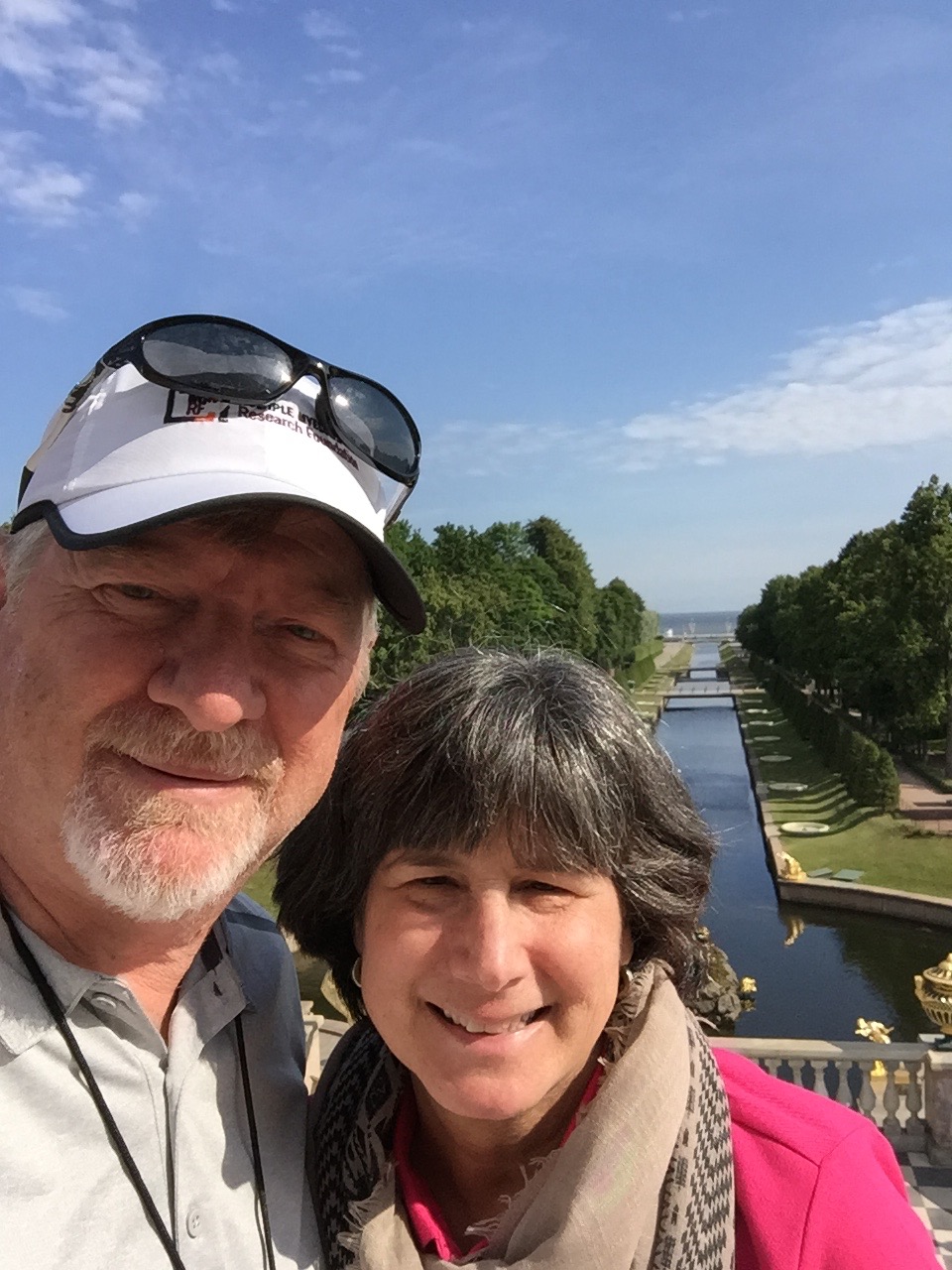 Going through my first transplant, I would share my daily journal with family and friends. Everyone kept saying I was an "inspiration," and that was an "aha" moment for me. I was doing what I had to do to survive; inspiring people was a coincidental and rewarding bonus.
I have tried to stay focused on getting better, I had no idea what effect my actions had on others. Luckily, it was a positive one. I am fortunate to have my loving husband Larry, who is my rock. He, along with my children, Cecelia and Andrew, help me get through each day. I thrive on their love and strength. I've been through so much but so has my family. Cancer affects not only the patient but the loved ones around them as well.
Recently, I went for a walk with a friend and fellow patient from my LLS support group who is upbeat and has a wonderful outlook. We were discussing the fact that we both dislike the descriptions of cancer patients as "fighters" or "battling" cancer. The drugs we take are doing that for us. We are learning to "live" with cancer. Therefore, we live each day to the fullest, making sure we tell people we love them, enjoying every moment we have with them. We know how important it is to surround ourselves with people who keep us positive.
Art has been a strong influence in my life. I picked up watercolors more than 30 years ago. Painting has been very therapeutic for me. The sound of the water and the movement of the paint over the paper soothes me. I love to get lost in a watercolor and focus on the details; it takes me away from the aches and pains. Every day is a challenge. Recently, I broke another rib, my ninth. It put me out of commission for a while but I still found a way to paint!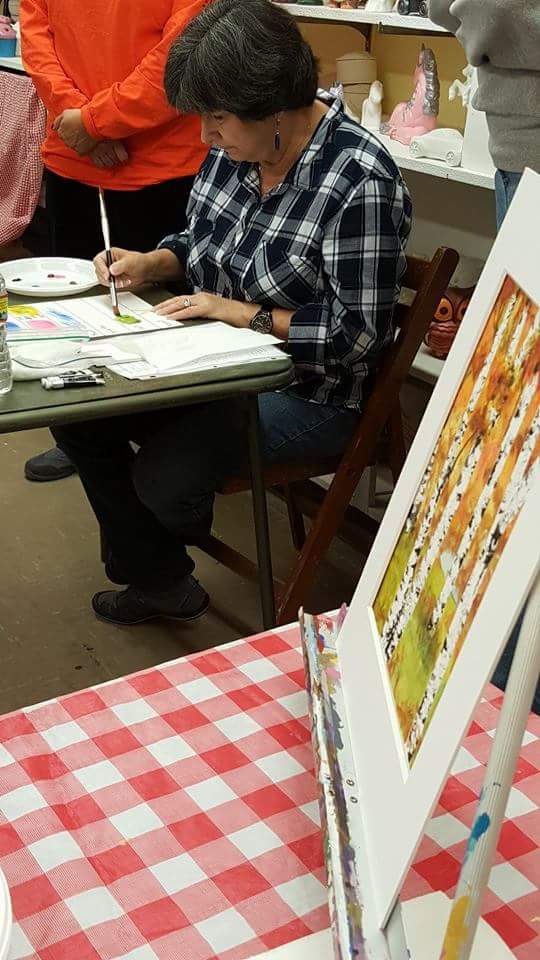 Multiple myeloma does not hold me back as I continue to live life to the fullest by traveling around the world, painting and creating art, and always finding reasons to celebrate life. Most recently I traveled with my husband, for two weeks through Scandinavia, and used a scene from our trip for our holiday card.
Art is an escape for me and I have recently entered some of my work in competitions. My painting "Rays of Hope" can be seen in the Expressions of Hope 2015 calendar created by the American Society of Clinical Oncology. "Getting Back in the Water," is a painting I created for the Lilly Oncology on Canvas Art competition and the exhibit traveled to hospitals, centers, and seminars. My close friend, Eileen, developed a class called "Healing Through Art" and taught it at a local library to help people use watercolor painting as a therapeutic outlet. Everyone enjoyed it and said they felt relaxed when using the paints.
In the past few months, I have discovered chair yoga. It has helped me get "centered." I love the stretching and work on balance. I have also found some great yoga classes at the pool. All these classes help me keep moving without putting too much stress on my fragile bones. I found swimming laps is wonderfully therapeutic. Like painting, I get lost in the rhythm of the strokes and breathing. How many of us love to doodle? I discovered Zentangle, which is meditation with a pen. You don't have to have any art experience. They show you how to do different patterns so all you have to do is experience the relaxing effect. It works for me!
Through The Leukemia & Lymphoma Society (LLS), I have found a support group of wonderful people, living with myeloma. We share our stories, our good and bad news. One of our founding members is a 99-year-old woman, who comes to our meetings, occasionally, we call her our "cheerleader." She has wonderful insights and encouraging words. Our group is supportive and lead by a warm, compassionate facilitator. I also enjoy volunteering with the LLS First Connect Program, talking to patients one on one and providing information and encouragement.
I try not to stay in the doom and gloom but rather look at each day as a gift, unwrap it and enjoy it! I celebrate every day, every event, every time I am with friends and family. I enjoy all the "little" things in life that I normally would have passed by during my busy life working and raising my children. We have created a team to participate in fundraising walks called "Jane's Village." People in my "village" have picked up on my energy and send me positive messages that keep me going.
Every myeloma patient I knows clings to hope. We hope we get some sleep, hope we have energy to get out of bed, hope our medications are working, hope that our blood work comes back favorable, hope for a day without pain and most of all hope for a cure! In the mean time, many treatments have been developed since I have been diagnosed. Seven in the past year!
There truly is hope.
Jane Kielt lives in Mount Laurel, N.J.
Read other stories about survivorship.