This is the first of a series of blogs covering the 58th ASH Annual Meeting and Exposition in San Diego (#ASH16) conference over the next few days. Check back for more news from the meeting.
Harnessing a patient's immune system to fight cancer is a hot topic. So hot, in fact, that today's Leukemia & Lymphoma Society (LLS) satellite symposium on the topic preceding the 58th ASH Annual Meeting and Exposition in San Diego (#ASH16) was at capacity with more than 600 attendees.
The LLS-hosted event, "Immunotherapy: Transformation of Therapies for Blood Cancers," was among several symposia taking place in advance of the annual meeting. More than 20,000 hematologists, patient advocacy groups and representatives from the biopharmaceutical industry will come together over the next few days to share their latest clinical trial data in blood cancers and other disorders of the blood.
The eager audience was here today with good reason – the symposium panelists included some of the most world-renowned experts in the rapidly advancing field of immunotherapy. Researchers are investigating an array of approaches to employ the body's immune system to kill cancer cells.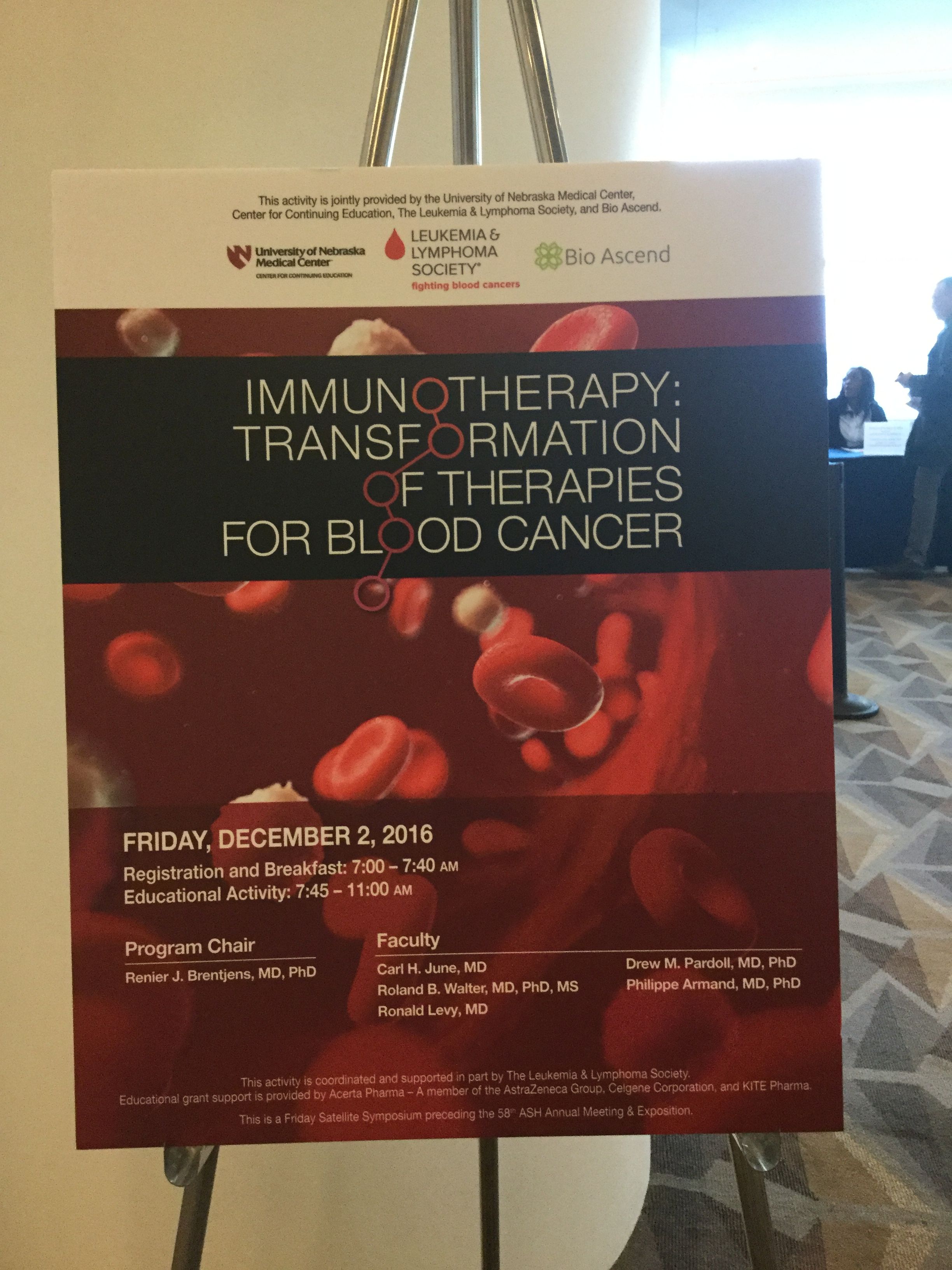 The panel was led by Memorial Sloan Kettering Cancer Center's Renier J. Brentjens, M.D., Ph.D., a leader in genetic manipulation of immune cells, and a member of a new Specialized Center of Research (SCOR) grant recently awarded by LLS (that SCOR is led by Dr Brentjens' colleague, Anas Younes, M.D., of MSKCC).
As Dr. Brentjens noted, today's symposium was about "what's coming up next in the rapidly moving field of immunotherapy."
The first speaker, Carl June, M.D., of University of Pennsylvania, whose team LLS has funded for two decades, discussed their pioneering work on an immunotherapy approach known as CAR-T (chimeric antigen receptor T-cell therapy).
There has been much excitement over the promise of CAR-T, in which immune T-cells are genetically reprogrammed to find and kill cancer cells. There is also quite a bit of caution about the risks. While there has been much success for certain patients, there are also toxicities, with some patients experiencing quite severe side effects and in some cases, even death. Investigators continue to seek ways to mitigate the dangers and to understand why some patients experience enduring responses while others do not.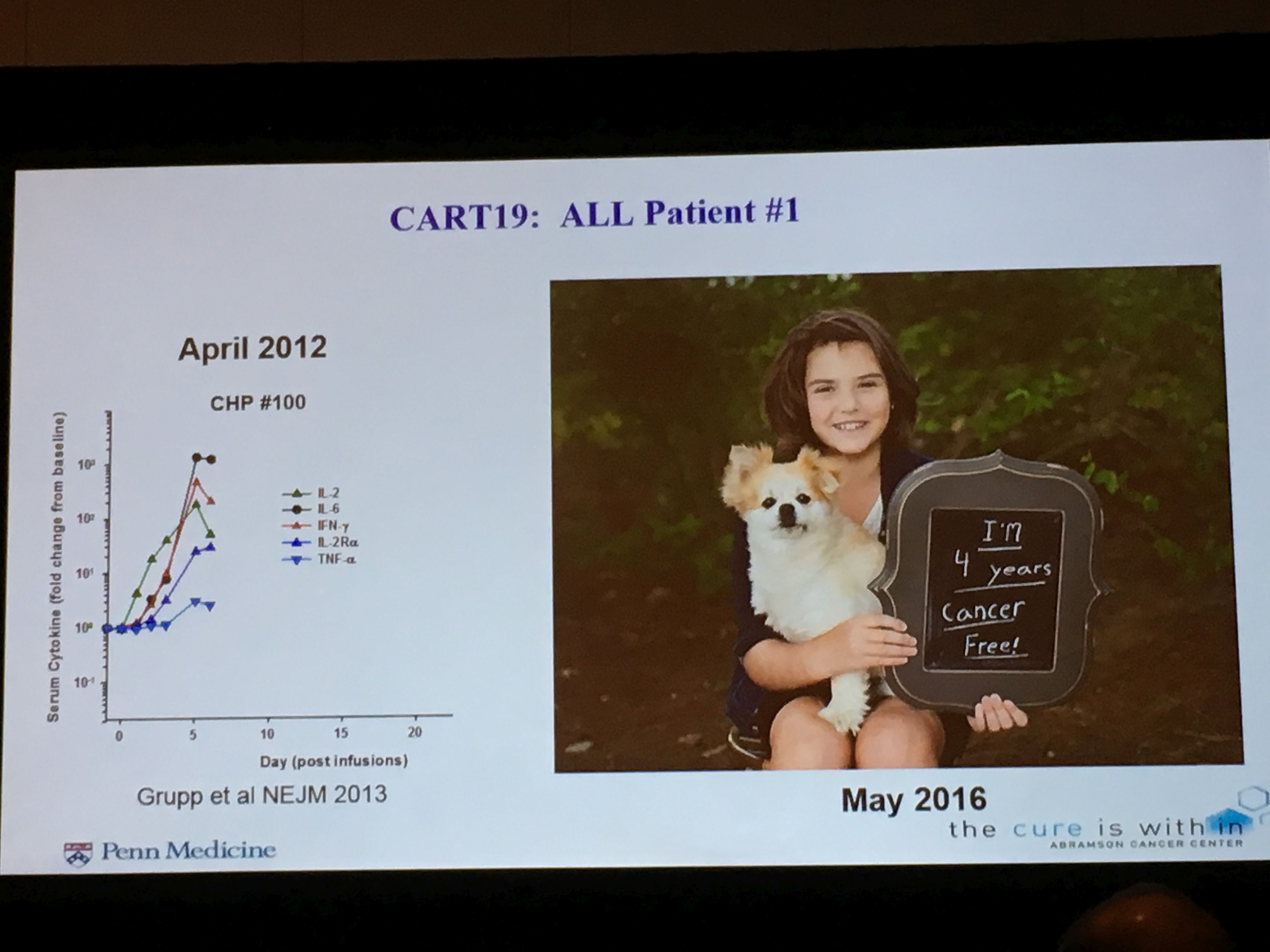 Dr. June noted the ongoing positive results of clinical trials of UPenn's CAR-T therapy, CTL-019, for patients with relapsed refractory acute lymphoblastic leukemia (ALL) and chronic lymphoblastic leukemia (CLL). As an example, he highlighted one trial in which 57% of patients with relapsed or refractory CLL responded to the treatment with significant tumor reduction. Four of the 14 patients in the trial had a complete response (meaning that the tumor was not detected) and remain in remission to date.
CAR-T therapy is now being studied by Dr. June's team and other scientific teams for other blood cancers, including non-Hodgkin lymphoma (NHL) and myeloma and data on these studies will be presented over the next few days. It is also being studied in solid tumors
Dr. June noted, "CAR-Ts didn't just happen overnight. They have been worked on for over 20 years." But it's just in the past five years that the real progress has occurred.
Dr. June said that in addition to making CAR-T safer and effective for more patients, the next challenge will be the logistics of implementing personalized cellular therapy for widespread application and manufacturing. One of his colleagues, Stephan Grupp, M.D., of Children's Hospital of Philadelphia, will be discussing this issue in a scientific session during the conference this weekend.
The next speaker, Roland Walter, M.D., Ph.D, of Fred Hutchinson Cancer Research Center, is the recipient of several LLS grants. His focus is on bispecific antibodies, which combine antibodies that can target certain molecules on the surface of cancer cells, with either a toxin that can kill the cancer, or immune T-cells which can also be trained to kill cancer cells.
Dr. Walter noted that the first bispecific antibodies were envisioned as far back as 1960, and again in 1985, but the clinical results were poor and interest was only renewed in the past 20 years as science developed better engineering tools. Dr. Walter discussed several different bispecific antibodies including one that received approval from the U.S. Food and Drug Administration (FDA) in 2014 to treat relapsed adult ALL patients, and later to treat relapsed pediatric ALL patients. The drug, blinatumomab, works by combining an antibody with T-cells to target the CD19 protein on the surface of B cells.
His team at Fred Hutch is focused on a different bispecific antibody that works by attaching an antibody that targets the CD33 protein found on acute myeloid leukemia (AML) cells with a toxin to kill the cancer cells. His team is working to understand why some AML patients are the resistant to this therapy.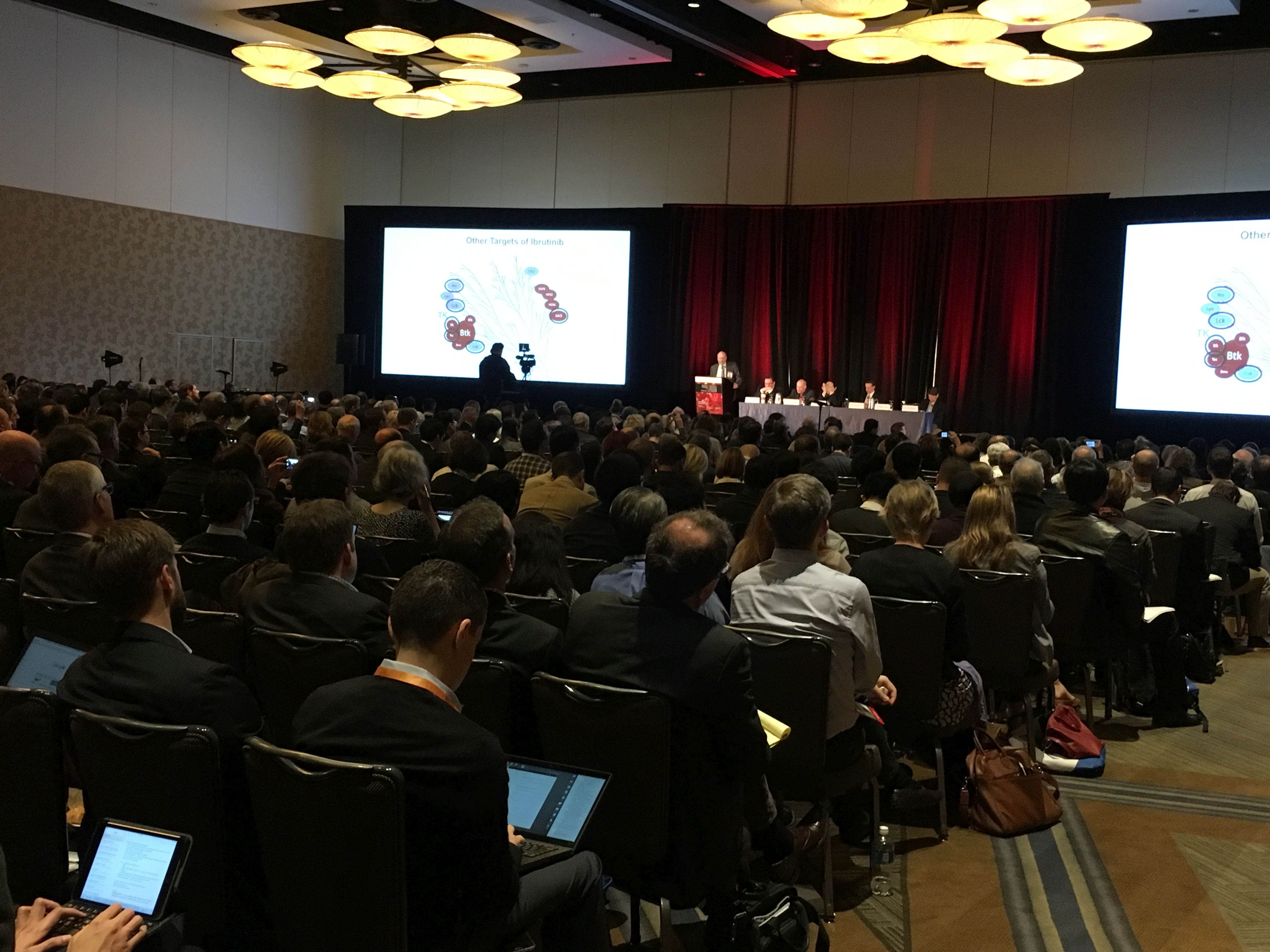 Philippe Armand, M.D., Ph.D., of Dana-Farber Cancer Institute, discussed another promising approach known as checkpoint blockade. Certain proteins act as blockers to the body's immune system, so investigators have discovered that directing drugs to inhibit these proteins can unleash the immune system to kill the cancer.
Checkpoint blockades have seen remarkable success in solid tumors such as melanoma, and clinical trials have shown good results for patients with relapsed or refractory Hodgkin lymphoma (HL). In May 2016, the FDA approved one such drug, nivolumab, to treat patients with relapsed HL. One of Dr. Armand's colleagues, Margaret Shipp, M.D., a long-time recipient of LLS support, was among the first researchers to identify the role of one such immune blocker, PD-L 1, in the proliferation of HL.
Drs. Armand and Shipp and others are studying checkpoint blockades in non-Hodgkin lymphoma as well. Dr. Armand said to date the success with NHL patients has been limited, but combination therapies might be the answer.
Ron Levy, M.D., Stanford Cancer Institute, whose work 20 years ago led to the development of the groundbreaking antibody therapy, rituximab for NHL, is very interested in combination therapies and vaccines for NHL. He said that the combination of ibrutinib, an FDA-approved therapy to treat CLL and some types of NHL, advanced with LLS support, appears to work synergistically in combination with a PD-1 checkpoint blockade to treat patients with NHL. There are many trials under way.
"Immunotherapy appears to have a plateau for some diseases and combination therapy may be answer," Dr. Levy said. "Immunotherapy is really coming of age, and we haven't seen the best of it yet."
The final speaker, Drew Pardoll, M.D., Ph.D., of The Sidney Kimmel Comprehensive Cancer Center at Johns Hopkins University School of Medicine, discussed potential novel targets for immunotherapy that are just now starting to be investigated.
"The immune system by all measures should be, and now is really demonstrating to be, the perfect anti-cancer weapon," Dr. Pardoll said. "The approach up until five or so years ago was very much thrown to the side in the oncology community. But we reached an inflection point in 2013 when the journal Science named immunotherapy the breakthrough of year."