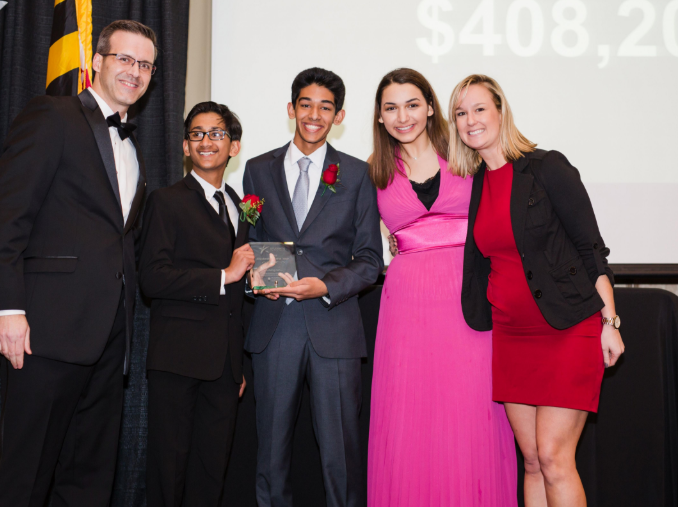 For the second year in a row, high school students across the country are redefining what it means to be philanthropic in today's youth culture. Through The Leukemia & Lymphoma Society's (LLS) newest innovation in fundraising, Students of the Year, more than 600 motivated high school students raised significant funds for LLS's cutting-edge cancer research and patient services.
Candidates for Students of the Year sign up for a fierce seven-week fundraising competition, for which they appeal to family and friends to raise critical funds, which LLS deploys to advance breakthrough treatments and to support the more than 1.3 million blood cancer patients in the U.S. The candidates/teams who raise the most money at the end of the competition earn the title Student(s) of the Year. Top local fundraisers become eligible to win the national title. The students raise money in honor of a local patient hero who is currently battling or is in remission from a blood cancer.
2018 Students of the Year
Cousins Samir Shah, 16, of The Calverton School in Huntingtown, MD, and Saar Shah, 15, of Great Mills High School in Lexington Park, MD, raised the most funds across the entire US and earned the winning title, "National Students of the Year," with a record-breaking raise for cancer cures. These fundraising superstars orchestrated a dynamic campaign that included an innovative kite festival, Fly4aCure, in their close-knit Southern Maryland community. "Flying a kite is a symbol of having high aspirations and elevated vision," said Saar Shah. "We believe in our hopes and aspirations to find a cure for all blood cancers."
The Shah family has been struck with blood cancers twice in the past few years. Their cousin, Ami, battled a deadly blood cancer, acute myeloid leukemia and she is now seven years cancer free. More recently, Samir's dad, Amish, was diagnosed with primary mediastinal b-cell lymphoma. He underwent chemotherapy and celebrates his incredible recovery. "We know firsthand how important cutting-edge research and treatments are in the fight against cancer," said Samir Shah. "We're honored to be named this year's Students of the Year, and we're grateful to have had this opportunity to support The Leukemia & Lymphoma Society, an organization that helped our family in our time of need."
"LLS is at the forefront of the fight to cure cancer and through our fundraising campaigns like Students of the Year, we are helping millions impacted by cancer," said Louis J. DeGennaro, Ph.D., LLS president and CEO. This program is proof that the youngest generation has the power to help us create a world without cancer."
To learn more about the Students of the Year program and how it might work for you or someone you know, visit: http://www.studentsoftheyear.org.