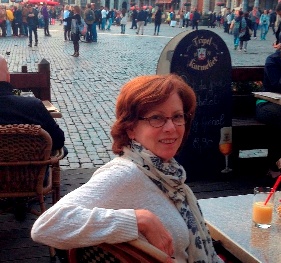 I find a lump in my groin. On the left side. It doesn't hurt or look red or feel warm. It is just there. One week, two weeks, a month. It doesn't go away.

I call for an appointment with my regular (and wonderful) internist, whom I've seen for years in a group practice I've used forever. She is on vacation, so I am seen by a covering internist I'd never seen before. "An ingrown hair, most likely. Use a fresh blade when you shave. Nothing to worry about. Next patient please."

Okay, good answer. Phew. I won't worry. Yet. 3 months later and it's somewhere between a golf ball and a tennis ball – unmistakably a lump that doesn't belong there. It still doesn't hurt, but I can see it protruding when I look down at my toes, and know that's not right. Time to worry.

Back to my regular internist who – unknown to me – had done her residency in oncology at Sloan Kettering. She takes one look and sends me to a surgeon to schedule a biopsy for the next week. Seven days to wait. Seven long days with the search term "lump in groin" leading to all sorts of dreadful online horror stories about painful infections – which this clearly is not. A whole week to imagine the worst, and try to hide it all from my husband and two young daughters (at that time ages 14 and 8). A week at work pretending it's just a "minor procedure."
I actually don't mind the sensation of anesthesia going under. It's the coming out that's unpleasant. Apart from having to re-embrace reality, I shake uncontrollably, and can hear my teeth chatter like a crazy wind up denture set. They're loud, but not loud enough to drown out the words of the surgeon who, displaying no bedside manner or sensitivity whatsoever says to me, "I didn't like what I found, but we'll have to wait for the biopsy results to see what it is."

My follow-up appointment to get the results is two very long days away. An eternity of worry. But this time I abstain from online searching, figuring I'll know soon enough. And I do. From the surgeon: it's cancer. He barely says the word aloud, but I feel the vibration shake my world and my vision is suddenly edged in black. He offers no other information and it's clear he doesn't want responsibility for this any longer than he absolutely has to own it. He says, "I don't really know what you should do, but I've talked to your internist, and she's waiting to see you right now." It's 5:30; her office is down the road, and I know she doesn't take appointments after 4 . Waiting this late to see me is such an act of empathy and kindness on her part, that when I numbly walk into her office I hug her before I can help myself. She hugs me back.

And ushers me into the world of being a cancer patient.

I now have slides, counts, a preliminary dx – small B-Cell non-Hodgkin lymphoma – and upcoming appointments with two highly recommended oncologists. Three weeks away. I will put myself in the hands of one or the other of them for this journey. But for right now, I'm back in the waiting place which, to quote Dr. Seuss, is a "most useless place."

This blog is the first in a series.
To read Blog #2: "Going to School on Cancer," click here.
To read Blog #3, "About Time," click here.