Today at the #ASH17 (American Society of Hematology) conference in Atlanta, researchers presented the latest compelling data from thousands of clinical trials, revealing how experimental therapies, or approved therapies being tested in new ways, have worked in treating blood cancer patients. Among the presentations were several hundred projects across a spectrum of diseases that benefited in some way from support from The Leukemia & Lymphoma Society (LLS). While some of the results were preliminary and warrant further study, some of the doctors even dared to utter the word "cure."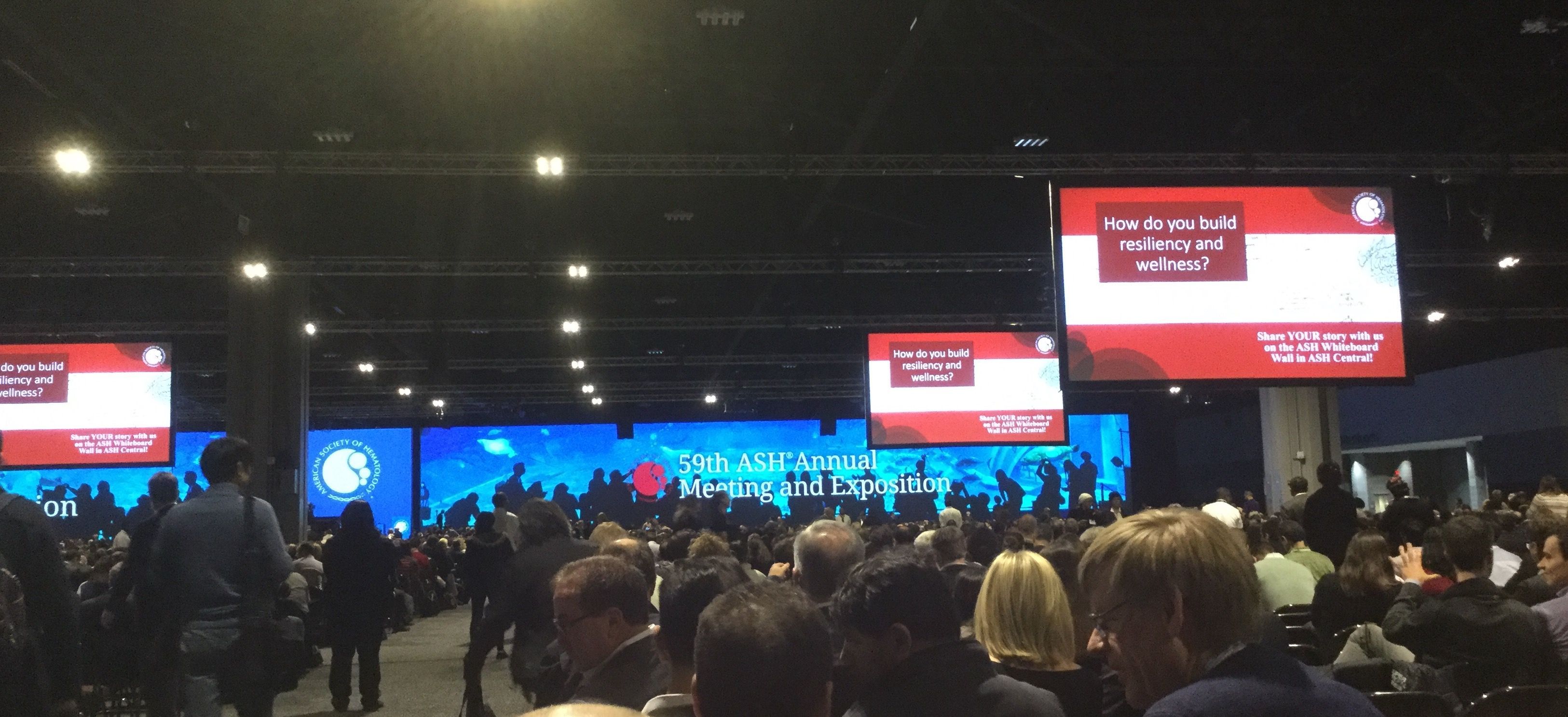 Treatments that leave no trace
During a morning press briefing, Peter Hillmen, MBChB, PhD, professor of experimental hematology at Leeds Institute of Cancer and Pathology in the UK, presented findings from a study that combined two drugs already approved individually to treat chronic lymphocytic leukemia (CLL), the most common type of leukemia in adults. Each of the drugs, ibrutinib and venetoclax, works by targeting a different cancer-causing genetic mutation. Since they each hit a different target, the idea is that together, they should complement each other and give the cancer a one-two punch. Hillmen said that after six months, 36 patients – or one-third of those in the study – had achieved a deep remission with no detectable disease.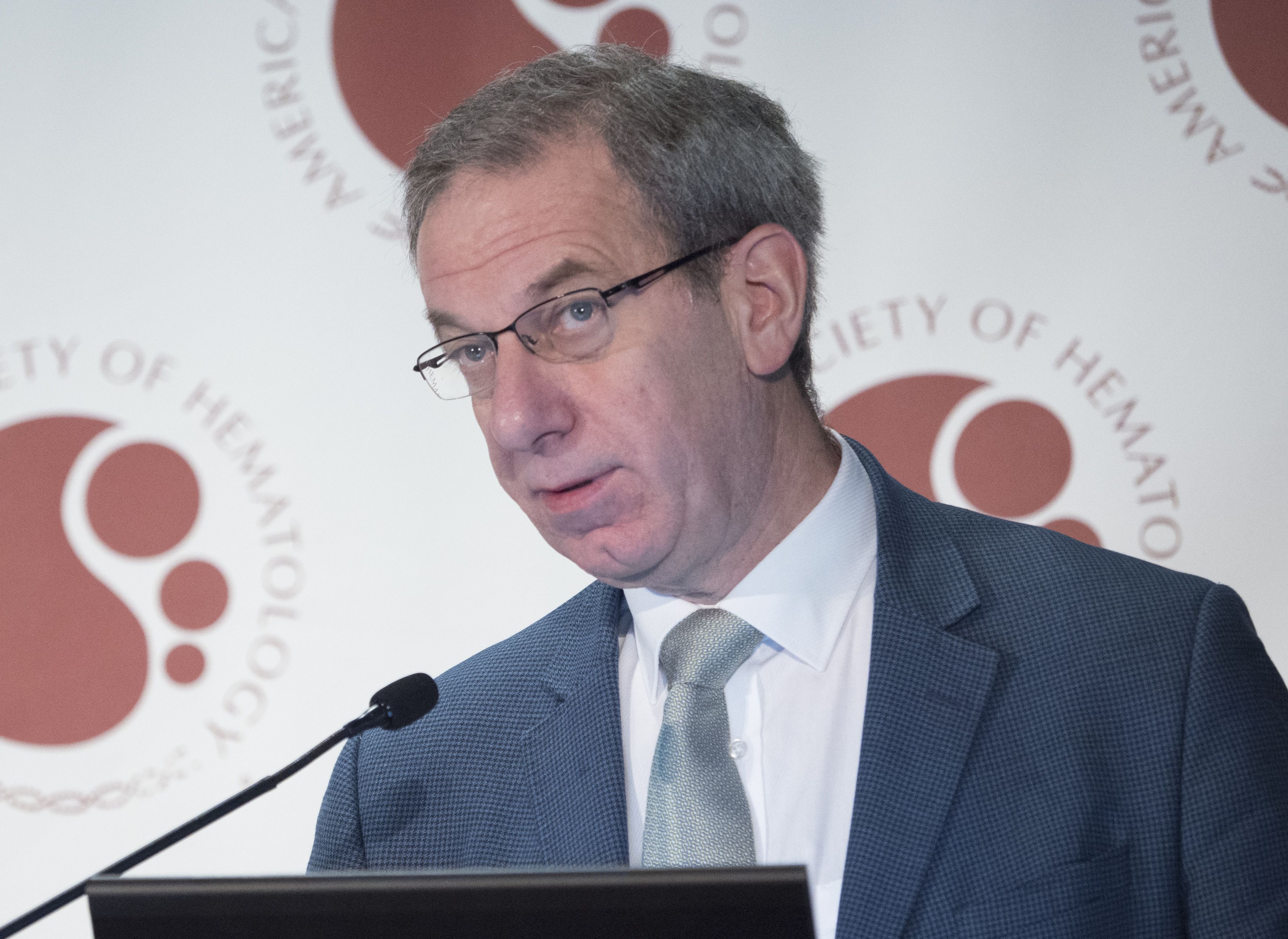 The few cancer cells still left behind after treatment are called minimal residual disease (MRD) and are frequently blamed for cancer relapse. Hillmen said that eradicating MRD, which was the primary goal of this trial, may mean that some of these patients are cured and will require no further treatment indefinitely. "The ability to reduce all traces of CLL is the first step toward curing a disease we haven't been able to cure in the past," Hillmen said.
Key Takeaway: The study is early and warrants further investigation; still, it's an initial promising look at removing all traces of disease. The next step in this research will be a larger and more advanced comparative study.
Unlocking the right combinations to find cures
Cancers are complicated – with multiple genetic abnormalities and cellular pathways that go awry, resulting in the proliferation of malignant cells. So, as with the aforementioned example, many of the thousands of abstracts being presented throughout this meeting are experimenting with different combinations of therapies in the quest to find the right cocktail for the right patient.
Consider ibrutinib and venetoclax; both are being tested with multiple other drugs. Venetoclax, already approved for a high-risk subset of CLL, is also showing promise in combination with chemotherapy for acute myeloid leukemia (AML) and multiple myeloma. This is important because novel ways to address myeloma and AML are critically needed. AML is a particularly devastating disease that progresses rapidly. While four new treatments for AML were approved this year, the need for effective treatments remains dire. Learn more about LLS's research commitment to AML and multiple myeloma here.
Another combination therapy success story involves a therapy for hairy cell leukemia (HCL), a rare type of chronic leukemia. Enrico Tiacci, MD, University of Perugia in Italy, and an LLS grant recipient, presented data from a study on a drug called vemurafenib. The drug was tested in combination with rituximab, a long-time approved antibody therapy. To date, the combination therapy appears to produce deep and durable responses in heavily pre-treated relapsed/refractory HCL patients. A complete response was achieved by all 25 evaluable patients. Vemurafenib works by targeting the BRAF mutation, which is found across multiple cancers in both the blood and in solid tumors. This mechanism is a prime example of precision medicine – targeting the mutation, not just the tumor location. Vemurafenib is FDA approved for a type of skin cancer, and recently received FDA approval for a rare blood disorder called Erdheim-Chester Disease. LLS supported the research leading to that approval.
Key Takeaway: By taking a precision medicine approach to combination therapies, researchers will be able to give the right treatments to the right patient at the right time.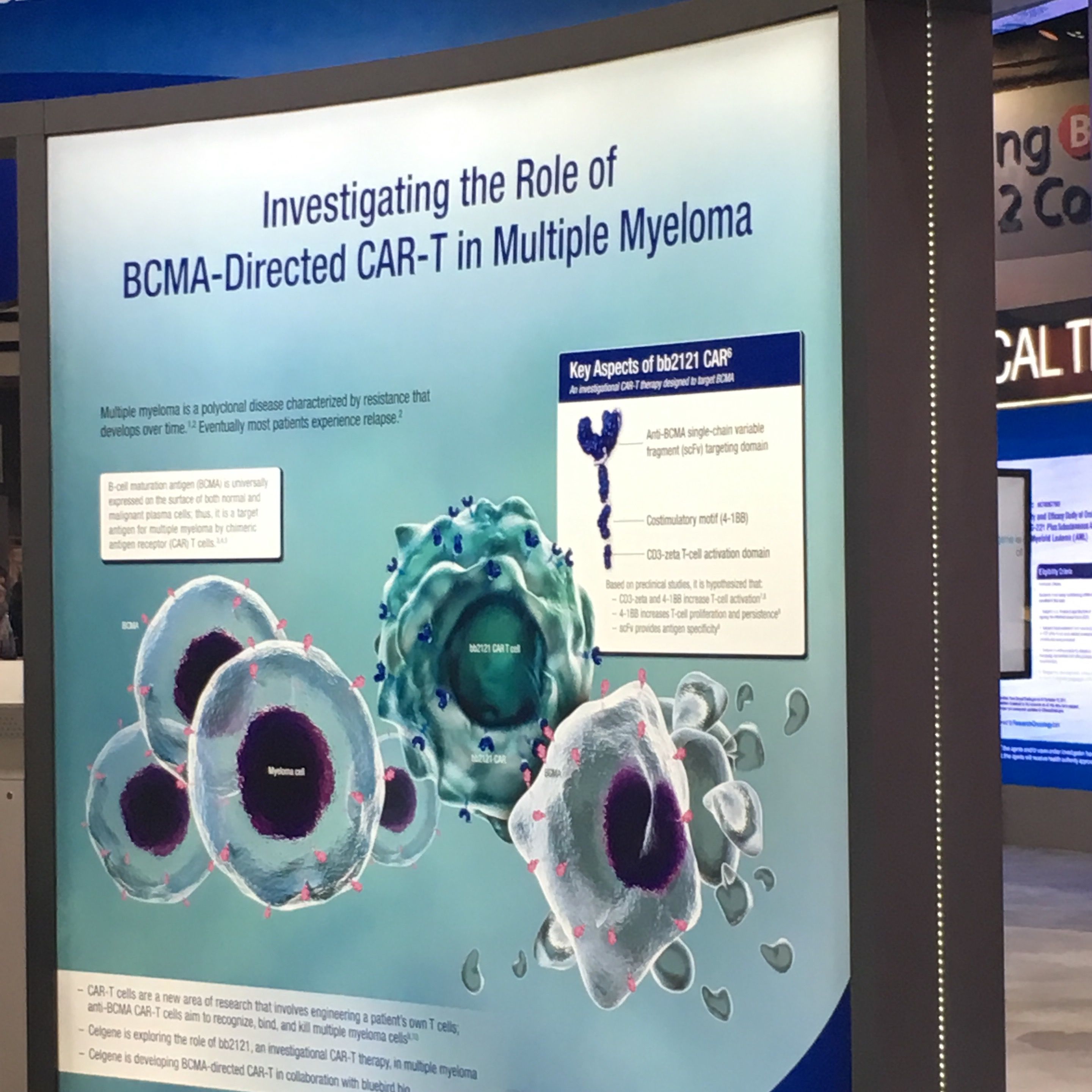 CAR-T continues to wow
CAR (chimeric antigen receptor) T-cell immunotherapy, the science-fiction like approach of reengineering the immune cells to find and kill cancer cells, continues to result in impressive outcomes for some patients who had failed multiple times on other treatments and had run out of options.
Two CAR T-cell therapies, both of which LLS provided significant funding for, recently achieved FDA approval: one for children and young adults with acute lymphoblastic leukemia (ALL) and the other for lymphoma. Data presented at this meeting shows that for many of the patients, the remissions continue to be durable.
Sattva Neelapu, MD, a researcher at MD Anderson Cancer Center, who led the Kite Pharma (now acquired by Gilead) CAR T-cell trial for relapsed and refractory lymphoma patients, presented an update on their data today. Learn more in today's New England Journal of Medicine. Additionally, Stephen Schuster, MD, a researcher from University of Pennsylvania, where the CAR T-cell therapy for relapsed and refractory children with ALL was developed with LLS support and then licensed by Novartis, today presented strong data on another study, which is applying the same CAR T-cell therapy for lymphoma. The FDA is currently reviewing this application, which, if approved, will pose some competition for the Kite/Gilead program. This study was also featured in NEJM. Competition in drug development is beneficial in that it ultimately helps spur innovation. Another company, Juno, has also presented strong data on its lymphoma CAR T-cell therapy at this meeting.
Key Takeaway: With CAR T-cell therapies increasingly validated as treatment options, we can expect to see more progress in this groundbreaking area of research.
Exploring CAR T-cell therapies for multiple myeloma
Most of the attention during the conference was directed to the new kid on the block – CAR T-cell therapies designed to treat multiple myeloma by targeting molecules found on the surface of myeloma cells called B-cell maturation antigen (BCMA). Multiple myeloma is a blood cancer that begins in the bone marrow and affects the plasma cells. While new treatments for myeloma have been approved in recent years, it remains incurable.
James N. Kochenderfer, MD, of the Center for Cancer Research at the National Cancer Institute in Bethesda, Maryland, presented data on behalf of Bluebird Bio. He said that of the 18 patients to receive the single dose in a Phase 1 trial, all but one responded to the treatment, a 94 percent response rate. After 40 weeks, 56 percent of the patients remained in remission. All of the patients in the trial had received multiple prior treatments (as many as seven) from which they had relapsed. One of the remarkable observations was that patients' response to the treatment actually grew stronger over time, with several patients improving from a partial response to a complete response, proof that this truly is a living drug.
LLS-funded researcher Eric Smith, MD, of Memorial Sloan Kettering Cancer Center, will present early data tomorrow from another BCMA-targeting CAR T-cell trial in multiple myeloma. His team is working on ways to make the CAR T-cell therapy less vulnerable to resistance so more patients can benefit.
Key Takeaway: CAR T-cell immunotherapies are showing and compelling early promise for multiple myeloma.
Hope for rare, difficult to treat diseases
Cutaneous T-cell lymphoma (CTCL) is a debilitating disease that causes unbearable itching, while also attacking the lymph nodes and other organs. Most patients are treated with chemotherapy, but the results are limited. Youn H. Kim, MD, of Stanford University, presented Phase 3 clinical results of a novel therapy called mogamulizumab that appears to be the first real breakthrough for this disease. The therapy performed far better than the standard chemotherapy, vorinostat, in the study.
Systemic mastocytosis is another rare, debilitating disease that causes a type of white blood cell called mast cells, to grow and spread uncontrollably. The response to an experimental pill called blu-285 was dramatic. The therapy targets a genetic mutation called KIT D816V that is found in more than 90 percent of cases of this disease. Of 18 patients treated, 72 percent had a response, and 100 percent had their disease under control.
Key Takeaway: Advancements in novel and targeted therapies are setting the stage for improved treatment options for rare diseases.
The big picture
With so many thousands of presentations, we are just scratching the surface here, but the big picture is that more than 25,000 scientists and pharmaceutical executives are here in Atlanta to share their progress, and to learn from their failures, all with an eye toward finding the next cure. The landscape of cancer research is rapidly changing with new therapies emerging every day and LLS is excited to be on the frontline and proud of the role it has played in this progress.