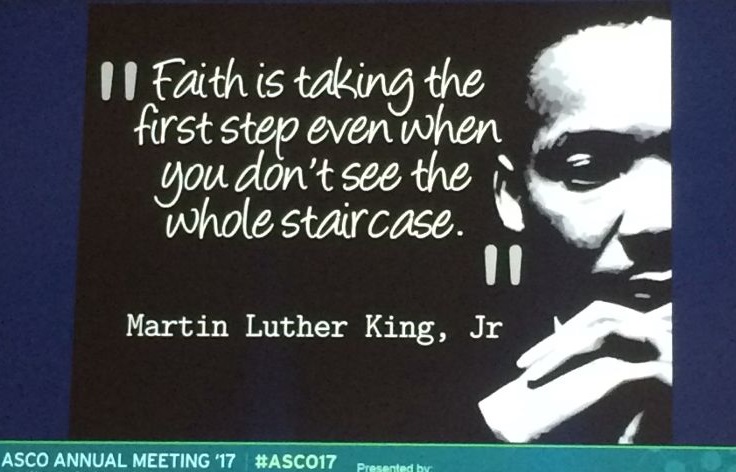 Not a day goes by without news reports about the financial toll of cancer care. It is also a theme running through the annual meeting of The American Society of Clinical Oncology (#ASCO17) in Chicago this week. In fact, 75 abstracts will be presented throughout the meeting on various aspects of financial toxicity.
An education session on Saturday featured several provocative presentations. Some raised questions about value frameworks, tools designed to help doctors and patients assess the value of a drug in relation to its cost, and whether such frameworks should be part of oncologists' standard clinical practice. There is consensus that giving doctors and patients tools to make informed decisions is a positive step. However, among the drawbacks is the inconsistency of the methodology across the different frameworks brought forth by various organizations, including ASCO, the National Comprehensive Cancer Network (NCCN), and others.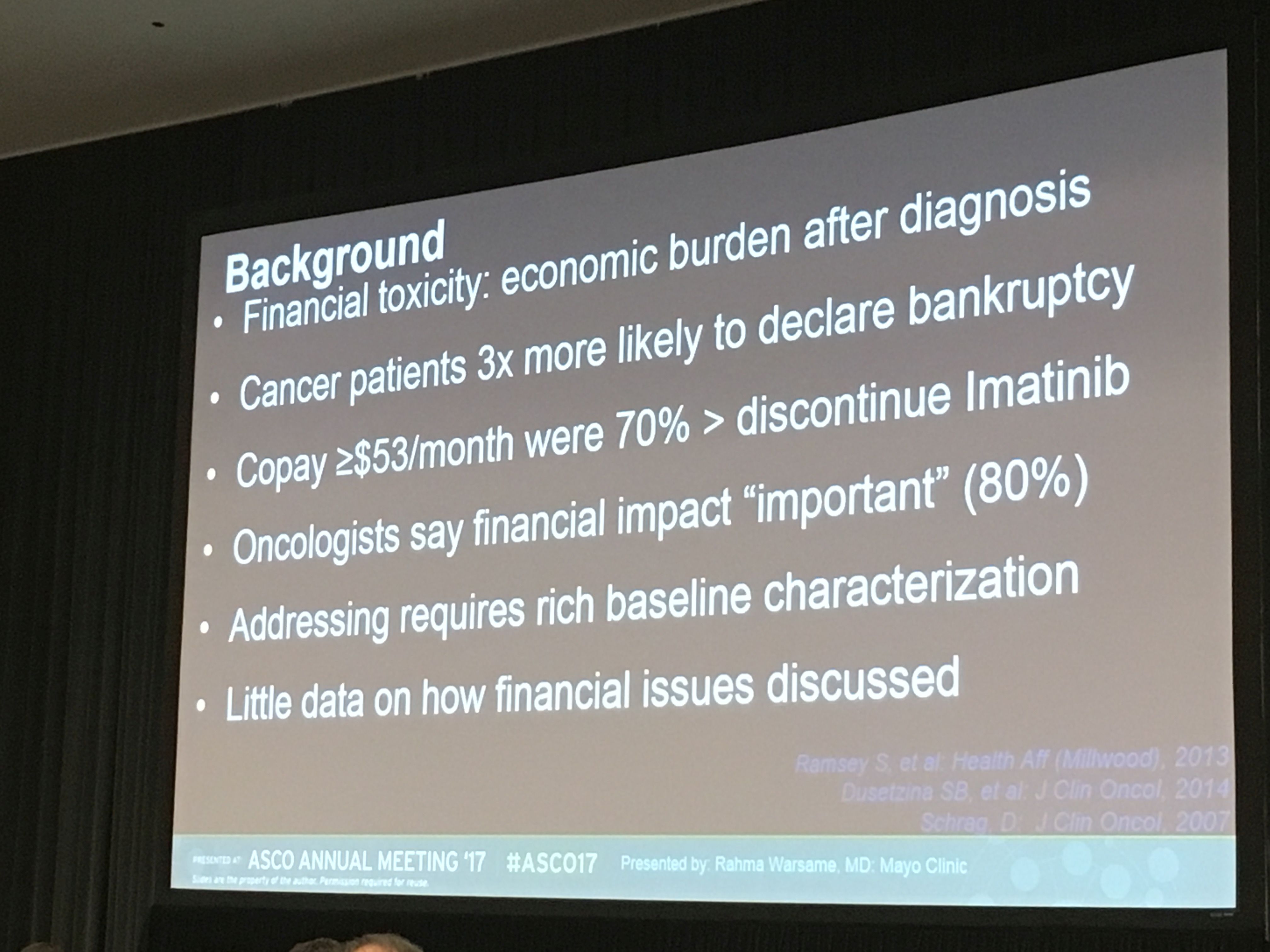 Another study looked at if and how costs are discussed between patients and their oncologist. The investigators recorded conversations between patients and their doctors and found that the clinician is often reluctant to discuss the topic and/or take any action to help relieve a patient's financial burden.
As a "patients first" organization, LLS is all too familiar with the struggles patients face to afford their care. In a new position statement, LLS called upon all stakeholders in the healthcare ecosystem – drug, diagnostic and device manufacturers, healthcare providers, hospitals, pharmacy benefit managers, patient organizations and federal and state regulators – to work together to put patients first. To do this, we need to enact reforms and adopt policies to reduce costs and financial distress for cancer patients, while increasing transparency across the whole system. Read LLS's statement here.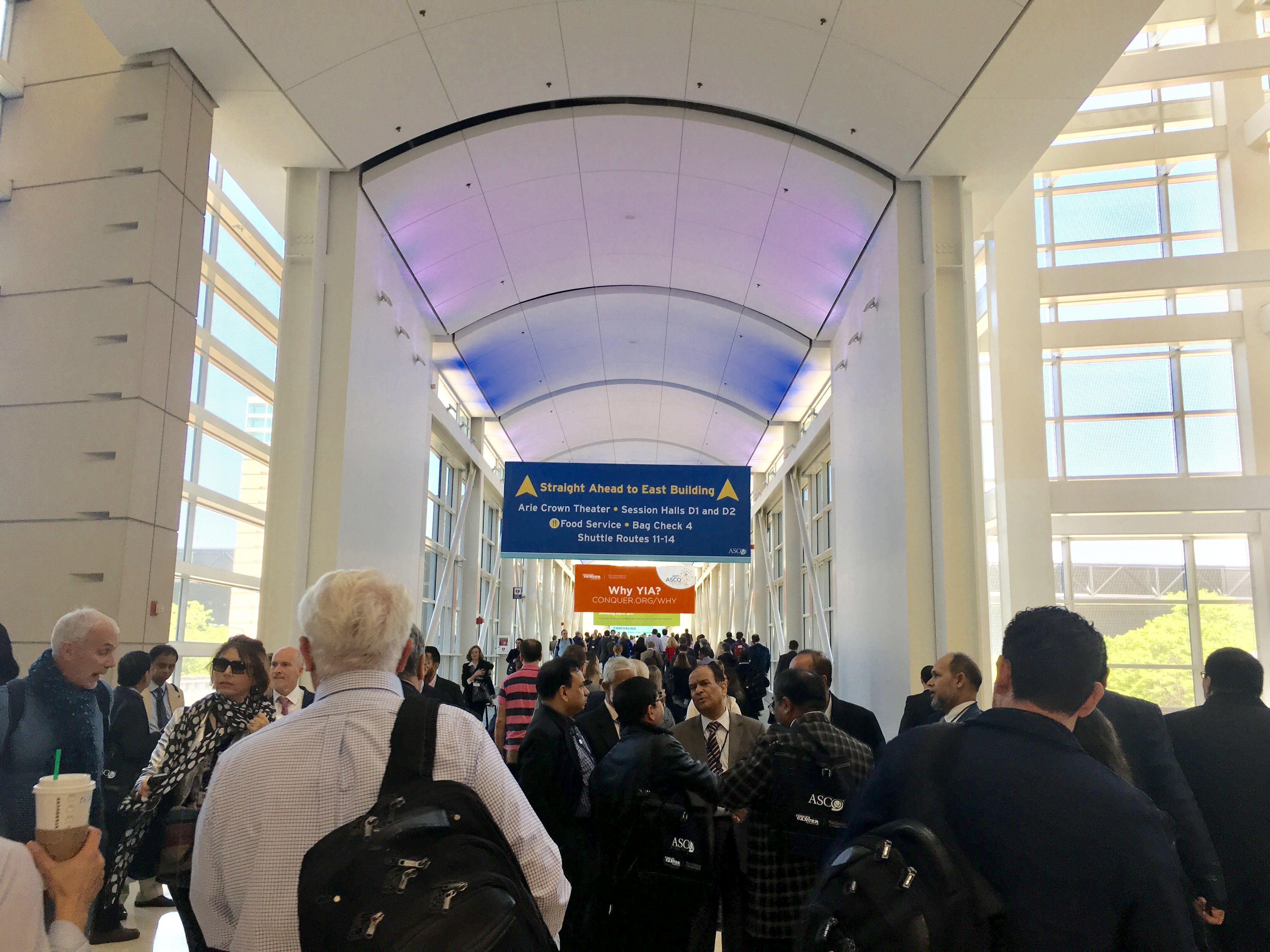 Some Important Findings in CLL and Myeloma
With so many new therapies approved or in the pipeline, researchers are turning their attention to optimizing these treatments to improve outcomes.
One study looked at the results of combining two therapies for chronic lymphocytic leukemia (CLL). Each targets a different protein on the surface of B-cells. The combination of an investigational therapy called ublitiximab (TG-1101), which is an antibody that targets the CD20 protein, with ibrutinib, which inhibits the BTK protein, showed promising results. The overall response rate for patients with a high-risk form of CLL was 78 percent versus 45 percent with just ibrutinib.
Another study for CLL patients combined CAR-T personalized cellular therapy with ibrutinib. Both are therapies advanced with LLS funding. The small study treated 10 patients, but the results were promising. After three months, eight patients had no evidence of the disease. More study of this combination of therapies is warranted.
Immunotherapy in all its forms – from removing the brakes on the immune system by knocking out the "checkpoint" proteins to reprogramming T-cells to find and kill cancer cells through CAR (chimeric antigen receptor) cellular therapy – continues to be one of the lead stories in cancer research. One of today's lead stories is in immunotherapy for myeloma. In an early clinical trial of 35 multiple myeloma patients, 94 percent achieved complete remission upon receiving CAR-T cells that target a protein called BCMA (B-cell maturation protein or BCMA).
​"While it's still early, these data are a strong sign that CAR T-cell therapy can send multiple myeloma into remission," said ASCO expert Michael S. Sabel, MD, FACS, in an ASCO news release. "It's rare to see such high response rates, especially for a hard-to-treat cancer. This serves as proof that immunotherapy and precision medicine research pays off. We hope that future research builds on this success in multiple myeloma and other cancers."
LLS is currently funding work in CAR-T cellular therapy for patients with ALL, CLL, lymphoma and myeloma.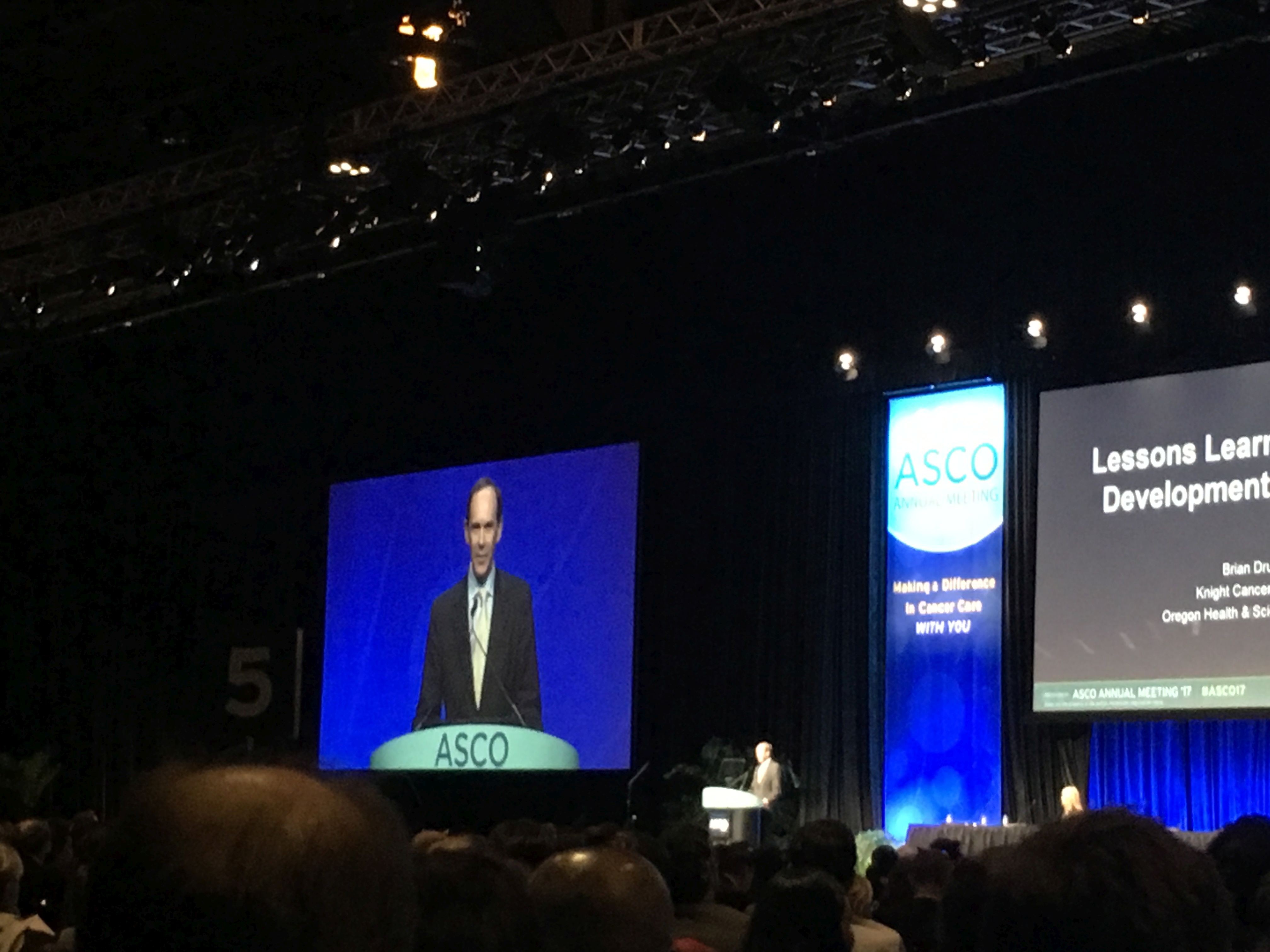 Sunday Plenary: Game-Changing Studies
The plenary session featured a selection of research abstracts considered "practice-changing" in the field of oncology.
The program opened with the presentation of the prestigious Science in Oncology award to Brian Druker, MD, director of OHSU Knight Cancer Institute in Portland. LLS and Druker have had a long and fruitful relationship. LLS first began supporting his work 1996, leading to his pioneering role in the development of imatinib (Gleevec®), a revolutionary treatment for CML. The therapy changed an almost-guaranteed death sentence to a chronic disease controllable with a pill a day. This work also introduced the concept of targeting a class of proteins called kinases in cancer treatment.
Druker is also a co-lead investigator of LLS's innovative Beat AML Master Trial (www.lls.org/beataml), a precision medicine clinical trial in acute myeloid leukemia (AML) aiming to change the treatment landscape for AML, like he accomplished for CML. In his session, Druker shared lessons learned in the advancement of imatinib, emphasizing that precise early detection through advanced genomic analysis was key to achieving the best outcomes for patients treated with kinase inhibitors.
A presentation during the plenary that sparked interest among the crowd showed that using a simple web-based tool to enable patients to report their worsening symptoms from chemotherapy treatment to their care team in real time resulted in lives saved.
The U.S. Food and Drug Administration (FDA) has been pushing the pharmaceutical industry to include patient reported outcomes as part of its drug development protocol to support labeling claims. Patients in the study reported their side effects from chemotherapy using an electronic tablet or computer and their nurses received an alert prompting them to take immediate action. Another group of patients reported their symptoms the usual way, during their periodic doctor visits. The study found that patients using the online tool had fewer emergency room visits, and were less prone to being incapacitated. Most startling, the patients who used the online tool lived a median of five months longer than the control group.
Laurie McGinley summarized this study nicely in this piece for The Washington Post.
While this presentation was for patients with metastatic solid tumor cancers, the concept is applicable across all cancers. With this in mind, LLS is currently using a patient reported outcome tool in our Beat AML Master Trial (www.lls.org/beataml).