The 59th ASH (American Society of Hematology) Annual Meeting & Exposition kicks off tomorrow here in Atlanta, drawing more than 25,000 researchers, physicians, biopharmaceutical company executives, patient advocates and industry experts from around the world to share the latest scientific clinical data in the blood cancers and other blood disorders.
As we do each year, LLS opened the #ASH2017 weekend by hosting our own scientific symposium today, one day before the official start of the meeting. Not even a messy morning of sleet, snow and slush that practically paralyzed this southern city kept the at-capacity crowd of 500 from attending the program, "Precision and Emerging Medicine for Hematological Diseases."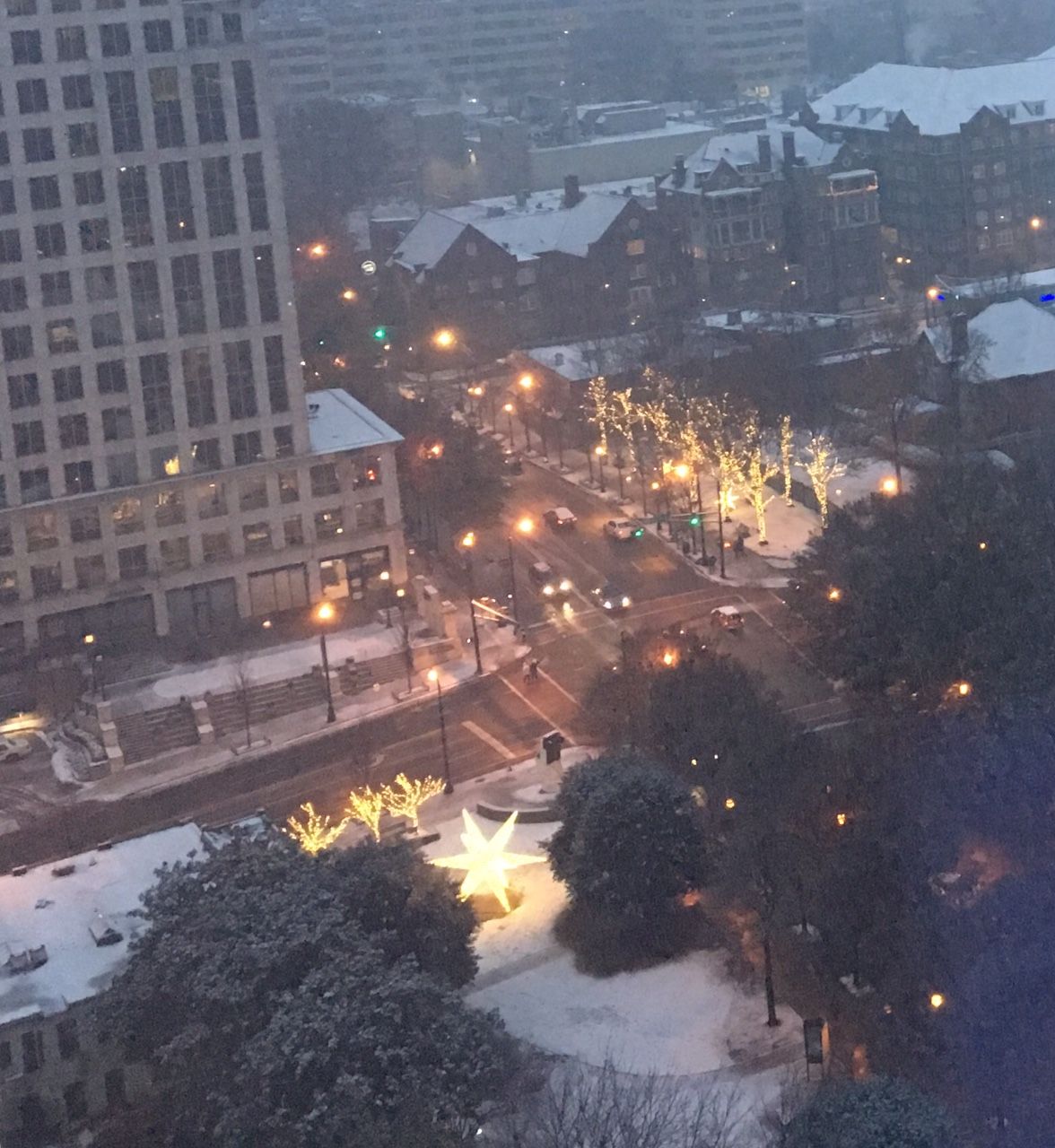 Advances in technology have contributed to a deeper understanding of the genetic underpinnings that cause cancer, leading to the investigation and development of new therapies to more precisely target patients' diseases. Some of the nation's leading cancer experts discussed these innovative developments as well as new therapies on the horizon at today's forum.
Honoring John Byrd
Before the panelists presented, LLS President and CEO Louis J. DeGennaro, PhD, presented John C. Byrd, MD, of the Ohio State University Comprehensive Cancer Center with LLS's prestigious Return of the Child Award. The Return of the Child Award honors Byrd for his dedication to blood cancer research and his leadership, both nationally and internationally, within the oncology and biomedical communities which had led to the development of new treatments for blood cancers and thereby improved survival rates. Dr. Byrd is currently a co-lead investigator for LLS's Beat AML® Master Clinical Trial, an innovative study designed to treat acute myeloid leukemia (AML) with a groundbreaking precision medicine approach. Most of Byrd's career has been focused on a different leukemia, chronic lymphocytic leukemia (CLL), and his research accomplishments over the past decade helped lead to the FDA approval of ibrutinib (Imbruvica®) for that disease. LLS funding significantly supported this critical work.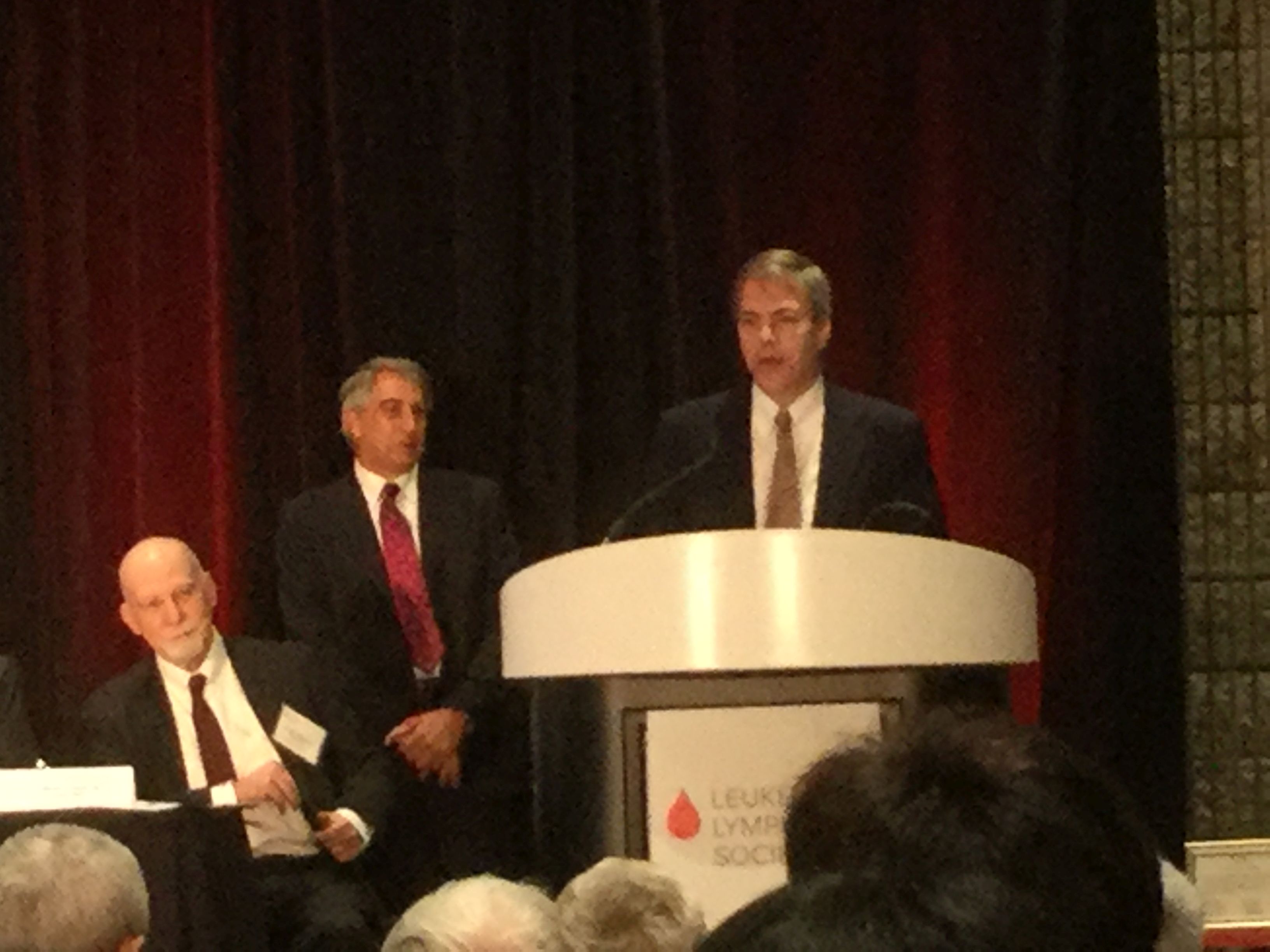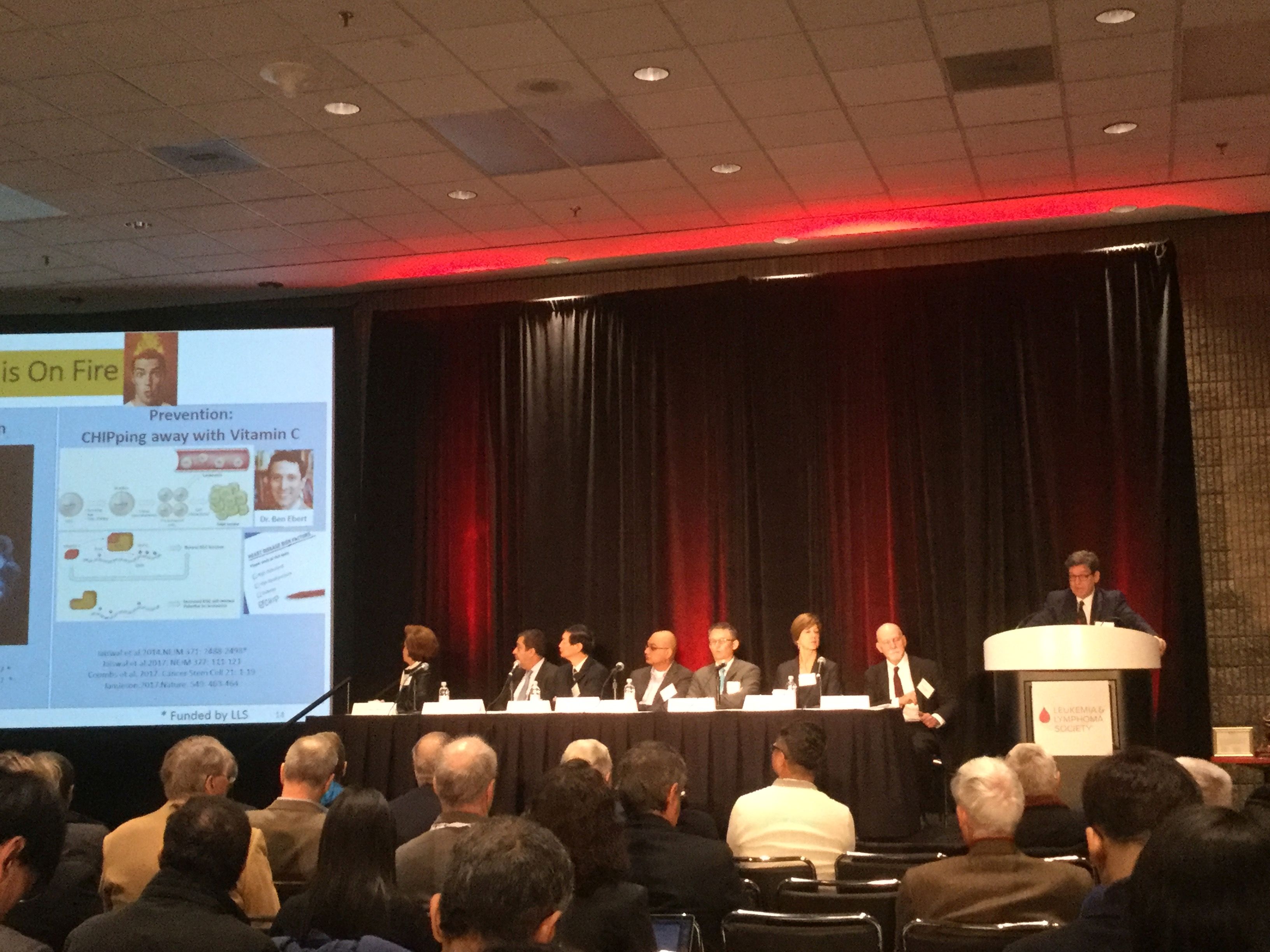 Making History in 2017: New Therapies Approved and Progress to Beat AML
Lee Greenberger, PhD, LLS Chief Scientific Officer, opened with an update on the Beat AML Master Clinical Trial, which has now been under way for a year and currently has more than 160 patients enrolled at seven centers around the country, with more planning to join soon. (Learn more here.) Greenberger detailed the dramatic progress made in blood cancer therapies over the past five years. In 2017 alone, we've seen 13 new therapies or new indications approved by the U.S. Food and Drug Administration (FDA) to treat patients with blood cancers, signaling a new era in cancer treatment as better treatments are delivered to patients, faster.
A Panel Discussion: Precision and Emerging Medicine
Steven Rosen, MD, FACP, FASCO, City of Hope Medical Center, and Chair of LLS's Medical and Scientific Affairs Committee, moderated a panel discussion that brought together six experts with diverse blood cancer focus areas. The panel shed light on how researchers across various specialty areas are using genetic information to better target cancers, including:
Finding Cures Through Data: The Value of Genetic Information
Karen Kaul, MD, PhD, of NorthShore University HealthSystem, discussed the state of technology known as "next generation sequencing," tools used to understand a person's genetic profile and identify which genes have mutations that cause cancer. Kaul said that with so much data available to us, now the challenge is to determine which is most useful.
Advancements in Myeloma and What's Next in Precision Medicine
Jonathan Keats, PhD, Translational Genomics Research Institute (TGen), discussed emerging targeted approaches to treating patients with myeloma. While we've seen an explosion of new therapies for myeloma over the past decade, it is still an incurable disease with many patients relapsing or failing to respond to treatment.
Keats said new technology is helping doctors understand how myeloma tumors evolve over time, and we are only now starting to understand the complexity of this cancer of the bone marrow. He said that a deeper understanding of molecular biomarkers will help identify which patients are more likely to respond to treatment and which are more prone to relapse, and ultimately enable doctors to individualize treatment.
LLS recently announced more than $46 million in new grants for all blood cancers, several of which are focused on understanding this area of study in myeloma. Keats said that venetoclax, a therapy that targets the BCL2 protein and was approved in 2016 for a high-risk subset of CLL, is looking to be a promising biomarker-linked therapy for myeloma. The therapy is also garnering excitement as a potential treatment for AML. LLS has played a significant role in supporting research of this therapy.
One of the most exciting biomarkers receiving attention in myeloma is called B-cell maturation antigen – or BCMA. We will be hearing much more this weekend about immunotherapeutic approaches to targeting this protein commonly found on the surface of myeloma cells. Multiple institutions and biopharmaceutical companies are testing different immunotherapies to target BCMA – both CAR T-cell immunotherapy and bispecific antibodies, which use different technologies to direct the body's immune T-cells to find and kill the cancer cells.
Working to Understand the Genetic Mutation Landscape of Lymphoma
Wing C. (John) Chan, MD, City of Hope Medical Center, addressed the challenge of profiling the genetic mutation landscape of T-cell lymphoma, a disease with very limited treatment options and a very poor prognosis. He said it has been difficult to find mutations that can be targeted with precision therapies in this disease, though a few are now emerging that might prove promising. "The information is spotty," he said.
Sandeep Dave, MD, MS, Duke Cancer Institute, who has received multiple LLS grants, discussed studies examining the connection between different mutations and patient outcomes in diffuse large b-cell lymphoma (DLBCL).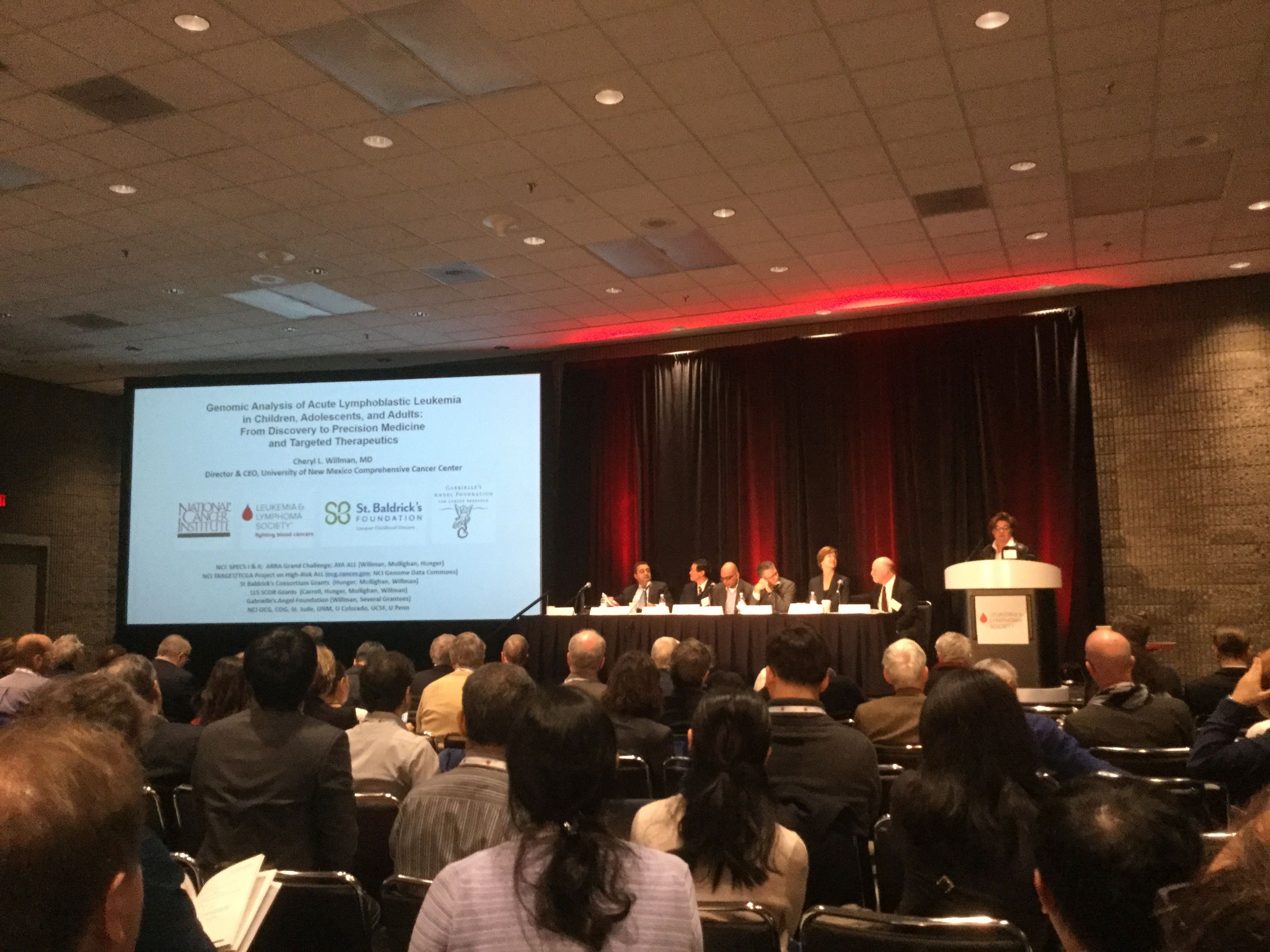 Disparities in ALL Survival Rates and Need for New Approaches
Cheryl L. Willman, MD, University of New Mexico Comprehensive Cancer Center, has been a long-time recipient of LLS support. Willman is focused on acute lymphoblastic leukemia (ALL), from infants and pediatrics to adolescents and adults.
Willman discussed how ALL should not be viewed as one "homogenous" disease, but rather as a disease that varies widely between age groups and ethnic groups. She said that high-risk subtypes would benefit from more precise diagnostics and a precision medicine approach.
While more than 80 percent of children experience long-term remission in ALL with standard therapy, she noted that Hispanic, Native American and other ethnic groups do not experience these survival rates and new therapeutic approaches are critically needed.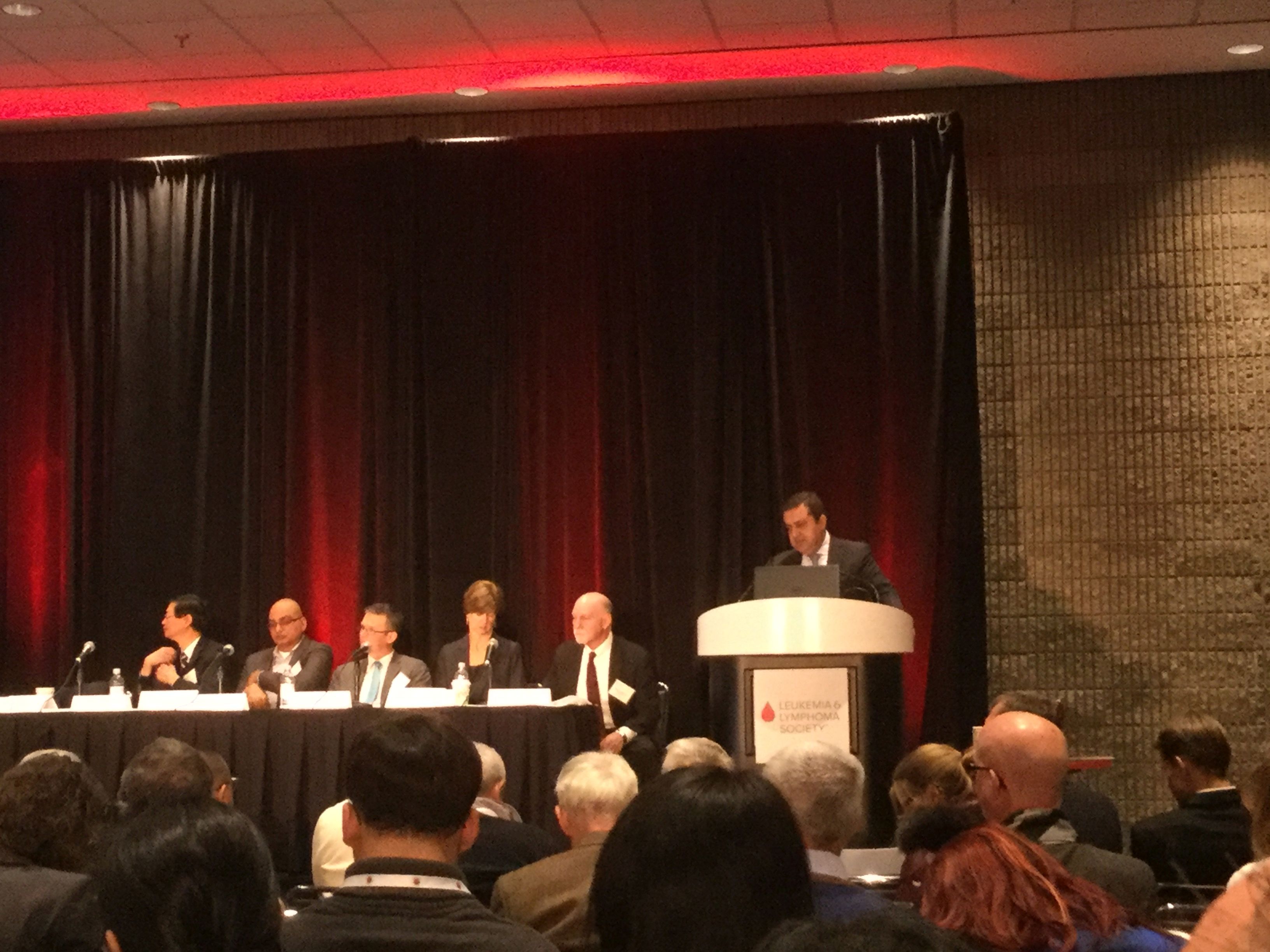 Emerging Targeted Therapies for Lymphoma
Anas Younes, MD, Memorial Sloan Kettering Cancer Center, leads a major multidisciplinary team of LLS-funded researchers, who are investigating immunotherapies for lymphoma. Younes closed the panel with a focus on emerging targeted therapies for this cancer that arises when white blood cells, called lymphocytes, become malignant and grow uncontrollably.
Younes addressed the difficulty of determining which targeted therapies are promising enough to pursue in the challenging environment of drug development. For example, he pointed out that it has been difficult to get response rates higher than 20-30 percent for DLBCL patients treated with targeted therapies. He highlighted that this is why a CAR T-cell immunotherapy so readily won FDA approval in October. The therapy, developed by Kite Pharma, with significant LLS support, saw an 80 percent response rate and about a 50 percent complete response in a Phase 1 trial that helped lead to its FDA approval.
Stay tuned for more to come…
Key themes that we will hear more about during the next few days are data about CAR T-cell immunotherapy and other promising immunotherapies; updates on targeted therapies such as ibrutinib, acalabrutinib, venetoclax and daratumumab. We will also hear about a therapy called mogalizumab, an antibody drug approved in Japan but not yet in the U.S., which is gaining attention as a therapy for T-cell lymphoma.
And combinations! With so many new therapies in the blood cancer arsenal, scientists believe the next wave in improving outcomes for patients will come with optimizing combinations – how to deploy just the right cocktail of the newer targeted drugs and immunotherapies with each other and with older chemotherapy regimens.
Check this blog for more news updates from #ASH17!