What is the Beat AML® Master Trial?
The Leukemia & Lymphoma Society (LLS) is leading the Beat AML Master Trial, a groundbreaking collaborative clinical trial testing several novel targeted therapies for patients with acute myeloid leukemia (AML). This clinical trial, which is led and managed by LLS, is taking place at multiple academic research institutions throughout the United States.
---
If I want to join this trial, how do I find a participating center?
There are multiple clinical sites across the United States enrolling patients. To find out how to join a trial, contact an LLS Information Specialist:
1-800-955-4572
Live Chat
Email
---
Am I a candidate for the Beat AML Master Trial?
To participate in this study, a patient must be newly diagnosed with AML and be 60 years of age or older.
Why is this study being done?
There have been few advances in treatments for patients with AML in 40 years. LLS is undertaking this unique collaborative approach to develop better individualized treatments for patients diagnosed with AML. This will be done by completing genomic screening of each patient before treatment and assigning a specific drug to that untreated patient based on the results of the screening.
What will happen if I join this study?
If you are eligible to enroll, the first step is to provide consent for genomic screening. A bone marrow biopsy will then be taken and quickly sent for genomic screening. The screening takes up to seven days.
---
How will you decide which treatment arm I would be placed in?
The results of the genomic screening will allow the patient's doctors to assign the patient to one of the several treatment arms in the trial based on the genetic profile of their cancer.
---
What if I do not have a genetic mutation that is covered by one of the drugs currently part of the study?
Every patient who enters the trial will receive an option for treatment. If a patient does not have a genetic marker that would place him or her onto a specific arm of the trial, the study will offer therapy with an investigational AML agent that has shown broad activity against AML.
---
How long does the study last?
Patients in the trial will participate in three phases. The first phase includes the seven-day genomic screening. The second phase is the treatment, which will vary depending on which arm the patient is placed in. The third phase includes a follow-up period of 28 days or longer after treatment is over. The total duration may last from one to two years.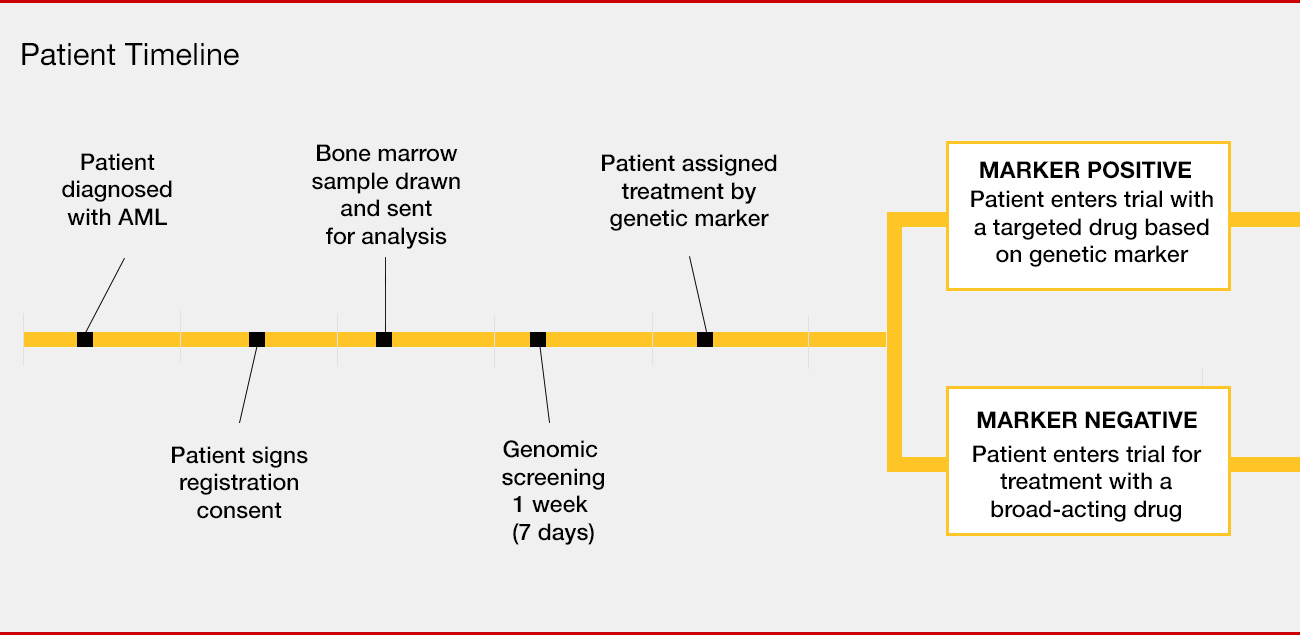 How is the Beat AML Master Trial different from other AML trials?
This trial is designed to speed up the process of finding better treatments for AML. A typical clinical trial only studies one drug or one combination of drugs. This trial is testing several different treatments in individual study arms, with the patient directed to a therapy based on their particular genetic mutations. In doing so, the trial is designed to understand multiple drugs and their effectiveness in treating patients diagnosed with AML.
Further, this trial is only open to newly diagnosed, untreated patients. Most AML clinical trials are for relapsed or refractory patients.
This Master Trial has the potential to stand as a model for future cancer clinical trials.
---
What is genomic (genetic) screening?
Genomic screening uses a lab test to look at the patient's genes, which are the DNA instructions inherited from your mother and father. For this trial, genomic screening will help identify genetic changes that are responsible for the diagnosis of AML.
---
Where can I learn more about Beat AML Master Trial?
For more information, please speak to an Information Specialist:
1-800-955-4572
Live Chat
Email