The Leukemia & Lymphoma Society (LLS) is leading the Beat AML® Master Trial, a groundbreaking collaborative clinical trial testing several novel targeted therapies for patients with acute myeloid leukemia (AML).
How can my institution participate in the Beat AML Master Trial?
The Leukemia & Lymphoma Society (LLS) is seeking clinical sites to participate in The Beat AML Master Trial to treat patients using a personalized medicine approach.
If your institution is interested, please read the application information:
download form
How can I refer or enroll a patient to this trial?
To learn how to refer or enroll a patient, please call an Information Specialist:
1-800-955-4572
Live Chat
Email
What are the objectives of the Beat AML Master Trial?
There have been few advances in the treatment of AML patients for more than 40 years. This trial is designed to facilitate FDA approval of new drugs and change the treatment paradigm for patients diagnosed with AML by developing more individualized, effective treatment approaches. The trial is setting out to prove that The primary question the trial seeks to address is: Can a personalized therapy based upon genomics be assigned to an AML patient within a seven day period in a safe manner?
---
What is the trial protocol?
Newly diagnosed AML patients age 60 years and older are eligible to participate in the study. Each patient who consents will receive a genomic screening upon diagnosis. A sample from a bone marrow biopsy will be sent for a rapid analysis by a genomic provider. This takes up to seven days.
Based on the results, the patient will be assigned to receive personalized therapy on one of several sub-studies to the protocol, each with its own consent form and with arm-specific clinical/correlative endpoints, but all sharing the goal of improving outcomes in patients. There are several arms, each based on the most prominent subsets of AML, and each testing one of the investigational therapies. There may eventually be trials testing novel combinations. Patient participation in the study will consist of three phases: a seven-day screening period, a treatment period on a sub-study and a follow-up period of 28 days or longer after discontinuing assigned protocol treatment.
Who is conducting the Beat AML Master Trial?
LLS is leading the trial, and has convened an unprecedented collaboration of renowned academic researchers, pharmaceutical companies, a genomic provider, and a clinical research organization.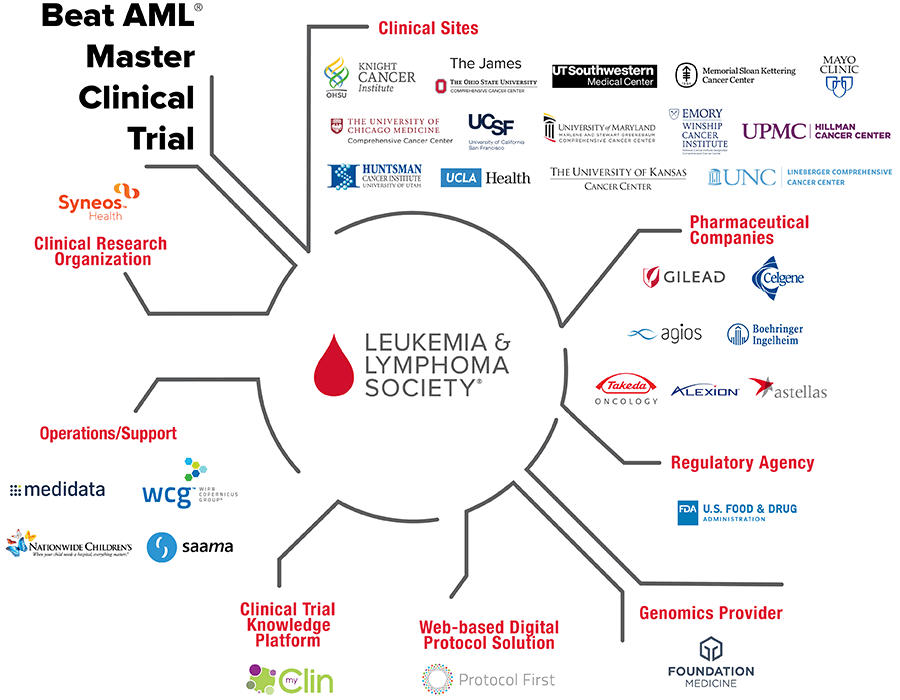 ---
Trial access and participation
Clinical trials are an essential step in the development and approval of a new drug, but only five percent of patients in the United States participate in cancer clinical trials. A major component of the Beat AML Master Trial is its education and awareness effort to reach health care practitioners, patients and their caregivers.
---
A model for future trials
LLS is sponsoring the trial and holds the Investigational New Drug (IND) for all of the agents. The trial will be centralized via a clinical research organization and a single genomic provider. The protocol is designed to facilitate a collaborative, fast-acting clinical trial consortium that represents an attractive venue for testing new agents moving forward. This master trial has the potential to stand as a model for all future cancer clinical trials.
---
How many patients will take part in this trial?
LLS plans to enroll up to 500 patients in this trial.
---
Where can I learn more about Beat AML Master Trial?
For more information, please speak to an Information Specialist:
1-800-955-4572
Live Chat
Email