Create Your Account Now
To join the Registry, you will need to set up your medical record sharing account within the LLS Community. The steps are are outlined below and will only take a few minutes to complete. The record sharing will be automated and you will not need to enter the data yourself. You may also find these FAQs helpful.


Step 1
Log in to your LLS Community account (www.LLS.org/community).
If you do not have an LLS Community account, please create one. This will only take a minute. You will not be able to join the Registry without an LLS Community account.
Step 2
Toward the top of the homepage, you will see this LLS Research Registry box. Click on "Click here to set up sharing your medical record."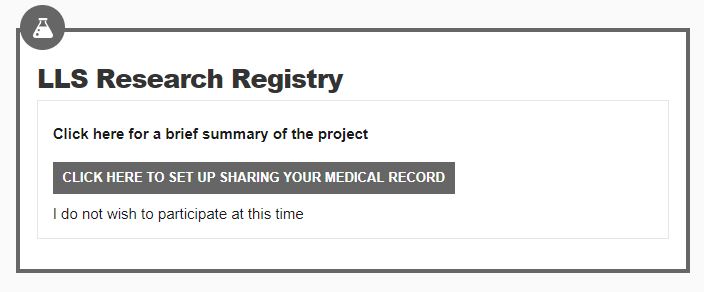 NOTE: If you do not see this box, you may not have provided your diagnosis on your LLS Community profile. To update this, click on the gear in the top right-hand corner of LLS Community and click on "Edit Profile."


Step 3
Review the Informed Consent Document. You will be required to accept by clicking the two check boxes, entering your LLS Community password, and clicking on "I agree."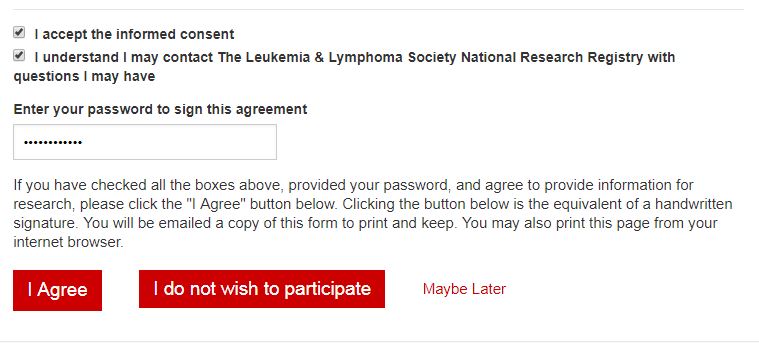 NOTE: If you do not complete these three consent items, you will receive an error message.
Step 4
Click on the red "Sign In" button

And then click the white "Open" button

Step 5
Type the name of your provider/medical facility in the search box to find and select your portal.

Step 6
For your chosen provider, enter your current portal user name and password, and then click on "Get My Records." (See example for Stanford University, below.)
Please know that the LLS National Patient Registry is committed to safeguarding your personal content and employs a variety of measures that are designed to help protect your personal content from unauthorized access and disclosure.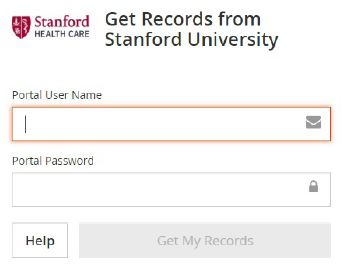 NOTE: If you want to confirm your user ID and password, click on the "Help" button to open the homepage of that portal. There, you can confirm your credentials by directly logging into that portal.
Step 7
After your portal connection has been entered, you will be brought to the My Patient Portals screen. Press the yellow "Retrieve Patient Portal Records" button to add additional portals. Please add all of your portals.

Step 8
When you have completed your entries, you can log out by clicking on your User Name in the upper right corner of the page and click on "Logout." After logging out, please close your browser.
To add new portals after you've logged out:
Sign into LLS Community (www.LLS.org/community).
Click on the gear icon in the upper right-hand corner.
Click on "Edit Profile" from the drop down list.
Click on the LLS Research Registry tab.
---
Other Resources