Burlington Stores and The Leukemia & Lymphoma Society (LLS) surprised Mateo Rubio – a three-year-old boy with acute lymphoblastic leukemia (ALL), and his mother, Ana Torres – each with a gift card to Burlington, to help bring light to the darkness of cancer and to help purchase new belongings following the destruction of their home in Hurricane Harvey.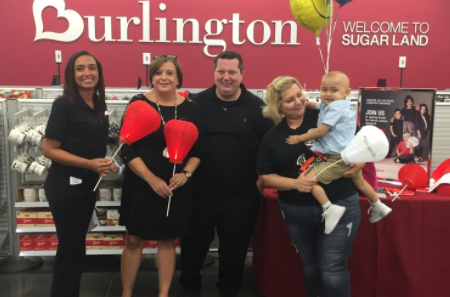 The generous gesture was part of LLS's Random Acts of Light campaign, which generates awareness for the LLS flagship Light The Night fundraising effort, and the urgent need to raise funds for cancer cures. Burlington is honored to support LLS's efforts for the 16th consecutive year – teaming up to raise much needed funds at all Burlington store locations nationwide, for life-saving research and treatments.
Mateo's mother bought their first home in Houston in December 2016. Shortly thereafter, Mateo was diagnosed with ALL in January 2017 – and in August, Hurricane Harvey destroyed their home and they lost everything, as they lived in one of the hardest hit areas of the city. Mateo's car seat was ruined during the storm, but Ana was able to get a brand-new one at Burlington.
"We lost pretty much everything in the hurricane, you name it we lost it," said Ana. "This amazing surprise from Burlington and The Leukemia & Lymphoma Society shined some joy back into our lives, and we are so thankful."
While Mateo is being treated at the University of Texas MD Anderson Cancer Center, Ana is living with Mateo's grandparents – and working to coordinate his hospital visits with her work schedule and no vehicle. Everything they owned will need to be replaced while caring for Mateo during his treatment.
Random Acts of Light brings light to the darkness of cancer by surprising blood cancer patients and survivors with unique and thoughtful moments, including some with favorite athletes and celebrities.
Customers shopping at any Burlington Store now through December 9th can donate at checkout to benefit LLS, helping to find cures for blood cancers. For more information visit BurlingtonStores.com or LLS.org.