Everyone is required to have health insurance under the Affordable Care Act. However, you can't just go out and buy it any time you want. There's a limited open enrollment period during which you can sign up for a new plan or change your current plan.
The only exception to that is if you experience certain life-changing events, such as divorce, pregnancy, the loss of employer-provided coverage, or a qualified hardship.
The open enrollment period for 2017 coverage is November 1, 2016 to January 31, 2017.
If you choose to go without coverage, you may be subject to a fine, which will be 2.5 percent of your income or $695 per adult, whichever is more. The penalty for children can be up to $347.50 each.
For information on enrollment, go to www.healthcare.gov.
Compare Plans
You will want to comparison shop for your health insurance coverage, which is divided into four tiers: platinum, gold, silver and bronze. The lower-level tiers, including silver and bronze coverage, have lower premiums, but they also have higher out-of-pocket costs for consumers. To put these options in perspective, employer-provided insurance plans often have cost-sharing and out-of-pocket costs similar to gold and platinum marketplace plans.

Consider Out-of-Pocket Costs
Patients should be sure and look at all the out-of-pocket costs associated with the plans at the lower metal tiers. They will likely include high deductibles, sometimes as much as $5,000 or $6,000 at the bronze level. Carriers differ regarding whether or not medications are subject to the deductible, which is another key feature to ask about.

If you rely heavily on products that are a part of the pharmacy benefit, also look for whether these plans have co-insurance, which requires you to pay a percentage of the cost of the drug or service and can add up to hundreds or thousands of dollars per month. As a cancer patient, or any patient with high cost medical needs, this quickly becomes unaffordable.
Below is a look at a handful of states and how plans in those states priced specialty drugs for patients in a bronze plan as well as in a silver plan using 2014 information. The chart highlights the risks associated with bronze coverage. In every state here except New York, high patient co-insurances are prevalent in the bronze category.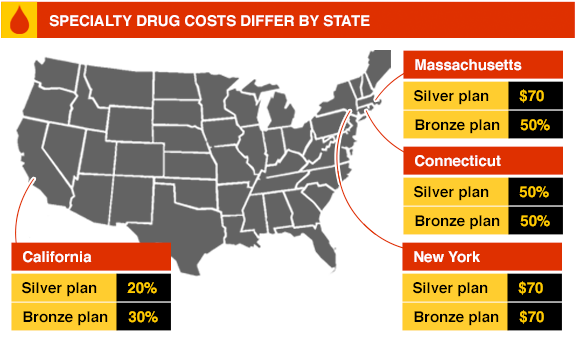 A maximum out-of-pocket cap applies to the marketplaces. In 2015, the cap is $6,600 for individual coverage and $13,200 for family coverage. While this does offer some basic protections against catastrophic debt, it also is limited to in-network services as well as pharmacy products that are on formulary, making it even more important that you know exactly what is covered by your plan.
LLS Wants Your Feedback
LLS is committed to removing access barriers for blood cancer patients. If you purchase a marketplace plan and later experience high treatment costs, a lack of access to your provider or hospital, or a delay in getting timely care, please share your story with us at missioncommunications@lls.org. If you have a positive experience, we would like to hear that too. Making your voice heard can really make a difference!
If you have questions or want more information, please contact LLS's Information Resource Center (IRC) at 1-800-955-4572, Monday to Friday, 9 a.m. to 9 p.m. ET.
Milliman Reports
Addressing High Out-of-Pocket Costs
LLS commissioned a 2015 study to examine what the impact would be if dollar caps were imposed on out-of-pocket costs in the prescription drug benefit for plans in the health exchanges. The results showed that setting caps on out-of-pocket costs would help patients while requiring few if any changes to other benefit features. Read more.
Analyzing Healthcare Exchanges
As part of the effort to help educate patients about the Affordable Care Act, LLS commissioned a report that analyzed 2014 individual designs, coverage benefits and premiums for policies sold on seven state health insurance exchanges – California, New York, Florida, Texas, New Jersey, Michigan and Washington. Narrow networks and high cost-sharing were among the concerns raised by the report. View the full report.
a glossary of healthcare insurance terms
helpful links