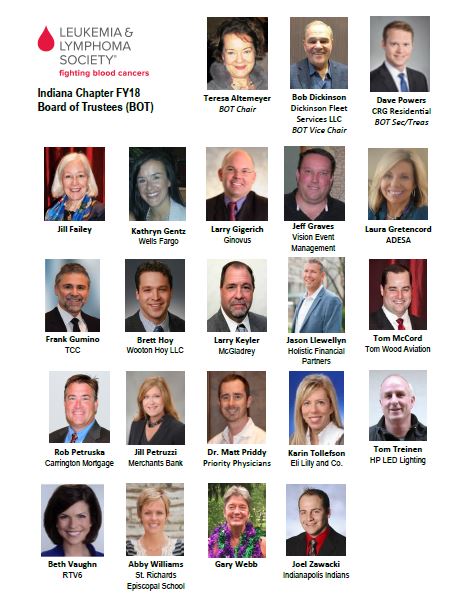 Board Chair Report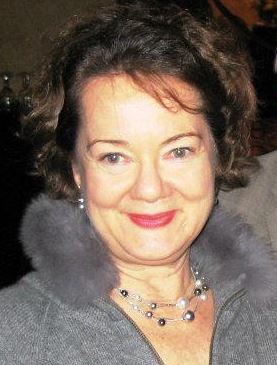 As we move into the 2018 calendar year, the Indiana Chapter has much to look forward to!
The year holds great promise and among the many opportunities we are looking forward to are:
- Continuing to follow up on the successes that have come about as a result of the November visit to Indiana of LLS President and CEO, Dr. Lou DeGennaro, for the first time.
- The very special opportunity this May to celebrate the 10th Anniversary of Man & Woman of the Year campaign in Indiana. Be aware, we are still seeking candidates for this special experience during this unique anniversary year - we would value your participation! You can call Elissa Evernham at 317.860.3845 to add your name to the list today!
- The exciting and ever growing Indiana Students of the Year Campaign.
- Our increasing presence for providing our Patient Services and expanding relationships within many of the major hospital systems in Indiana.
- The "reinventing" of Team In Training within LLS and the expanding opportunities for all to be a part of the endurance charity revolution that LLS invented in America 30 years ago.
- The continuing roll out of new volunteer and direct involvement activities available to support our Patient Services offerings.
Take a moment to look over this list. It represents just of few of the many ways you can become more involved and be a part of the "giving back" culture that makes LLS the dynamic change agent it is in the world of blood cancers. Give our office a call, or call me direct at 317.313.1910. Tell us what is on your mind and what you would like to do - we will get you to the right person and give you the chance to make a real difference. Making a difference is what we do!
Teresa Altemeyer
Board Chair
The Leukemia & Lymphoma Society Indiana Chapter