Sponsors
The following companies and organizations are generous sponsors of The Leukemia & Lymphoma Society's (LLS's) Greater Bay Area Chapter. We appreciate their dedication to our goal of helping blood cancer patients living better, longer lives.
If your company or organization would like to support the work of LLS, please contact your local office.
Bay Area Partners
Kix'ies Thigh Highs
A portion of every purchase supports LLS in honor of Founder Samantha DeMartini's father. Learn more at http://kixies.com.
---
LLS Shop & Give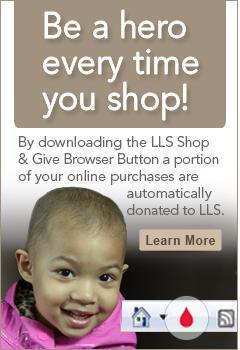 The LLS Shop & Give browser button turns your online shopping purchases into automatic contributions to LLS. Best of all, there?s no extra cost to you. Shop like you normally do, and you?ll see your purchase turn into a contribution to LLS. When you Shop & Give, everybody wins!
All you have to do is download the LLS Shop & Give browser button to your computer (no need to share your personal information). You will see a red blood drop icon in your browser bar and in search results indicating those websites participating in LLS Shop & Give. Depending on the site, 1% - 4% of your purchase will be donated to LLS.
It's that easy!
You don't have to change your online shopping routine or use a special URL. And there's no markup on your purchased item. Even sale items are eligible! Participating retailers include Amazon.com, Nordstrom.com, Gap.com to name just a few.
Click the image at the left or here to get the LLS Shop & Give browser button today!
---
---
Golden Gate Society Ties
Do good. Meet good people. Have a good time!

Golden Gate Society Ties (GGST), is the young professionals board for The Leukemia & Lymphoma Society - Greater San Francisco Bay Area Chapter (LLS)! We are a fun group of young leaders optimistic about beating blood cancers. We're making a difference by spreading the word about LLS and raising funds for life-saving cancer research and patient aid. We're all about building those ties - bridging our peers with LLS, all with a little bit of flair.

Our goal is to engage young Bay Area professionals in ways that further LLS?s mission. We do so by hosting various fundraising events that support LLS fundraising, patient services and advocacy programs.

GGST is a 100% -volunteer-run group. And we're looking for motivated individuals with great ideas who are interested in giving back to their community while having fun in a meaningful and powerful way. Get involved, meet other young professionals and discover leadership opportunities with LLS!

Here are three easy ways you can support GGST: