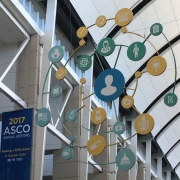 The annual American Society of Clinical Oncology (#ASCO17) meeting kicked off Friday, drawing a multinational gathering of more than 38,000 cancer researchers, clinicians, patient advocates, and pharmaceutical and biotechnology companies to Chicago to share the latest advances in cancer care.
As has been the case in recent years at these major cancer conferences, the emphasis has been on emerging approaches to immunotherapy, which are therapies that harness the body's immune system to fight cancer, and precision medicine, which are therapies that target the genetic drivers of the disease. While much of the focus of this meeting is on solid tumor cancers, such as lung, breast and colon cancer, there has also been news of interest in the blood cancers.
The big news of the day on Saturday was from several remarkable clinical trials that reinforce the concept of precision medicine. Precision medicine is when a patient is treated with a targeted therapy based on their specific genetic profile. The study for an experimental drug called larotrectinib enrolled patients with solid tumor cancers driven by a rare genetic mutation called TRK (tropomyosin receptor kinase) fusion. Of note was that the patients all had different types of cancer but all had the gene mutation in common, and were treated with same drug regardless of where in the body their tumors were located. Targeting this genetic flaw demonstrated an impressively high response rate (76 percent).
Matt Herper of Forbes wrote a must-read piece on the therapy here.
As we've reported in this blog previously, LLS is also conducting a precision medicine clinical trial based on the patient's genetic profile. Our Beat AML Master Trial uses next-generation genomic technology to identify a patient's subtype of acute myeloid leukemia and direct them to an appropriate targeted therapy.
More to Come in AML
We'll be hearing more about targeted therapies in AML on Tuesday. One of these is the drug, enasidenib, which is also being tested in our Beat AML Master Trial. This drug inhibits a gene with a mutation of IDH2, one of the primary subtypes of AML. The overall response rate in the trial, which will be presented Tuesday, was 40 percent with a complete response of 19 percent. On Tuesday, findings will be presented from a study for another AML drug, gilteritinib. This drug targets cancer cells with the FLT3 mutation that affects approximately 30 percent of AML patients and is associated with a very poor prognosis. Preliminary data shows 55 percent of patients treated with the drug in the trial responded, with a significant portion showing a deep molecular response, meaning no disease could be detected.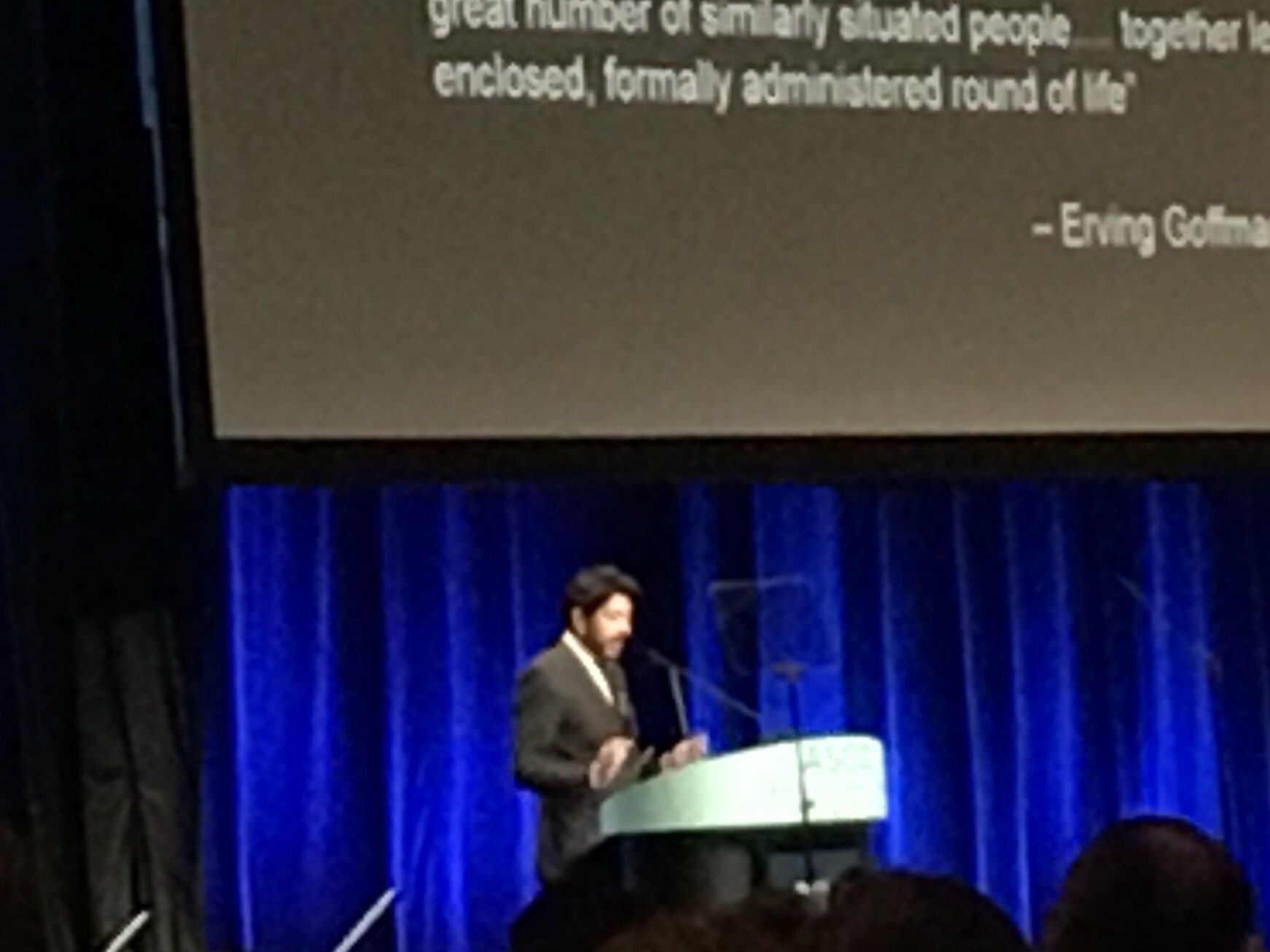 Cancer Past and Future
The opening session on Saturday featured guest speaker Siddhartha Mukherjee, MD, a renowned physician, researcher and Columbia University professor who received a Pulitzer Prize for his book, "The Emperor of All Maladies." Mukherjee examined the lessons learned over the past 60 years in cancer care. In an apt analogy, he said: "it falls on us to shepherd the adolescence of cancer care in the same way we would the adolescence of our own children."
Mukherjee reminded us that we must always strive for balance between advancing science and pausing to remember what it feels like to be a cancer patient. He said that cancer patients live with constant anxiety brought on by fear of recurrence and diagnostic surveillance, "always keeping one step ahead in this chess game against cancer."
ASCO President Daniel F. Hayes, MD, followed, speaking of the successes and challenges of cancer research. He pointed out that the National Cancer Institute has suffered a decrease of more than $1.1 billion in funding since 2003, "a deficit driving a wedge between where we should be and where we are, pushing highly gifted investigators out of the biomedical field."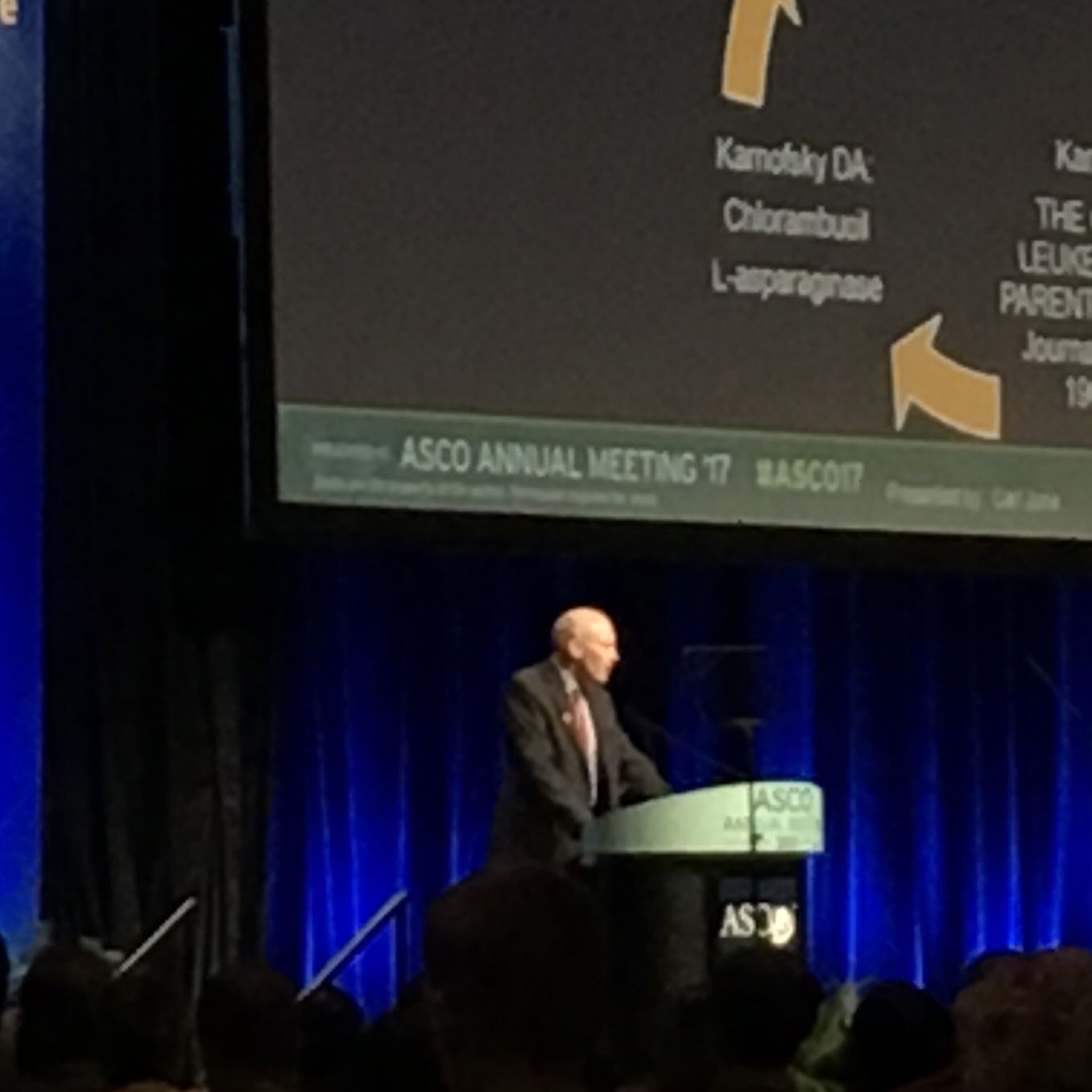 CAR T-cell Immunotherapy - The Next Generation
Carl June, MD, University of Pennsylvania, a long-time LLS-funded researcher, received the prestigious "David A. Karnofsky Memorial Award and Lecture." During his lecture, he discussed progress in immunotherapy. June and his lab, with two decades of LLS support, pioneered CAR (chimeric antigen receptor) T-cell immunotherapy – an emerging approach that reprograms the patient's own immune T cells to find and kill cancer cells. The results for some of these patients has been striking, while others do not respond, or do not experience durable responses.
The first patient treated with CAR-T therapy for relapsed acute lymphoblastic leukemia (ALL), Emily Whitehead, was so sick at the time of her treatment that there appeared to be little hope. Now Emily is celebrating her fifth year being cancer-free.
June previewed the next generation of CAR-T, which employs a cutting-edge technology called CRISPR, a gene editing process, to knock out a protein – PD1 – that enables cancer cells to evade the immune system. June also spoke of the promise of "off-the-shelf" CARs, which can be manufactured from the cells of healthy donors vs. the CARs that use the patient's own cells and require time-consuming and costly individualized procedures. These off-the-shelf versions could be produced more quickly, inexpensively and be widely available to more patients.
CARs, which like many cancer therapies, started in the blood cancers, are now starting to be tested in solid tumors, such as glioblastoma.
Check back over the next few days for more updates from ASCO.